In celebration of my great-grandfather Charles Henry Wright's 146th birthday last week, I looked for him in US census records and immediately found this interesting item in the 1880 census. The family was enumerated on 17 June 1880, while living on Purchase Street in Harrison, Westchester County, New York.

There he is listed on line 44 along with his parents and siblings. Notice that his grandparents, Edward and Sarah (Reed) Wright, lived in the house next door.
The Census – It's Not Just Names, Dates & Places
Looking closer, I saw this handwritten comment in column 15 on line 40, next to his grandmother Sarah's name: "Effects of a fall."
"Effects of a fall"?
Why would that be written in the census?
The census question for column 15 reads:
"Is the person [on the day of the Enumerator's visit] sick or temporarily disabled so as to be unable to attend to ordinary business or duties? If so, what is the sickness or disability?"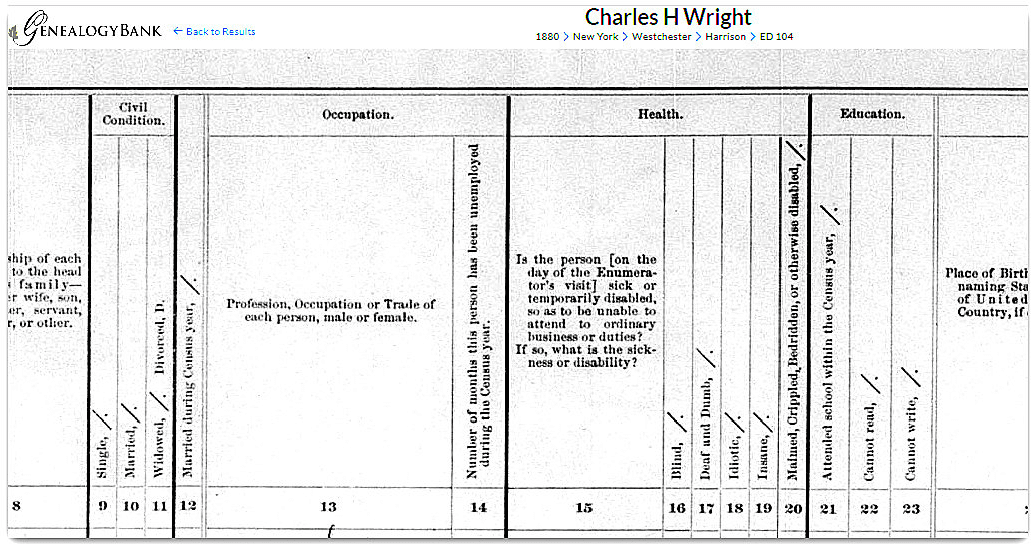 The census did not simply list each person in the United States by name – it also asked all types of personal questions.
In two weeks, Sarah (Reed) Wright would be 77 years old – and we know by this census record that in her old age she was temporarily limited by the "effects of a fall." Not good, but at least it was "temporary."
Now look at the next line up and notice that column 20 is checked. That's not good news.
This tells us that her 76-year-old husband Edward was either "maimed, crippled, bedridden, or otherwise disabled."
Old age was hard on Charles Wright's grandparents.
Genealogy Tip: Examine every clue in the records you uncover about your ancestors. Ages and details may vary in each of the records that you find, so you want to evaluate these details and, if possible, come to a conclusion as to the core dates, places, and facts of their lives.