Introduction: Mary Harrell-Sesniak is a genealogist, author and editor with a strong technology background. In this guest blog post, Mary shares some of the unusual and funny Texas town names she's discovered, and gives advice on how researching a town's genealogy can help with your own family history searches.
My Lone Star friends, strangely enough, feel that everything is bigger in Texas! Perhaps they are right—or is this just a myth?
Myth or Not: Is Everything Really Bigger in Texas?
Texas has: the biggest economy (14th in the world if it were a sovereign nation); the biggest number of counties (256); the largest stadium scoreboard (at Texas A&M); and the biggest rodeo, complete with a mammoth 55-foot statue named Big Tex. (The statue was formerly 52 feet tall, but it was rebuilt after Big Tex met his doom at the Houston Livestock Show and Rodeo!)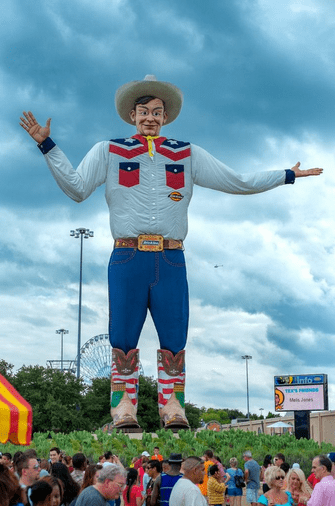 But one thing that Texas doesn't have is the biggest city in the U.S.
Largest City in U.S. is NYC
That honor goes to New York City [8.337 million people, 2012 figures], followed by Los Angeles [3.858 million], Chicago [2.715 million], and poor "little" Houston is only fourth with its 2.161 million.
A Dimebox & Ding Dong
Texas probably takes the record for the largest number of funny town names, such as Dimebox, where people used to put money in a box to post their mail. Later they hired a postmaster named, not surprisingly, Stamps!
And then there is the Texas town of Ding Dong with its famous bell—a gift from the Santa Fe Railway. The town got its name when the Bell brothers (Zoast and Bust) hired a craftsman to paint a sign with two bells for them. He thought it would be funny if one bell was inscribed "Ding" and the other one "Dong." Perhaps these were the brothers' nicknames; in any event, the name stuck. Later someone got the bright idea of stealing the town bell, but it eventually turned up in a local cemetery. Guess what county Ding Dong is in? You got it—Bell County!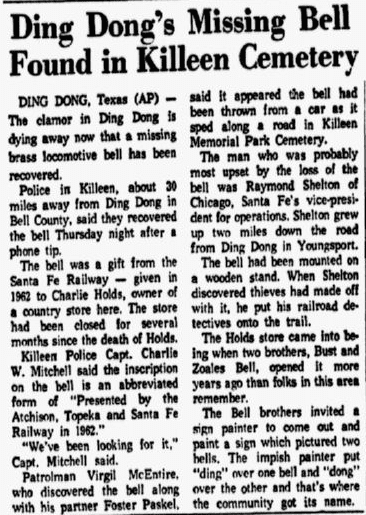 Wacky Texas Town Names: Nameless, Nada, Notrees, Towns and Uncertain
When you read town names like these, it makes you wonder if Texas is so big they ran out of names.
The residents of one nameless Texas town found themselves frustrated when their first six choices for a name were rejected by the post office—so they did the next best thing, and called their town Nameless, Texas.
And then there is Nada, originally called Vox Populi, a Latin term referring to the voice of the people. One might think the town's early settlers were Hispanic, since nada means nothing or anything in Spanish. But this could lead a researcher astray, as the name was derived from Czechoslovakian settlers who used the word Najda, which translates as hope.
Then there is the town of Notrees. Click this link to view some Google images to decide for yourself if the chosen town name is appropriate. And to learn more about the municipalities of Towns and the scenic Uncertain, follow their links.
More Hilarious Texas Town Names (Frognot?)
All of the Texas town names in the following list are real. Some have links that explain more about their locations and history—and for the ones that don't have links, search for them on the Internet and see what you can discover about their origins.
Alligator, Bacon, Bangs, Best, Bigfoot, Black Jack, Blanket, Bug Tussle, Cash, Cat Spring, Cheapside, Chocolate Bayou, Cistern, Cost, Cut and Shoot, Deadwood, Dinero, Earth, Echo, El Dorado, Energy, Frognot, Granny's Neck, Gun Barrel City, Happy, Hogeye, Hoop and Holler, Humble (pronounced "umble"), Jolly, Kermit, Klondike, Loco, Looneyville, Muleshoe, Needmore, Nickel, Noodle, Oatmeal, Pep, Petty, Plum, Pointblank, Rainbow, Random, Ringgold, Salty, Santa, Smiley, Sour, Squeezepenny, Stairtown, Tarzan, Telegraph, Telephone, Trout, Turkey, Venus, Veribest, Welcome, Winters , Winnie, Twitty and Zipperlandville (just to name a few).
Makes you wonder if Carol Burnett ever performed her Tarzan call in Tarzan, Texas?
The Genealogy of a Town
It's important to learn about your town's name for genealogical purposes, as town names come and go. What they were called in their early days may be very different from their later days—or even today.
Q: For example, have you ever heard of Harrisburg, Texas (AKA Harrisburgh); Jernigan; Lake Bonneville; Mayaimi; Menotomy; New Wild Boar; Standing Peachtree; or Yerba Buena? These are all former aliases for well-known places (and in one case a famous lake).
A: These are the former names of Houston, Texas; Orlando, Florida; Salt Lake, Utah; Miami, Florida; Arlington, Massachusetts; New York City, New York; Atlanta, Georgia; and San Francisco, California.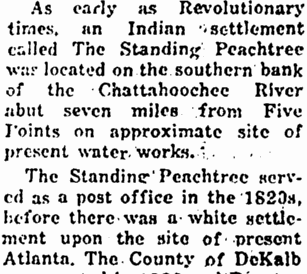 Town Research Tips
In order to construct the genealogy of your hometown, create a timeline, and search newspapers and historical records to determine the following:
Identify when the town was formed, and when it was incorporated or unincorporated.
Identify if the town had a previous Indian name (Native American).
Who were the original founders?
What was the impetus for the founding (attracting settlers, bounty land, gold rush, etc.)
Were there laws or regulations that affected the formation? For example, in Colonial periods, some towns could not be formed without a minister, and as seen in the history of Nameless, Texas, post office regulations can also come into play.
Identify any interim names and determine if there were towns that were merged into larger ones.
Whether your town has a normal, funny or unusual name, think about doing its genealogy—and if you've already researched your town's genealogy, please share the story with us in the comments.
Further Reading about Town Names:
[bottom_post_ad]