Introduction: In this article, Gena Philibert-Ortega provides some advice about verifying genealogy records, especially in the case of a newspaper article contradicting other family history information you have found during your research. Gena is a genealogist and author of the book "From the Family Kitchen."

Probably one of the most iconic newspaper images to ever appear is that of President Harry S. Truman holding up an early edition of the Chicago Tribune that boldly proclaimed the headline "Dewey Defeats Truman."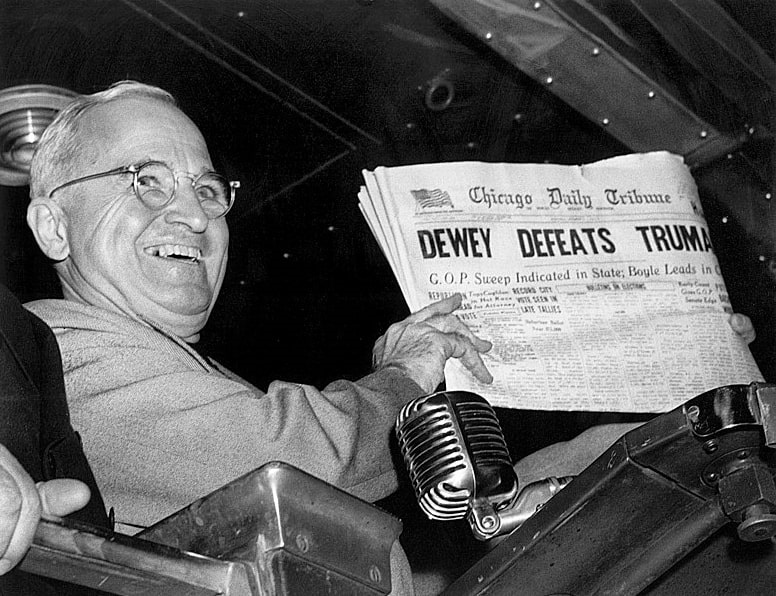 Of course, that newspaper headline announcement from the 1948 presidential election was premature and involved some wishful thinking. Today, everyone knows the name of President Harry S. Truman; few remember his opponent Gov. Thomas E. Dewey.
Clearly, newspapers sometimes make mistakes.
Occasionally, genealogists find a newspaper article that conflicts with what they know about an ancestor. What's a researcher to do when they come across a newspaper article that doesn't match their family history records?
Cross-Check with Records from Catalogs
Genealogical records of all types contain mistakes—just ask anyone who has ever been an informant on a death certificate. Even if you can correctly provide all of the information for your deceased loved one's death certificate, there's still the chance of errors creeping in from the reporting physician, the funeral home, or even the typist.
One of our jobs as family historians is to collect and verify facts about our ancestors. Those facts may come in the form of an original or derivative document that has primary information, information supplied by a witness to the event, or secondary information supplied by someone who was not an eyewitness. Obviously the further removed from the eyewitnesses and the event, the more chances something is going to have errors. With any genealogical evidence you find, you will want to gather more than one example if possible because mistakes can and do happen.
As with all genealogy research, it's important to not rely on just one source. While we are lucky to live in an era where we have a wealth of online materials available to us, some genealogy records are not and will never be online. So record the family information you find in newspaper articles, and then search through archival and library catalogs for paper records that haven't been digitized, like diaries and journals, occupational records, church records, court records and other documents created by the community and its members at the time of the event. Consult catalogs such as WorldCat, ArchiveGrid, and the Family History Library Catalog to find these materials.
As you use these catalogs, search or browse on the place your ancestor was from to find what records exist for that community. And remember: because these catalogs are frequently updated, check back and record your results in a research log to keep track of search dates and keywords used.
Look at the Next Day's Publication
Let's face it, mistakes happen with newspaper articles and they can even happen when an article has been proof-read numerous times. There's a chance that the difference between your existing genealogy record and a newspaper article was an error that the newspaper corrected in the following day's issue. Make sure to look for the newspaper's correction column to see if a correction was reported.
Newspapers have long reported corrections to their articles, as can be seen in this example from a 1730 Massachusetts newspaper.

Sometimes in the rush to get a story out to beat the competition, or due to the pressure of looming deadlines, a newspaper article might be published with a glaring mistake. Today, we are all familiar with the fate of the Titanic and its loss of over 1,500 people. However, details were sketchy if not totally incorrect in the immediate aftermath of the tragedy—as clearly shown in this example.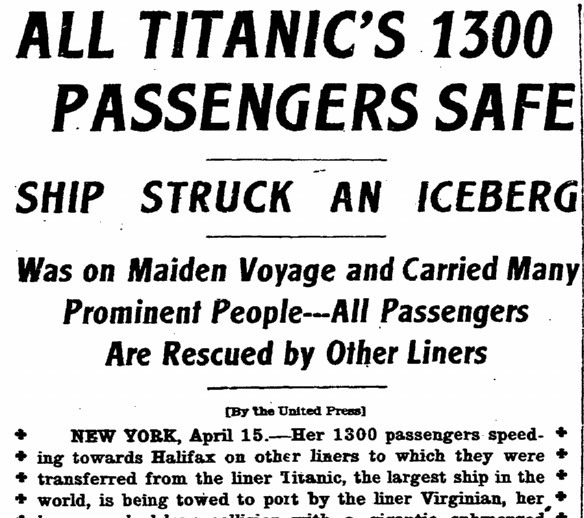 Thorough research of the Titanic disaster would include not only numerous newspaper accounts that were printed for days and weeks after the sinking, but also other records created at the time of the sinking and even after.
Do you have a newspaper article that conflicts with a genealogy record? Just like the game "telephone," records are going to conflict as information is passed from one person to another. Faulty memories, transcription errors and more can cause problems in any record. But by utilizing the proof-checking steps mentioned above you can get beyond that difficulty and come up with a sound genealogical conclusion based on actual facts.
Genealogy Tip: Newspapers are essential to family history research, providing stories about your ancestors' lives that you just can't find anywhere else. But as with all genealogy research, gather as many records from as many sources as you can, so that you can cross-check the data and establish the facts.