Introduction: In this article, Melissa Davenport Berry gives the 8th part in her series on Mayflower descendants that focuses on Katie Crocker and her family line, featuring more vintage photographs. Melissa is a genealogist who has a blog, AnceStory Archives, and a Facebook group, New England Family Genealogy and History.
Today I continue with my series "Mayflower Descendants: Who's Who," focusing on the lineage of the Crocker family who married into several Mayflower lines.
To recap: I am working with a client, Katie Crocker, daughter of James and Debra Sue (Pemberton) Crocker of Barnstable, Massachusetts, on her family tree. Part of this series explored Katie's Hinckley lines that married many Mayflower scions.
A photograph collection was sent to me from the archivist at Sturgis Library in Barnstable, contents from the Zenas Crocker Collection MS 167. Katie's great-grandfather Lauchlan MacLean Crocker Sr., aka "Locky," was among the many Crockers who organized the manuscripts in the collection.
In today's article I am also including a few photos from the Dennis Historical Society, Dennis, Massachusetts, and one from the private collection of a descendant.
The following subjects all descend from Mayflower lines and other notable first families of Cape Cod and are among the cousins who share Katie's lineage. Among them are the Hinckley line, John Howland, Richard Warren, Stephen Hopkins, and the Nickerson family.
Ruth Bangs and Oliver Crosby
Here is a photo of Ruth Bangs (1819-1907), daughter of John Bangs and Johanna Hall and a descendant of Mayflower passenger Stephen Hopkins, and her second husband Oliver Crosby (1801-1890), son of James Crosby and Temperance Goodspeed. They had no issue.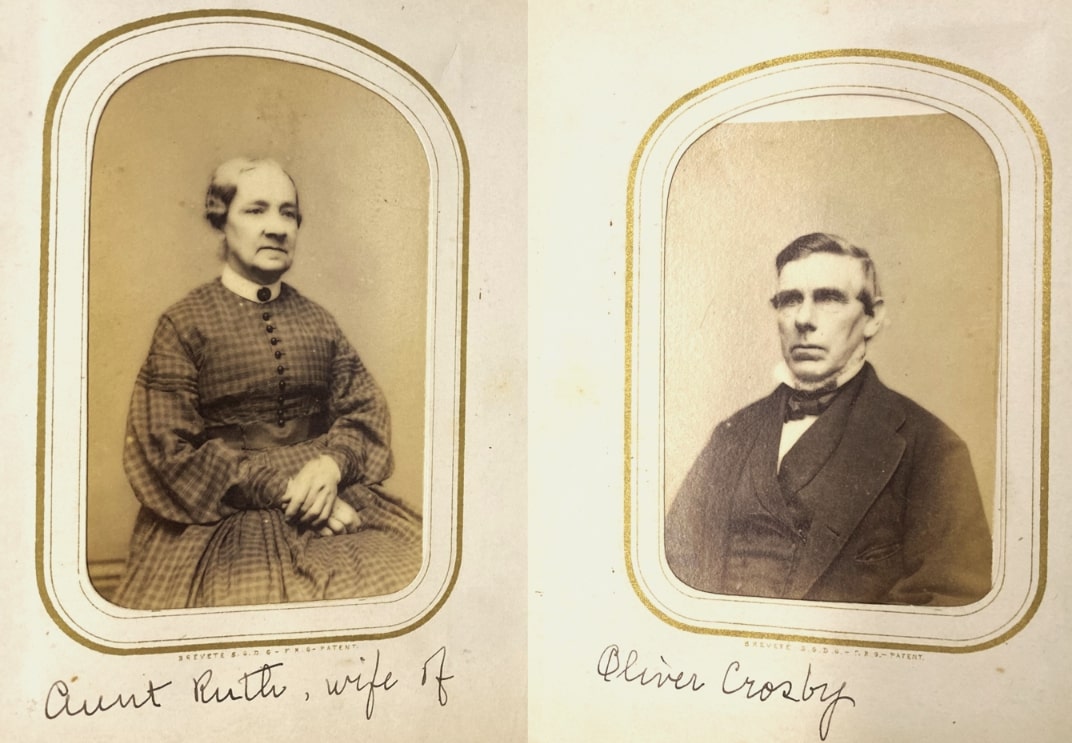 However, Ruth Bangs with her first husband Samuel Nickerson (1817-1846) had one son, Samuel Nickerson (1846-1927).
Samuel Nickerson and Elizabeth Hinckley
Samuel married Elizabeth "Lizzie" Freeman Hinckley (1848-1931), daughter of William Hinckley and Adeline Doty Bearse.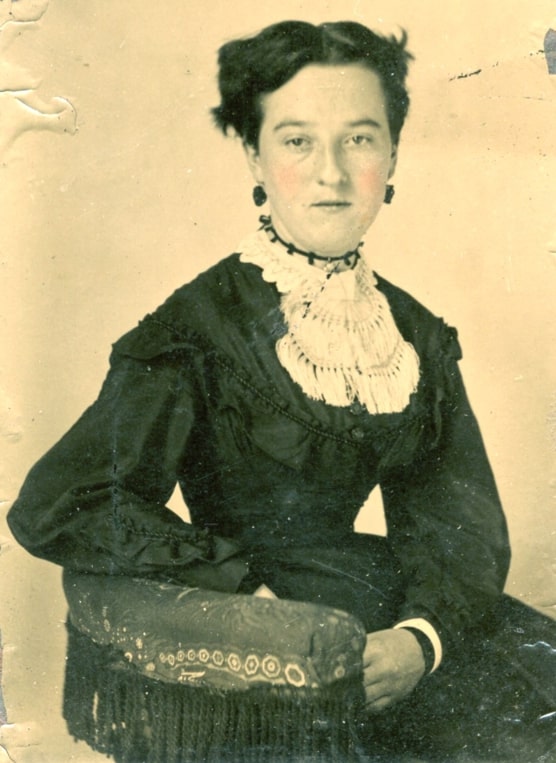 The Dennis Archival Center has a vast collection of deeds, letters, and other manuscripts. For example, it has an 1881 deed from Crocker Hinckley to Samuel Nickerson for a piece of land in Centerville, Massachusetts.
Frederick Nickerson
Samuel and Elizabeth had a son, Frederick Prince Nickerson (1855-1971), who married Jane Rogers (1885-1967), leaving descendants.
Here is a photo of Frederick Prince Nickerson with his son, Samuel Rogers Nickerson (1920-2010), who married Ruth Chamberlain Rosvall.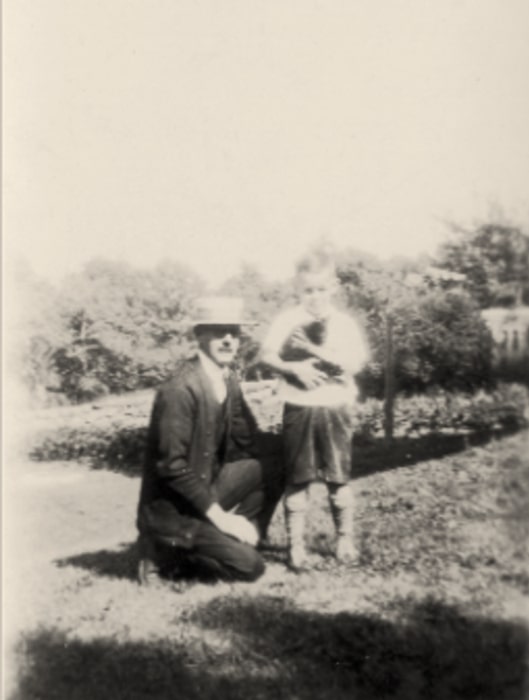 Here is an obituary for Frederick published in the Patriot Ledger on 22 November 1971. He is buried at Beechwood Cemetery, Centerville, Barnstable County, Massachusetts.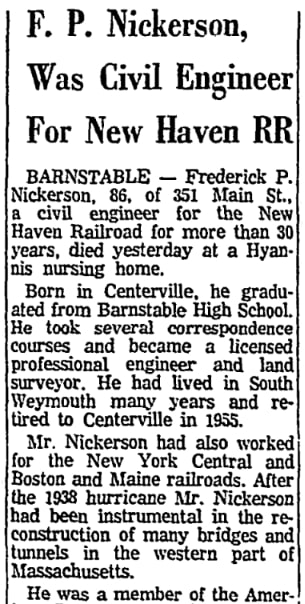 This article reported:
Frederick P. Nickerson, 86, of 351 Main St., a civil engineer for the New Haven Railroad for more than 30 years, died yesterday at a Hyannis nursing home.

Born in Centerville, he graduated from Barnstable High School. He took several correspondence courses and became a licensed professional engineer and land surveyor. He had lived in South Weymouth many years and retired to Centerville in 1955.

Mr. Nickerson had also worked for the New York Central and Boston and Maine railroads. After the 1938 hurricane Mr. Nickerson had been instrumental in the reconstruction of many bridges and tunnels in the western part of Massachusetts.

He was a member of the American Railway Supervisors.

Husband of the late Mrs. Jane (Rogers) Nickerson, he is survived by a son, Samuel R. Nickerson of Centerville, a daughter, Mrs. Ruth N. MacFawn of South Weymouth and five grandchildren.
Note: Frederick's daughter, Ruth Nannette Nickerson, married Laurence Edward MacFawn, a direct descendant of Mayflower passengers Richard Warren, John Alden, and Priscilla Mullins.
Here is a remarkable collage that shows the striking family resemblance that can be passed down through the generations. The photo on the left is Samuel Nickerson (1817-1846). On the right is a photo of Samuel's great-great-grandson, Samuel A. Nickerson.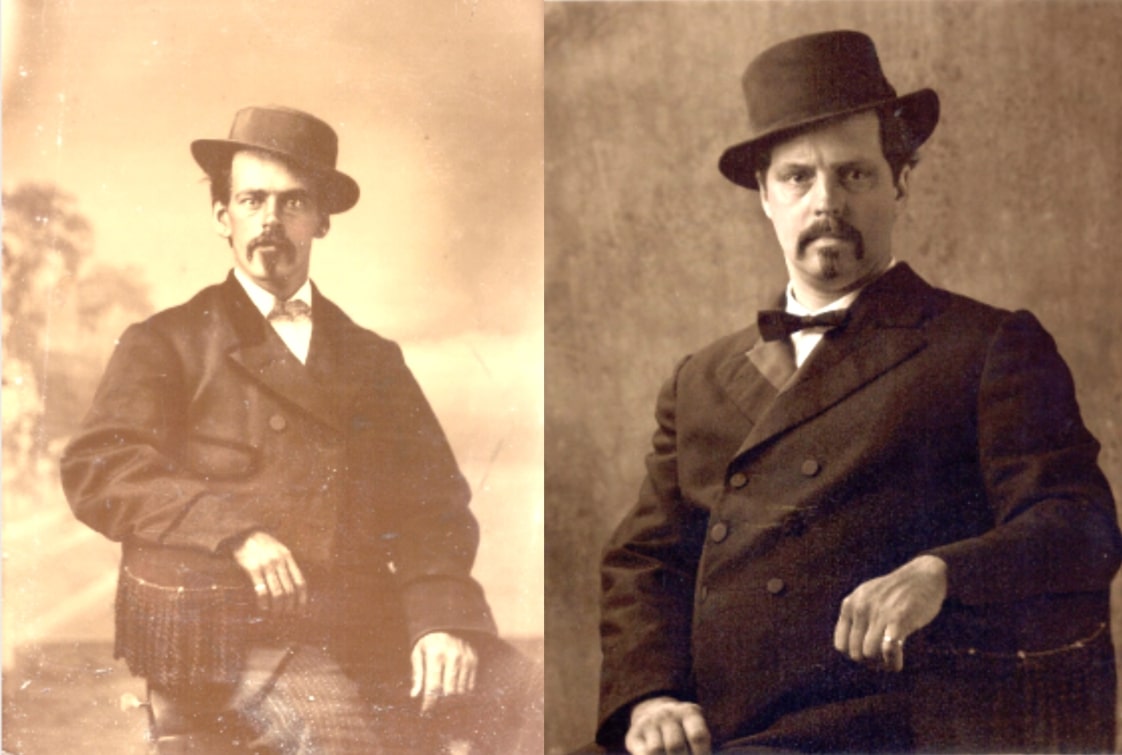 Edward David Hinckley
Another photo in the Zenas Crocker collection is one of Edward David Hinckley (1836-1887).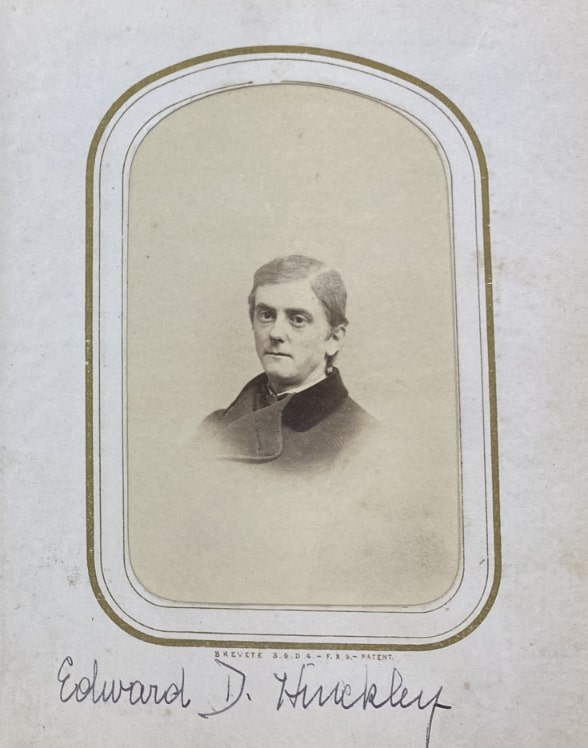 Edward was the son of David Hinckley and Elizabeth Allen Dillingham, and a direct descendant of Mayflower passengers John Howland and Elizabeth Tilley. He married Rebecca Crocker (1838-1908). She was the daughter of Zenas Crocker (1796-1877) [the son of Zenas Crocker and Hannah Bourne] and his wife (also his cousin) Rebecca Holly Samson (1799-1887) [the daughter of Crocker Samson and Rebecca Hawley]. Their photos can be viewed in Part 1 of this series on Katie's ancestors.
Here is the wedding announcement of Edward and Rebecca recorded in the Boston Daily Advertiser on 5 August 1862.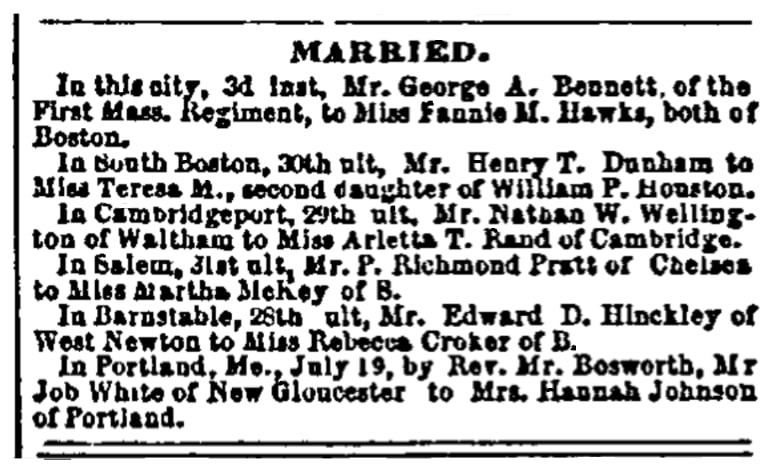 This notice reported:
In Barnstable, 28th ult, Mr. Edward D. Hinckley of West Newton to Miss Rebecca Crocker of B[arnstable].
Edward and Rebecca had a son, Edward Crocker Hinckley, who married Eleanor Bernard (1876-1938), daughter of Samuel Barnard and Susan Elizabeth "Lizzie" Conant.
Edward and Eleanor left descendants, including a son Edward Barnard Hinckley.
Edward Barnard Hinckley
Edward Barnard Hinckley (1903-1988) married Dorothy Sybil Kuenzli, daughter of Charles Herman Kuenzli and Vivian May Scott. Dorothy is a direct descendant of Deacon Nicholas Noyes and Mary Cutting of Newbury, Massachusetts.
Edward and Dorothy had a son, Edward Charles Hinckley (1934-2012), who married Rena Glidden, leaving descendants.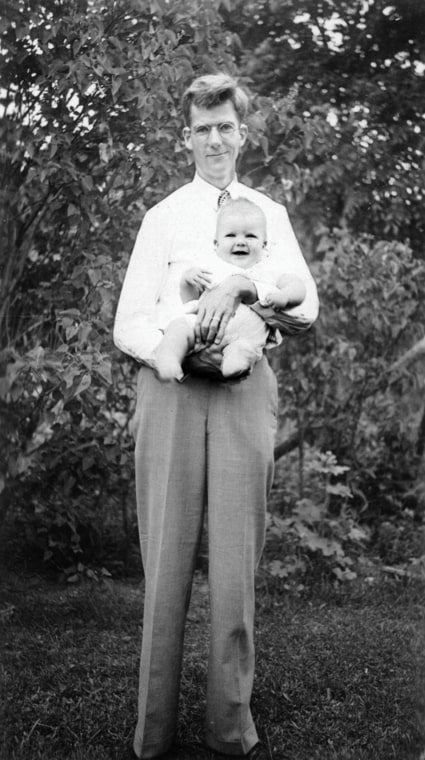 To be continued…
Explore over 330 years of newspapers and historical records in GenealogyBank. Discover your family story! Start a 7-Day Free Trial
Note on the header image: "Mayflower in Plymouth Harbor," by William Halsall, 1882. Credit: Wikimedia Commons.
Related Articles: