Introduction: In this article – the second in a series about Mayflower descendants – Melissa Davenport Berry tells stories about some ancestors in the Knowles family line. Melissa is a genealogist who has a blog, AnceStory Archives, and a Facebook group, New England Family Genealogy and History.
Last week's story on Virginia genealogist Mrs. W. H. Knowles inspired me to launch a series on Mayflower lines and their descendants. A member of my genealogy group, Jeffrey Gorman, has researched his family. The Knowles family intermarried into Mayflower lines and Jeffrey has a massive photo collection.
Through his maternal line Jeffrey is finding Mayflower passengers William Brewster, Francis Cook, Peter Brown, and Stephen Hopkins. Jeffrey's mother Althea Moore Knowles is a direct descendant of Ruth Bowers and Richard Knowles, who arrived in Massachusetts in 1639.
I was able to gather more on the Knowles family by searching GenealogyBank's Historical Newspaper Archives. My research showed the value of old newspapers, taking us beyond the names and dates to reveal the stories of our ancestors' lives. For the Knowles line, I found birth, marriage and death notices, as well as stories of a bizarre and fatal lightning strike, death during an epidemic, being kicked in the head by a horse, and a business closing.
Many of the Knowles were sea captains, merchants, and master mariners who contributed a great deal to their communities in the Cape Cod area.
The Twin Tragedies of Captain Nathaniel Knowles
An interesting, but tragic, find was an obituary for Jerusha (Smith) Knowles, of Orleans, Massachusetts, published in Boston's Independent Chronicle. Jerusha, direct descendant of William Brewster, was the wife of Captain Nathaniel Knowles, son of Seth Knowles and Ruth Freeman.
Jerusha was struck by lightning in her home. She was surrounded at the time by several friends and her husband. Nathaniel had a little injury and the rest of the group only felt a slight shock.

Tragedy was to strike Nathaniel again. Fifteen years after losing his wife in a freak lightning accident in their own home, a mysterious epidemic, "which is vulgarly called the Bastard Pleurisy," swept over Cape Cod and killed Nathaniel's daughter Jerusha Knowles (b. 1786). Her death was published in the Boston Commercial Gazette, along with many other relatives. According to sources this illness wiped out over 10 per cent of the population.
The dead included: Mr. Jesse Knowles, son of Revolutionary War soldier Simeon Knowles and Eunice Mayo; widow Polly Myrick; widow Molly Knowles; Mrs. Hannah, wife of Major Henry Knowles; Mr. Seth Higgins; widow Sarah Myrick; and Mr. Aaron Higgins.
Elijah Knowles
Elijah Knowles (1811-1891), son of Harding Knowles and Margaret Knowles, was a merchant and well-known citizen of Barnstable County.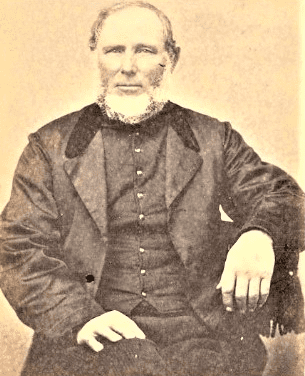 He owned a store in Orleans, Massachusetts, and partnered with Mark Crosby and Winsor Snow.
In 1855 the Boston Herald reported that Elijah was severely injured by a horse kick. He was knocked down by a horse attached to Cushing's Express wagon. He was treated by Dr. Ayer at the First Station.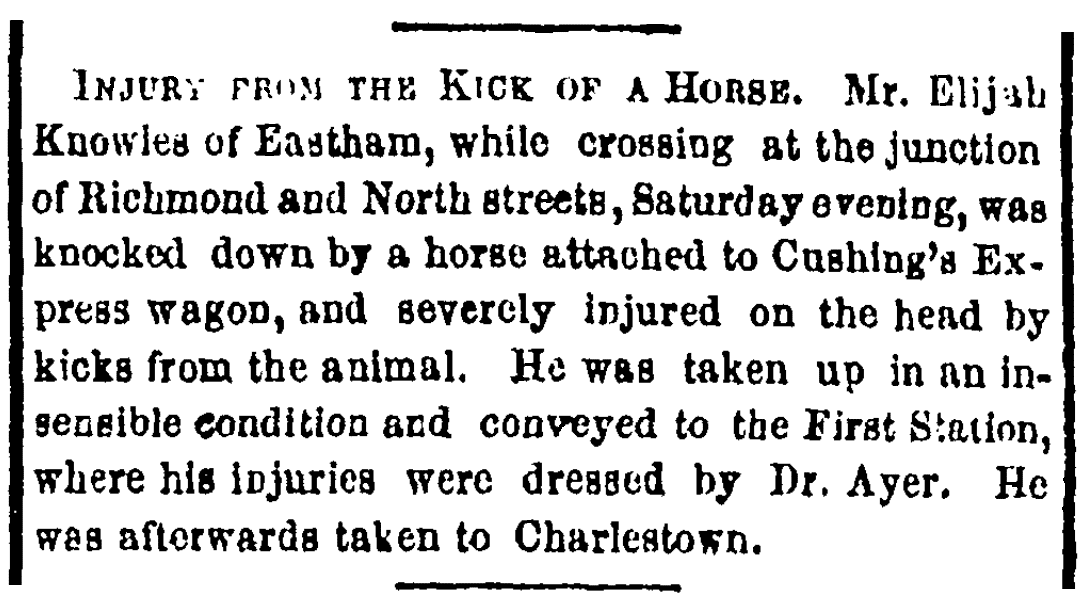 His obituary in the Boston Herald stated he was "universally esteemed" in the town. He represented his district in the Legislature, and served as county commissioner and revenue collector. He was also a big promotor of the Cape Cod Railroad.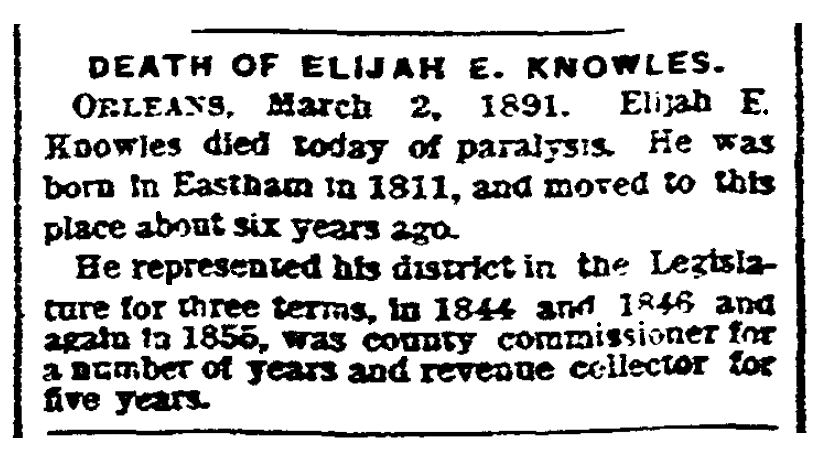 Elijah married 1st Mercy Ann Myrick, daughter of Harding Myrick and Rebecca Higgins, and 2nd Tabitha Holbrook, daughter of Elisha Holbrook and Sarah Brown.
Captain Elijah Edwin Knowles
Elijah Edwin Knowles (1829-1899), son of Elijah Knowles and Abigail Freeman, was well known in maritime circles.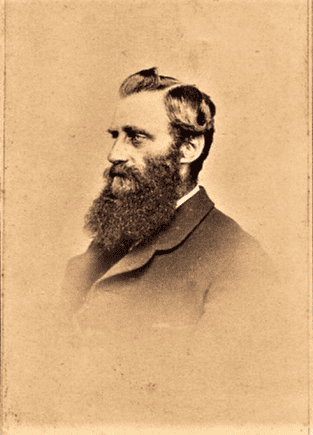 He secured his fortune as the master of large ships that made successful voyages. When he retired from the sea, he launched a second career as a director of the Cape Cod National Bank, and one of the incorporators of the Cape Cod Five Cents Savings Bank, both in Harwich, Massachusetts.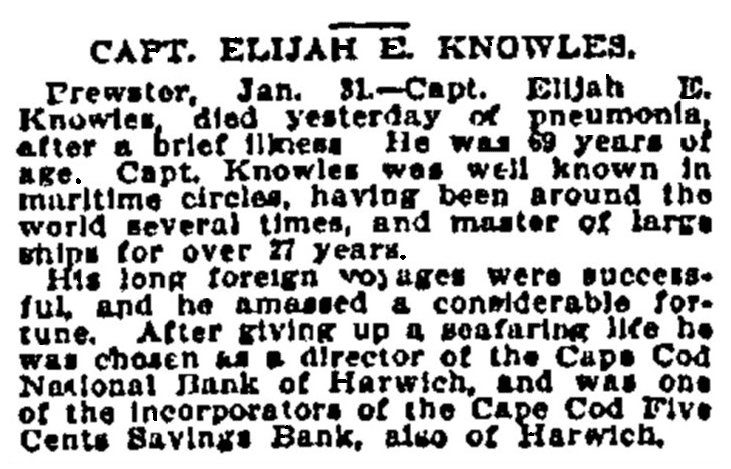 He married Mary Francis Winslow, daughter of Nathaniel Winslow and Eliza Jane Clark.
Thomas Jackson Knowles
A Knowles line moved to the Cape Ann, Massachusetts, area. Nathaniel's grandson Thomas Jackson Knowles (1830-1904) lived in Gloucester, Massachusetts. He was born to Nathaniel Knowles Jr. and Zerviah Higgins.
He married Caroline Stevens Proctor (1840-1910), daughter of Anna J. Elwell and Addison Proctor – a direct descendant of John Proctor, who was falsely accused and convicted for witchcraft during the Salem Witch Trials 1692.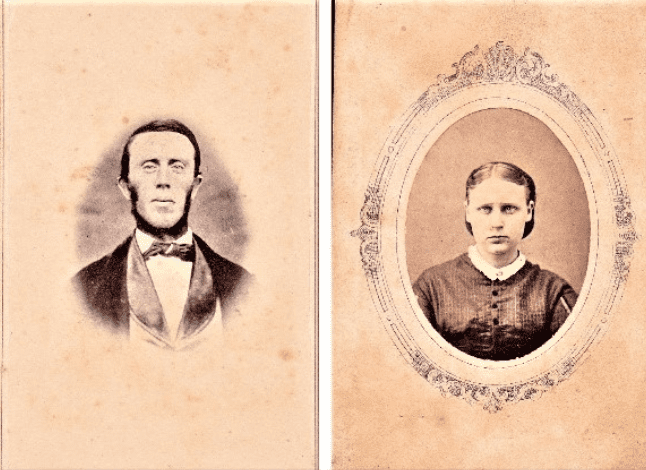 Thomas J. Knowles published a business advertisement in the Cape Ann Light and Gloucester Telegraph. He had a shop selling clothing and gear for the fishing industry, but had sold his business to F. Bennett, Jr. In his ad, Thomas thanks his past patrons, and urged them to support the new owners – and agreed to stay on for a while, "happy to meet his old friends and customers."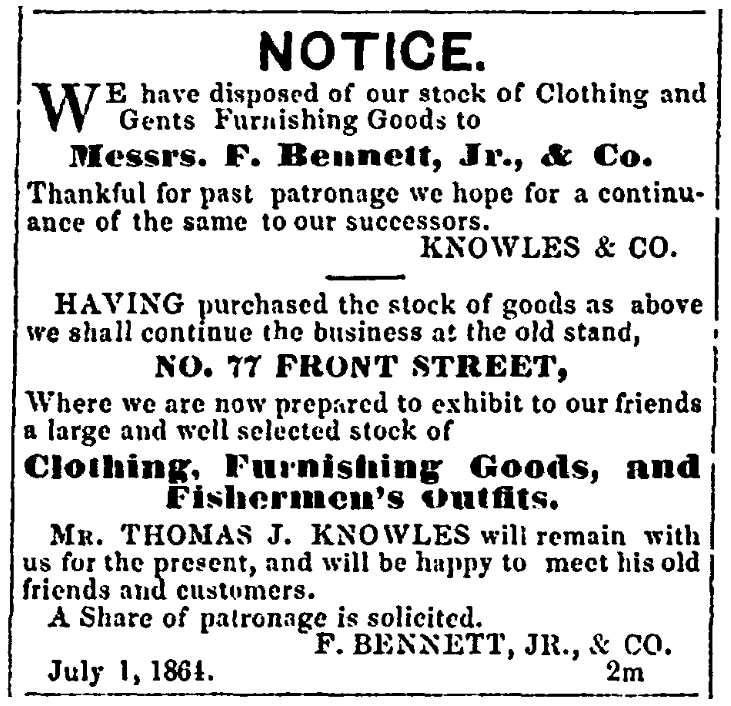 Thomas was elected as an alderman in 1874 and owned land and stables on Mansfield Street.
Further Reading:
Nutfield Genealogy: 10 New Things to Know about Researching a Pilgrim in Your Family Tree
Amy Whorf McGuiggan from the Provincetown Independent: The Mysterious Cape Cod Epidemic of 1816
Mayflower Families Fifth Generation Descendants, 1700-1880. (Online database: AmericanAncestors.org, New England Historic Genealogical Society, 2017). From Mayflower Families Through Five Generations: Descendants of the Pilgrims who landed at Plymouth, Mass., December 1620. Plymouth, MA: General Society of Mayflower Descendants, 1975-2015
John Winthrop Papers, Vol. 1-5, 1557-1649
Pane-Joyce Genealogy: Genealogy Report
Index to the Virginia Genealogist, Volumes 1-20, 1957-1976
Genealogy:
William Knowles Sr. (1540-1632) and Dorothy Bray (1540-1605)
Richard Knowles (1614-1675) and Ruth Bowers (1616-1687)
Captain John Knowles (1641-1675) and Appia Bangs (1651-1722), daughter of Edward Bangs (1591-1677/8) and Rebecca Hobart (1611-1679)
John Knowles Jr. (1673-1757) and Mary Sears (1672-1745), daughter of  Paul Sears (1638-1707/8) and Deborah Willard (1642-1721)
Joshua Knowles (1696-1786) and Sarah Paine (1699-1772)
Joshua Knowles (1730-1779) and Mary Harding (1735-1801)
Joshua Knowles III (1756-1822) and Hannah Atkins (1763-1843)
Nathaniel Knowles (1790-1867) and Sally Smith (1793-1857), daughter of Archelaus Smith and Sarah Doane Hopkins.
Jeremiah Knowles (1822-1880) and Jemima Dyer (1824-1882), daughter of Joseph Snow Dyer and Jemina Dyer.
Jeremiah Alpheus Knowles (1853-1908) and Elizabeth Evans (1851-1932)
Nathaniel Edward Knowles (1880-1939) and Mary Elizabeth Moore (1876-1917)
Althea Moore Knowles (1913-1984) and Joseph Wilson Gorman (1917-1998); Child: Jeffrey Glenn Gorman (b. 1962)
Related Article: