Introduction: In this article, Mary Harrell-Sesniak gives tips for a challenging genealogy problem: researching an ancestor's name change. Mary is a genealogist, author and editor with a strong technology background.
Did your ancestor petition the court to change a name – and was the reason disclosed? Many people go to court and change their names, but reasons vary greatly. How can you find out more about your ancestor's name change?
Some people change their name because of adoption or a change in marital status – and others due to different motivations – including personal preference, an unwanted association, or for legal reasons.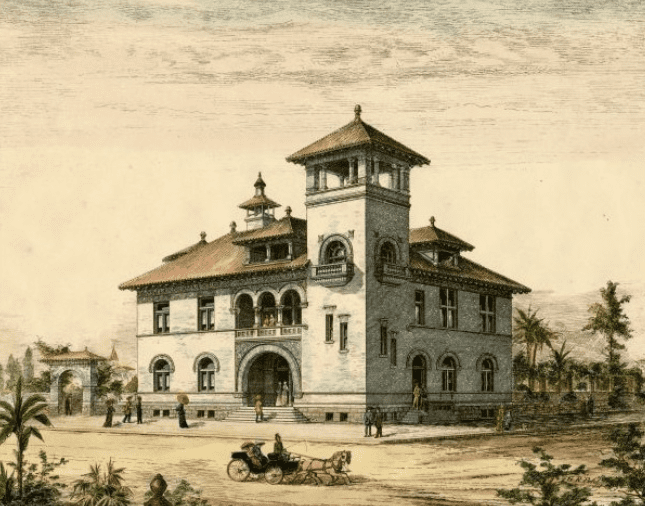 Whatever the reason, a name change generally resulted in corresponding newspaper notices. Often it was dictated by law that a name change had to be published in the local press, to make an effort to inform the public and interested parties. By searching old newspapers, such as GenealogyBank's Historical Newspaper Archives, you might discover the story behind your ancestor's name change.
My Family
In my family there are several instances of legal name changes, so even if you don't think it happened in yours, it's a genealogical occurrence that is commonly overlooked.
For instance: a name change in my grandchildren's ancestry has to do with a parent who died. The mother remarried and so the family took on the step-father's surname which is used to this day.
Another example, which I have written about before, happened to my great grandfather, nee Edgar Hanks, who was indentured by the George Thomas and Mary (Robertson) Evans family of Indianapolis after they lost a child.
He had used the Evans name since the age of four, so it appeared to everyone that he was a natural born child as they loved him dearly and raised him as their own. He was officially adopted by the mother who raised him until she became a widow. He then legally became Edgar Hanks Evans in his 40s to protect the inheritance. Note: his story is interesting, as his birth mother had turned him over to a children's home after becoming impoverished. She kept in touch with his adoptive family and later in life he was able to meet his half siblings.
Another reason which occurred in my husband's family was because certain family members wished to make the surname easier to spell. By dropping the zcz in Szczesniak, it was hoped that the world would no longer twist and turn it into unfathomable variations. Sesniak was the result, although to this day, we are still confronted with odd typos.
Here are some historical examples of name changes for readers to think about.
George Keiser Needed Work
Because of American antipathy toward Germany in 1917 during WWI, George Keiser of San Diego wanted to change his name because he didn't wish to be associated with the German Emperor, Kaiser Wilhelm II. He chose a more generic surname (Lee) so that he could gain employment.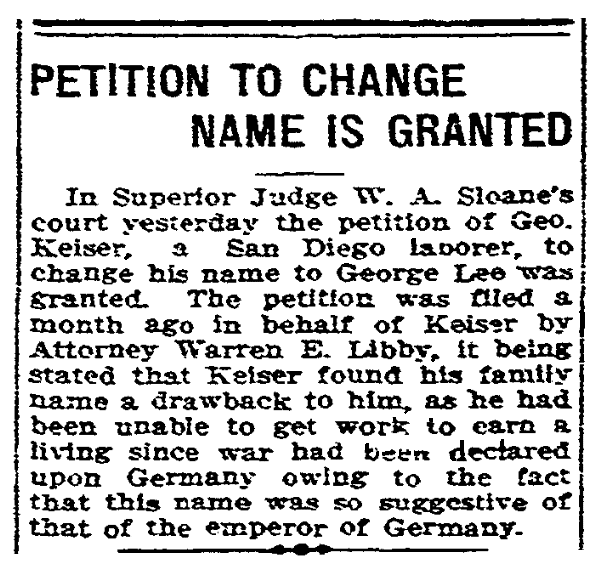 E. J. Richards Wanted to Reinstate His Birth Name
Alternatively, E. J. Richards wished to "transmit to his children their ancestral name" of de Turbeville years after his father Samuel chose to drop a portion of the de Turbeville surname.
His notice contains a treasure trove of genealogical evidence. In this 1875 petition, which I will leave for you to read, we learn not only about where he was born, but much about close family members, including a sister's married surname.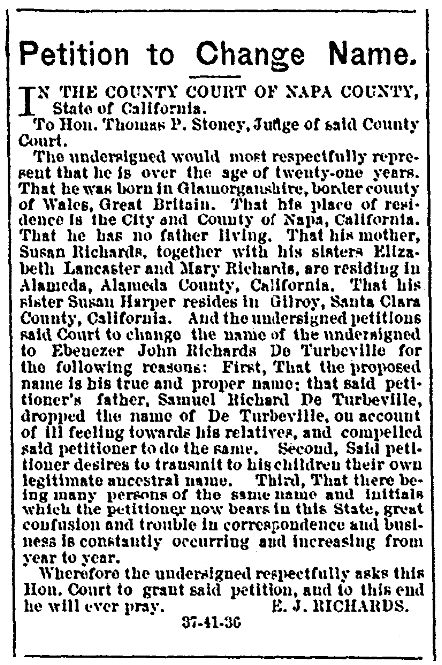 Alma Pool's Name Was Changed by Adoption
If you're wondering about a family adoption, it's possible a newspaper recorded it. We can imagine that Alma Pool, a minor, was adopted by Stephen Kissinger after she either lost one or more of her parents, or they were no longer able to care for her. In this case, look for an orphan court record.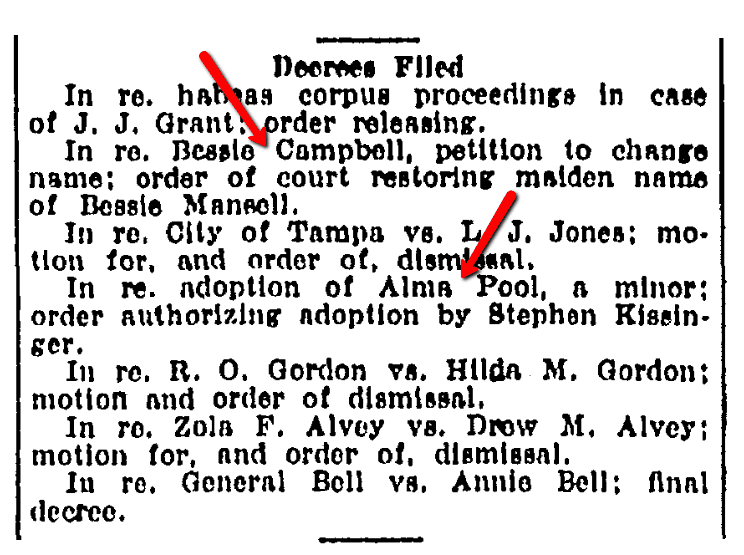 Bessie Campbell Restored Her Maiden Name of Bessie Mansell
In the same Tampa Tribune article above, another decree mentioned a petition filed but not yet granted. Bessie Campbell wished to have her maiden name Bessie Mansell restored, implying a termination of a marriage either through death or divorce.
Lelah Edgerton's and Marcy Pendleton's Reasons Not Divulged
Although divorce or death is implied when a married woman requests a name change, never assume a reason as it is possible a newspaper kept it brief for privacy reasons, or perhaps there were other reasons. In all cases, court records would hopefully reveal more information.
This name change notice is one of the earliest I found (from 1874). Notice the reference to order of publication.

Karl Emil Marklund's Reason Was Not Disclosed
Some name changes only appeared in the newspaper as a brief notice without much detail. For example, Karl Emil Marklund's request was granted by decree – but that's all the newspaper notice announced. In a case like this, you'll have to turn to existent court records to learn more.
Comments
As you hopefully realize, newspaper notices, such as these from GenealogyBank's Historical Newspaper Archives, are the starting point to proving family histories – whether you are looking for the reason of a known name change, or wondering if the reason you're at a dead end is that a name change occurred in your family!
Please let me know in the comments below if you found a family name change in the papers, and if the reason was disclosed.