Introduction: In this article, Gena Philibert-Ortega wonders how and when a tie became a common Father's Day gift, and digs into old newspapers to learn more. Gena is a genealogist and author of the book "From the Family Kitchen."
Father's Day is strongly associated with one particular gift: the necktie. That accessory that helps men look "put together" is the symbol of a Father's Day gift, though not always in a positive way. I never understood this association since my dad, who worked for the railroad, never wore a tie – and when he wasn't wearing his "work clothes" he was wearing jeans and t-shirts. I think if I ever presented him with a gift of a tie, he would have begrudgingly thanked me and then quickly forgotten about it.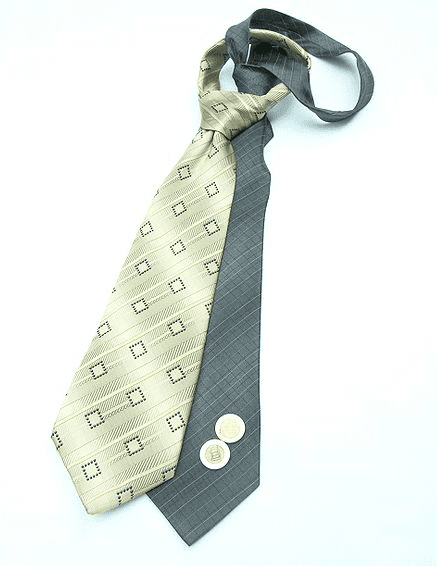 Now that's not how all dads feel about ties as gifts, and historical newspapers – such as GenealogyBank's Historical Newspaper Archives – provide some insight into Father's Day ties.
Dads and Ties
Where did the idea that the perfect Father's Day gift was a tie come from? I'm not exactly sure, but it's important to remember that Father's Day is rooted in the early 20th century and it wasn't until 1972 that it was made a national holiday.* Observing Father's Day on the third Sunday of June didn't happen until 1966.
The first newspaper mention of buying dad a tie that I found was this October 1922 advertisement for a local retailer in Fairmont, West Virginia. The Maunz store ad implores readers to "Don't let father wear an old necktie Sunday."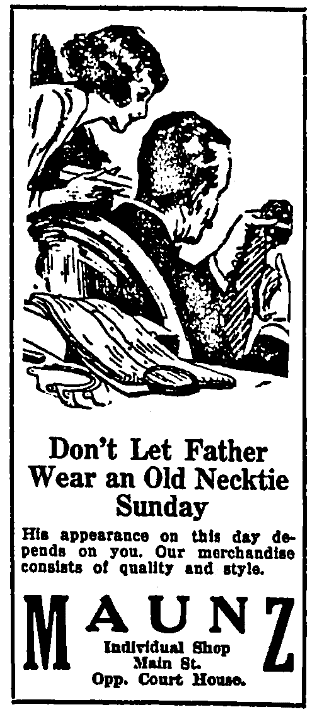 After that initial advertisement I found, it seems that every year retailers reminded families to buy their dad a necktie for Father's Day.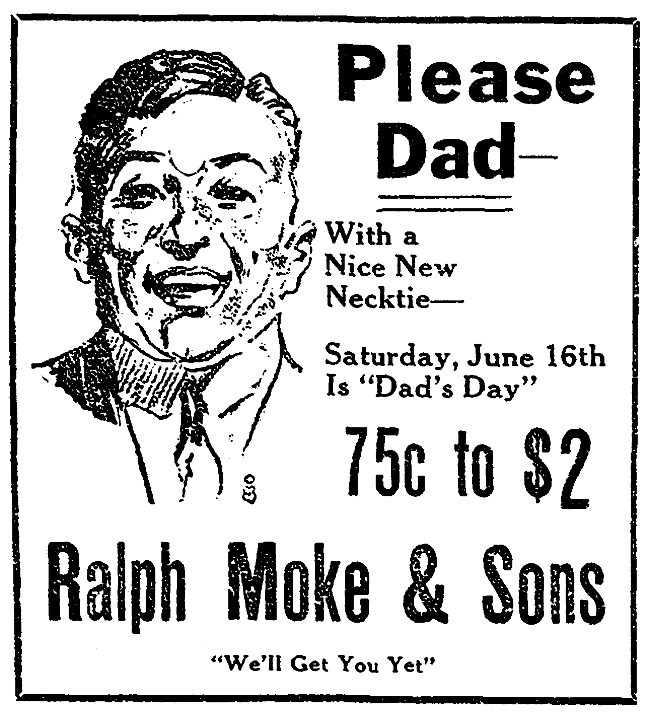 By the 1950s the idea of giving dad a tie for Father's Day was a given, as evidenced from this 1955 newspaper article reminding readers that Father's Day is the "traditional necktie gift day," as it provides some short history facts about ties.
Does He Want Ties?
Before ties became the perfect gift for Dad, it would seem that in some cases women were cautioned from buying them. This 1892 article says that women shouldn't pick out ties for men at all – and if they do and the man graciously accepts, it's true love. Why shouldn't women pick out ties? This article claims that women are likely to pick out what men call a "pretty necktie" – and men supposedly hate pretty neckties.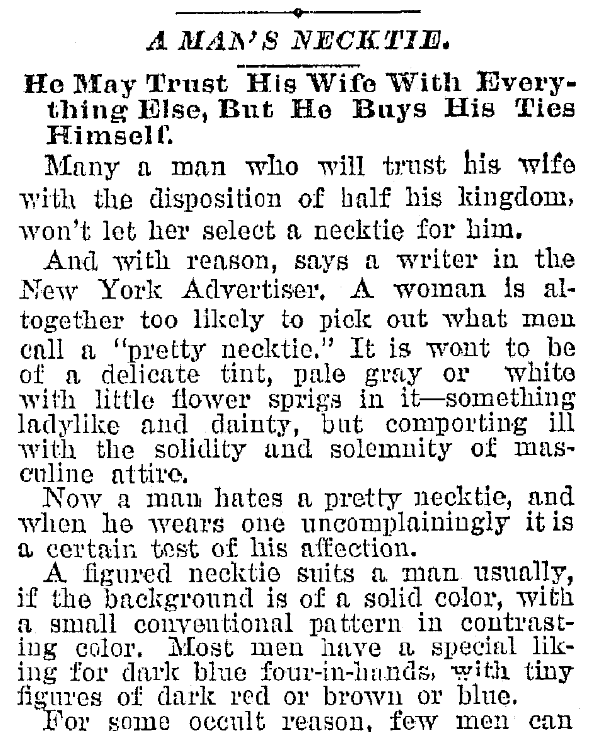 Maybe that author has a point. A 1922 Efficient Housekeeper column harkens back to when women made crocheted neckties for their men. Women in the 1920s who took up crochet hooks to supply male loved ones might "see the ghost of their own demure girl-ancestors as they worked." I will say I do like the way the article harkens back to female ancestors, but I wonder if it was a look that men truly wanted.
The article comments:
"There is a good deal of sentiment about doing something that a past generation enjoyed doing. It makes one want to open the old family album and recall the stories that were told us about sweet characters of the long-ago people whose photographs we find there."
The crochet pattern for a tie is included in the column.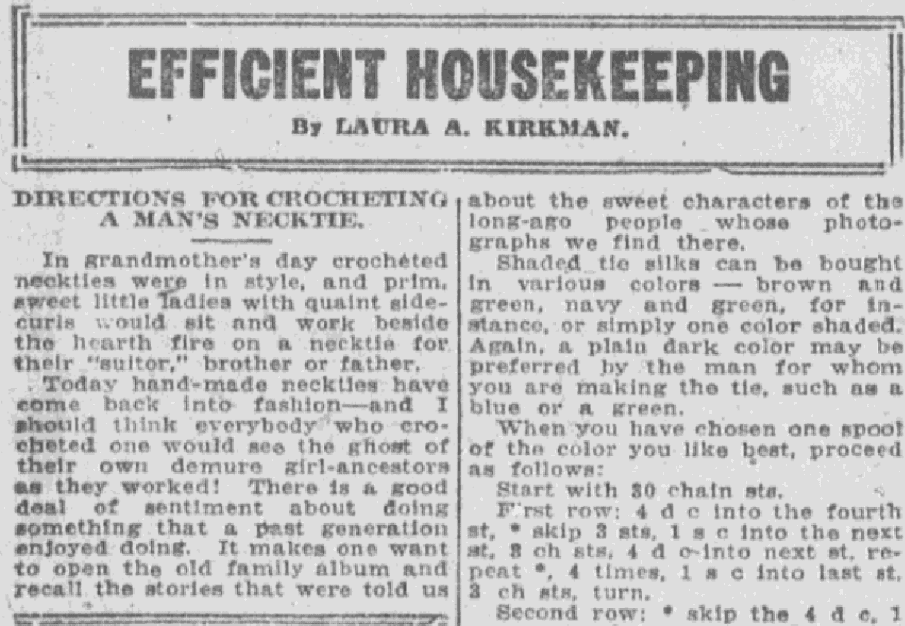 What Will Dad Get This Year?
As time goes by, the idea of what makes a perfect gift changes as well. I surveyed dads I knew on Facebook and about half had received ties for Father's Day – but not surprisingly, they were also the ones who wore them for work. The idea of giving a tie for Father's Day may still be a reality for some; but for many it's the yearly joke, like this article encouraging the giving of technology gadgets:
"The Great Necktie Migration begins each year in early June and culminates mid-month, when neckties from all over the land leave their retail spawning grounds to join their kin in the closet on Father's Day."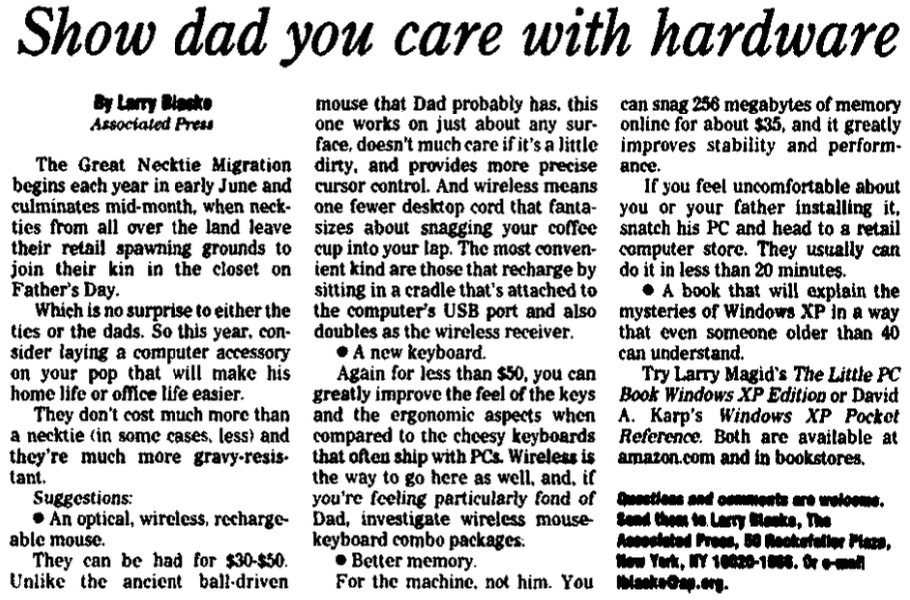 If the dad in your life isn't the tie-wearing sort, you can still have some fun with the idea of that quintessential Father's Day gift by baking a tie cake. After all, who doesn't like something homemade?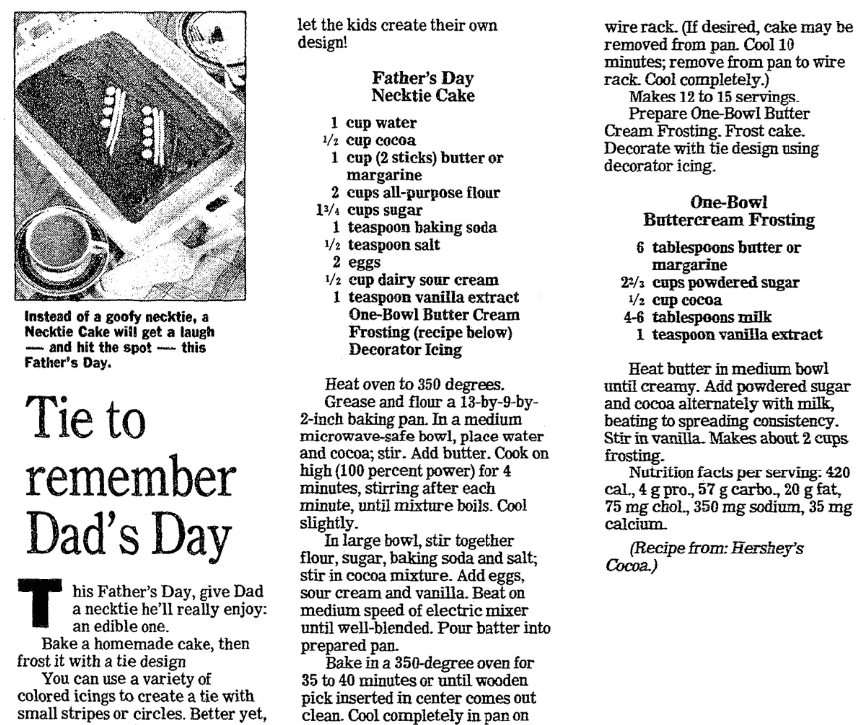 So, dads, what was your favorite gift? I hope that you receive the gift you really want this Sunday even if it is a tie.
Happy Father's Day.
* "Father's Day (United States)," Wikipedia (https://en.wikipedia.org/wiki/Father%27s_Day_(United_States): accessed 10 June 2020.