Introduction: In this article – the first in a series – Melissa Davenport Berry gives genealogy tips from family historian Mrs. Knowles, a descendant from the Mayflower. Melissa is a genealogist who has a blog, AnceStory Archives, and a Facebook group, New England Family Genealogy and History.
In 1963 Louis Ellyson, staff writer for the Richmond Times, published an article on local genealogists in the area. Ellyson visited the Virginia State Library, where many genealogists gathered to research and share material.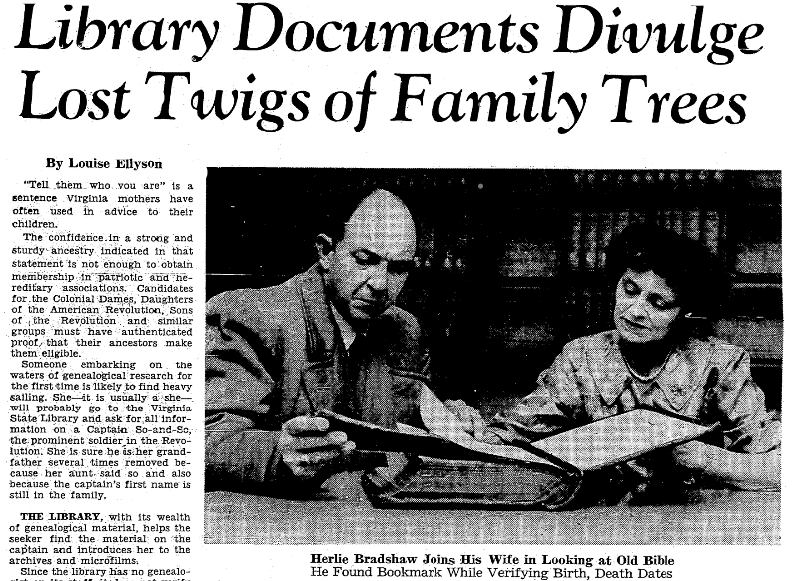 One genealogist Ellyson interviewed was Mrs. W. Herbert Knowles. Mrs. Knowles was at the library that day helping Mrs. Jane Jennings Bradshaw trace her family line. Ellyson witnessed how genealogy fact-finding went down.
Mrs. Knowles, a top gun genealogist, would spend 10-12 hours a day combing through records to trace her clients' ancestors. Her blue-chip portfolio was monumental and proved her experience and expertise.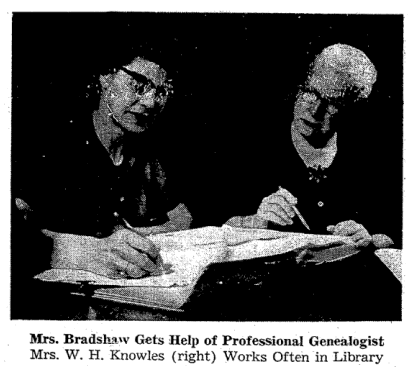 She served as the official genealogist for both the Colonial Dames in Virginia and the Jamestowne Society, as well as the historian for the Society of Mayflower Descendants in the state of Virginia.
Mrs. Knowles was also regent for the Daughters of the American Revolution, William Byrd Chapter, and executive board member of the Women Descendants of the Ancient and Honorable Artillery Co.
In her article, Ellyson reported many genealogy tips she learned that day back in 1963 when she interviewed Mrs. Knowles.
To start your ancestor research, "begin with yourself and work back," stated Mrs. Knowles. Keep in mind that you will have 64 great-great-great-great-grandparents – and that is a lot of digging!
Mrs. Knowles noted that records are fallible. For example, a tombstone erected several years after your ancestor's death might be incorrect.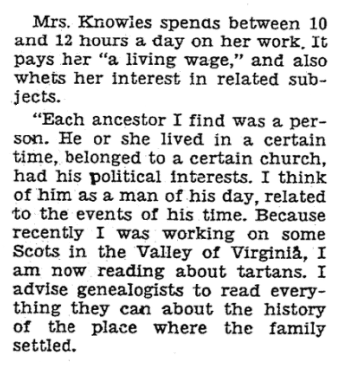 When there are discrepancies, "In such a situation you must use at least four approaches," Knowles asserted, including: "Will and deed books, personal property taxes, the census, newspaper clippings cemetery records, city directories, and good genealogical books."
The same tools Mrs. Knowles utilized apply today. Even better, many of the records are now accessible on the internet. Back in her day, most county and city records were only available on microfilm. Today, The Church of Latter-Day Saints in Salt Lake City, Utah, has digitized these documents.
The newspapers available on GenealogyBank are an excellent resource to find birth announcements, marriage notices, obituaries, military records, and other important events. Another genealogy site is FamilySearch.com, which offers a program to build your family tree and publish documents, photos, and memorabilia of your relatives.
Libraries, special archives, and historical societies remain treasure troves as well. Many of these organizations have family Bibles, diaries, and letters. It is most auspicious to combine all of these on your ancestor hunt.
Another tip Mrs. Knowles mentioned was finding all you can about the history of the area where your ancestors settled.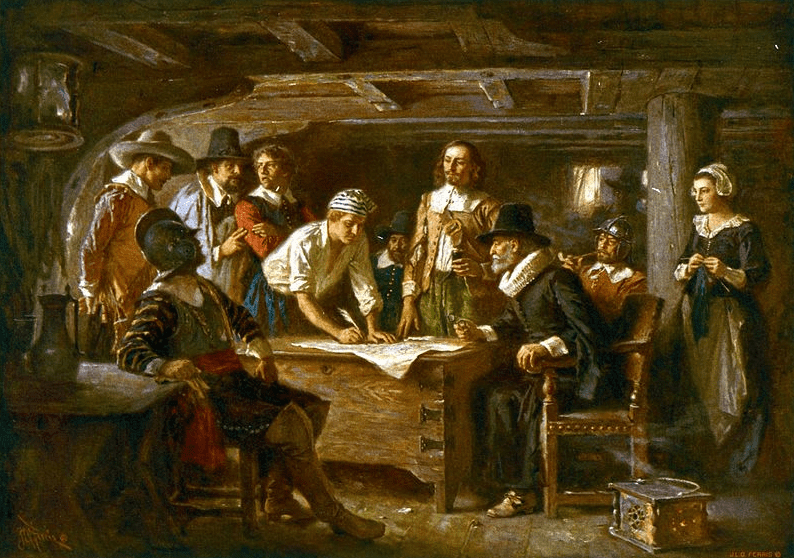 Mrs. Knowles had an impressive pedigree. She was a direct descendant of Mayflower passenger John Alden, Deputy Governor of Plymouth Colony. Her husband William Herbert Knowles also had a Mayflower connection, to Isaac Allerton. The Knowles family connects to the Mayflower through several marriages.
In 1639 shipmaster Richard Knowles arrived in Massachusetts. He married Ruth Bowers, daughter of George Bowers, a planter of Scituate, Massachusetts, in the Plymouth Colony. Four of their children married into Mayflower lines.
I found an obituary for W. H. Knowles on GenealogyBank that revealed memberships to Sons of the Revolution, Society of Mayflower Descendants, and Isaac Allerton Colony.
Many who claim Mayflower descent can also prove their lineage to other hereditary societies. Whether you are just beginning your ancestor search or have authenticated the proof, stay tuned for this series of upcoming blog articles about tracing your lineage to the Mayflower and beyond.
Coming up next: more Mayflower lines in the Knowles family, and photos of descendants.
Genealogy:
Alma Grace Fuller (1905-1985), daughter of Merritt Goold Fuller (1882-1933) and Bessie Maude Cole (1882-1933), married William Herbert Knowles (1903-1956), son of James Louis Knowles (1870-1928) and Maude Montgomery Persons (1875-1950). (Thurtle, Robert Glenn. "Lineage Book of Hereditary Order of Descendants of Colonial Governors." 2009. p. 143-144); Index to the Virginia Genealogist, Volumes 1-20, 1957-1976.
Richard Knowles (1614-1675), married Ruth Bowers (1616-1687). The Bowers line had some famous Quakeresses. Among them was Bathsheba Bowers (1671-1718), author and preacher. One of her publications was a spiritual autobiography entitled An Alarm Sounded to Prepare the Inhabitants of the World to Meet the Lord in the Way of His Judgments (1709).
Children of Richard Knowles and Ruth Bowers:
Mary "Mercy" Knowles, married 1st John Snow, son of Nicholas Snow and Constance Hopkins (Stephen), and 2nd Ephraim Doane (Deacon John).
Mehitable Knowles, married George Brown (William; Peter).
Barbara Knowles, married Thomas Mayo (Hannah Prence; Gov. Thomas Prence and Hannah Brewster).
Samuel Knowles, married Mercy Freeman (Mercy Prence and Major John Freeman; Patience Brewster).
Captain John Knowles (1641-1675), married Appia Bangs (1651-1722), daughter of Edward Bangs (1591-1677/8) and Rebecca Hobart (1611-1679).
John Knowles Jr. (1673-1757), married Mary Sears (1672-1745), daughter of  Paul Sears (1638-1707/8) and Deborah Willard (1642-1721).
John Knowles (1698-1752), married Mehitable Walker (1700-1752).
Elisha Knowles (1723-1801), married Abigail Cone (1730-1801).
James Knowles (1746-1830), married Marsha Smith (1746-1836).
William Knowles (1789-1870), married Sarah Woodward (1800-1871).
Richard Oliver Knowles (1825-1910), married Jane Chick (1833-1887).
James Louis Knowles (1870-1928), married Maude Montgomery Persons (1875-1950).