Introduction: In this article, Melissa Davenport Berry concludes her story about a 19th century arsonist who ravaged Newburyport, Massachusetts – and how he was finally caught. Melissa is a genealogist who has a blog, AnceStory Archives, and a Facebook group, New England Family Genealogy and History.
Today's article concludes the story of 19th century arsonist Leonard Choate, aka "Firebug Choate." He was brought to justice when Newburyport Mayor Nathaniel Pierce and Newburyport Herald editor E. L. Colby decided to launch a full-scale war on the firebug. A reward of $10,000 was offered and a committee was formed to carry out a sting operation. Savvy private detectives were hired, and the police force doubled up on manpower.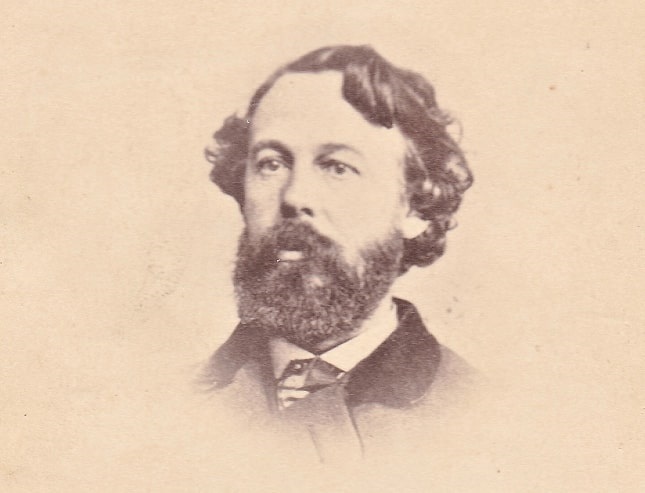 Detective Moses Sargent of the Boston police and his righthand guy William H. Fitts, City Marshall of Newburyport, headed the operation. Sargent assumed a fake name and moved into a private apartment. A committee was assigned to examine all the citizens of the town. When it was Leonard's turn to be scrutinized, he came up clean due to his status in the community – but Detective Sargent had a hunch and put Leonard on his suspect list anyway.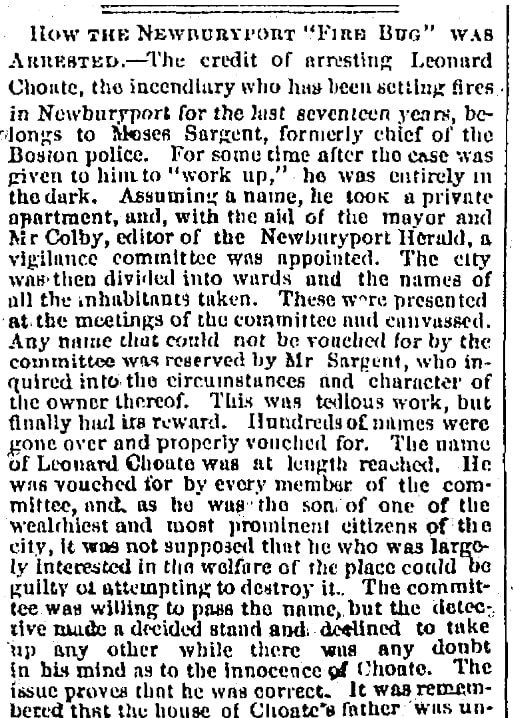 Not all of Leonard's arson attempts had succeeded – the fires that "failed" left behind some clues that alerted Sargent. First, a firebox used to start a blaze was recovered at the Harris Street church by Joseph W. Hardy on 18 December 1868.
The investigators determined that the fire starter was a person who possessed all the "skill, opportunity, tools, and materials," to produce the fireboxes. He was clearly a skilled carpenter. The marks left on the boxes were made by a nicked tool which matched "with Choate's tool nicked in just a manner as to make a positive identification." (Commonwealth v. Leonard Choate)
It was determined that the mahogany shavings which were placed inside the boxes to spark the fires could only be found in one place in town: Leonard's woodshed and shop on Tying Street had them in his inventory. Investigators concluded that he used them for incendiary purposes, and no other.
The materials in Leonard's possession "matched the charred remains of what was contended to have been a box by means of which the fire was set, about six inches square on the bottom and about twelve inches high, containing a block of wood perforated with an auger hole of the size of a candle."
Leonard felt the heat, and packed up his family and headed out to Minnesota – but investigators got a hot tip that led them right to Leonard's hideaway.
Another firebox was recovered from an old factory building fire. This one was wrapped in a St. Paul, Minnesota, newspaper. Sargent placed inquiries with the Minnesota postmaster who informed him that Mr. Leonard Choate was indeed a subscriber to that newspaper.
Sargent and Fitts left for Minnesota and met with the city police chief. Choate was arrested on 26 February 1869 and faced a multitude of charges. The Milwaukee Wisconsin published a detailed article about Choate, which was reprinted in the Schenectady Evening Star. It began this way.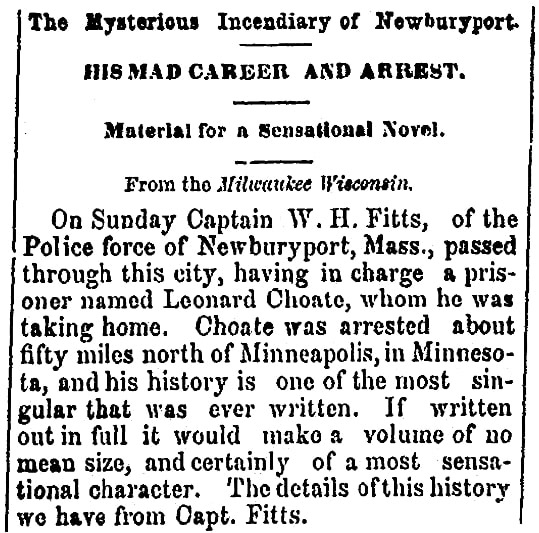 This article gave information about the fireboxes Leonard constructed to start his fires, which led to his being discovered.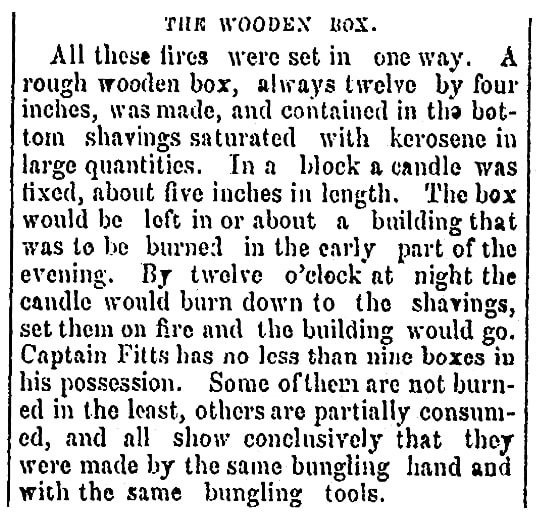 This article gave another interesting detail: Leonard sent taunting letters to the authorities bragging about his arson.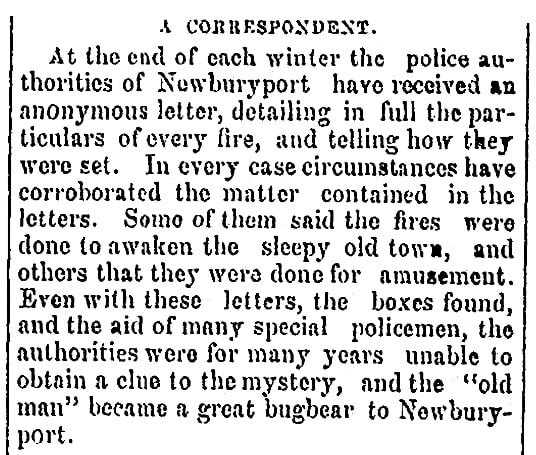 The district attorney, Edgar Jay Sherman, examined hundreds of witnesses and interviewed wood specialist, and many of them testified at the trial. Judge Ezra Wilkinson presided over the trial and attorneys Alfred Abbott and Stephen Ives appeared on Leonard's behalf. The trial attracted a great deal of attention and a large crowd of spectators. Leonard was found guilty.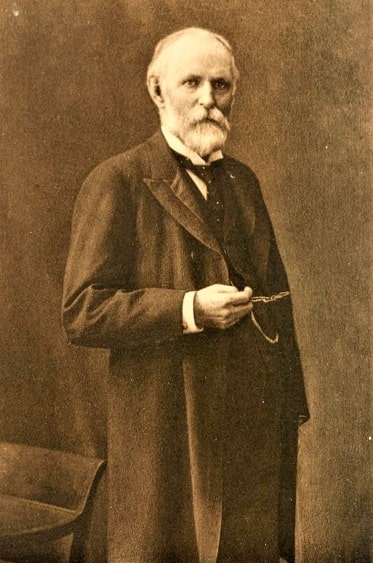 In his personal memoirs, Edgar Jay Sherman said he received a letter from the mayor thanking him on behalf of the people for the "splendid manner" in which he had conducted the prosecution. Sherman noted the trial was one of the most interesting and important cases in his career.
Several years later, Choate's four children filed an appeal for a pardon on his behalf. Detective Sargent put in a good word. According to reports, "he [Sargent] was of the opinion that Choate had suffered enough; and that he had committed his crimes from a mania and that in his opinion the prisoner has outgrown his mania."
However, Leonard spent his remaining days locked up. First, he was in the Concord State Prison, then in 1900 he was transferred to Bridgewater State Farm "due to his advanced age and mental state." He died in 1914.
What prompted Choate's mania for fire starting remains a mystery.
Note: Just as an online collection of newspapers, such as GenealogyBank's Historical Newspaper Archives, helped tell the story of arsonist Leonard Choate, they can tell you stories about your ancestors that can't be found anywhere else. Come look today and see what you can discover!
Related Article: