Introduction: In this article, Melissa Davenport Berry writes about a 19th century arsonist who ravaged Newburyport, Massachusetts – and how he was finally caught. Melissa is a genealogist who has a blog, AnceStory Archives, and a Facebook group, New England Family Genealogy and History.
The town of Newburyport, Massachusetts, had an infamous arsonist in the 19th century whose flair for fire blazing brought pyromania to a whole new level. The incendiary Leonard Choate, aka "Firebug Choate," burned over 150 homes, barns, and buildings. He orchestrated each inferno carefully and spared nothing sacred.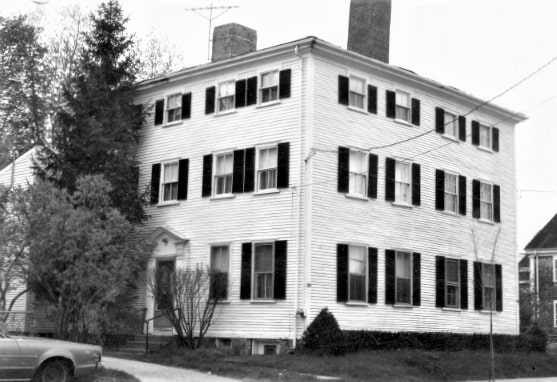 Houses of worship and his own family properties were among his hottest hits. He stayed off the suspect list for 17 years until former police chief Moses Sargent, Mayor Nathaniel Pierce, and Newburyport Herald editor E. L. Colby executed a sting operation to end Leonard's fiery reign. When authorities bagged the fire bug the word spread like wildfire – but the story behind his capture is the true scorcher!
What prompted Leonard's mania for fire starting remains a mystery. It was rumored that he "laughed with a horrid glee" when the fire bells rang and "leaped from rafter to rafter." His wife, Emeline (Cook), confessed to officials that he was overly excited and humored by the tragic blazes, and often commented with such statements as: "Don't they wish they knew who was doing all this?" or "I wonder if they will ever catch the rascal?"
Leonard Choate (1835-1914), son of True Burnham Choate and Mary Pillsbury, was born into a respectable, prominent family who were known for their civic leadership and community service. The Choate's were ship joiners (carpenters who did the woodwork on ships) and their excellent work was "proof of that genius which has placed the Merrimack ship joiners in the front rank of nautical architects and skillful mechanics."
Leonard inherited the family's skill for wood carving and used his familial talents to set himself far above all other arsonists. What the newspapers around the country noted was that his malicious acts were "a perfect art form." Although his fire bug mystique gained serious momentum, Leonard's crafty custom-built boxes that he used to set the fires eventually provided the evidence to quell his pyro tendencies.
Early in the morning of 17 February 1853, Leonard set fire to the storeroom of the Choate family business. The work shed was filled with seasoned lumber and the flames devoured the entire structure. The fire also damaged the home of his grandparents (Benjamin Choate and Jane True) as well as the home of Benjamin Pickett.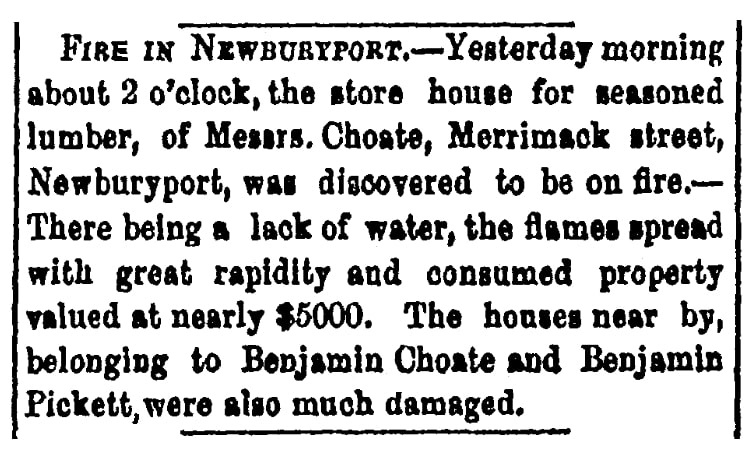 According to the Boston Daily Bee, the estimated damage was assessed at $5,000. Even though Leonard was due to inherit these proprieties, his need to burn overtook him and he destroyed this part of his inheritance.
Right around the time Leonard's combustible paws began lighting up, the city hosted a July 4th celebration in 1854. The Newburyport Morning Herald covered the event and the Choate family were noted.
Ship joiners were part of the Fourth of July parade that year, and the Choate brothers True and Ezekiel, known as Messrs. T. & E. Choate at Currier's shipyard, displayed a magnificent exhibit. Their banner was in the shape of a topsail with a motto in bold letters reading "Ship Joiners – Excelsior."
Among the celebratory participants, spectators, and patriotic daughters of the Belleville parish that July day, none would have imagined that it was a member of the Choate family who was torching their fine city. It was assumed that any Choate was so largely interested in the welfare of the place that he could never be guilty of destroying it.
When choosing his victims, Leonard never discriminated. His malevolent nature was beyond ruthless. No one was spared from his touch-offs, which made him even more puzzling to curious minds.
Eventually, Choate was fingered for setting over 41 fires from 1861 to 1867, and the destruction and expense was overwhelming. In one case he chose a blistering snowstorm to carry out his pyro passion: on 21 March 1861, the structure of the Old North Congregational Church (late Dr. Dimmick's) was targeted during one of the worst blizzards ever recorded.
How did they finally figure out who was the culprit, and catch the arsonist? Stay tuned for more on this story!
Note: Just as an online collection of newspapers, such as GenealogyBank's Historical Newspaper Archives, helped tell the stories of the Choate family, they can tell you stories about your ancestors that can't be found anywhere else. Come look today and see what you can discover!