Introduction: Duncan Kuehn is a professional genealogist with over nine years of client experience. She has worked on several well-known projects, such as "Who Do You Think You Are?" In this blog post, Duncan searches old newspapers to learn more about the Catawba Indian tribe in South Carolina and their traditional pottery.
A collection of online newspapers, such as GenealogyBank's Historical Newspaper Archives, is a great resource for researching your family history. While I often do this, I also sometimes search newspapers just for fun, learning more about something that interests me.
For example, I recently wanted to see how much I could learn about a somewhat obscure topic by reading old newspaper articles. I know a little about the Catawba Indian tribe in South Carolina. But I knew very little about their traditional pottery until I researched it in GenealogyBank's newspapers.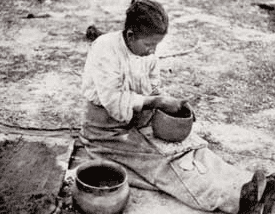 The Catawba Indian Nation has been in existence for a very long time. The first European contact that can be verified was in 1540 by Spanish explorer Hernando de Soto. Sadly, the language died out in the 1950s (although currently there are attempts to revive it). However, despite many challenges, the tribe is federally recognized and, although small in number, still living in the Rock Hill area of South Carolina.
They have a long history of being allies to the Americans. As early as the Revolutionary War, when a group of Catawbas joined the Patriot cause, they have played a role in the formation of our country.
Among the other significant contributions they have made, the Catawba are well known for their impressive pottery skills. The pottery is distinctive in black and tan mottled patterns and the absence of any finish – it is never glazed or painted.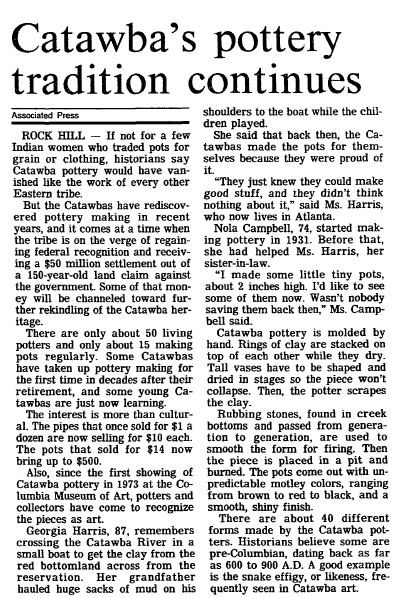 According to this article:
Catawba pottery is molded by hand. Rings of clay are stacked on top of each other while they dry. Tall vases have to be shaped and dried in stages so the piece won't collapse. Then, the potter scrapes the clay.

Rubbing stones, found in creek bottoms and passed from generation to generation, are used to smooth the form for firing. Then the piece is placed in a pit and burned. The pots come out with unpredictable motley colors, ranging from brown to red to black, and a smooth, shiny finish.
The Catawba coil long ropes of clay into pipes and jars, as well as intricate shapes – including human-like faces and animal forms. They do not use potter's wheels, making their pottery entirely by hand.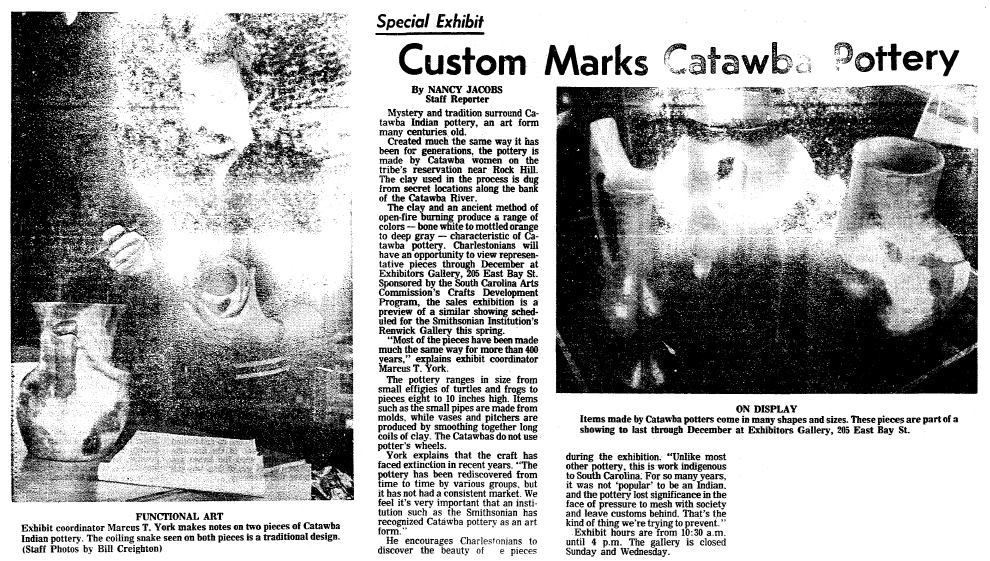 According to this article that was promoting a special exhibit of Catawba pottery made by the Catawba Cooperative:
Mystery and tradition surround Catawba Indian pottery, an art form many centuries old.

Created much the same way it has been for generations, the pottery is made by Catawba women on the tribe's reservation near Rock Hill [South Carolina]. The clay used in the process is dug from secret locations along the banks of the Catawba River.
Pottery-making is generally a family business, with the men and some children collecting the clay and the women and children forming it into pottery – although the gender roles are not strictly exclusive. Often the pottery-making tools have been handed down for multiple generations and are prized possessions.
At the turn of the century, Catawba families sold their pottery at roadsides and in markets. Judging from the number of ads in GenealogyBank's Historical Newspaper Archives, it appears that Catawba pottery really hit a high note in the 1970s like many other traditional arts and crafts.
Several Catawba potters have been duly acknowledged as fine artists – the most notable being Sara Ayers, who won the South Carolina Folk Heritage Award.
Keeping an ancient tradition alive – such as the Catawba hand-made pottery – is hard work, especially in the context of an entire culture that is being threatened. Inevitably, the people involved encounter difficulties. For example, there was some bad blood between the Catawba Cooperative and Sara over the Catawba identity. Sara had left the reservation and the Catawba Cooperative seemed to feel she was a traitor.
According to this article:
Last week, the News and Courier told the story of the Charleston exhibitors, the 18 women of the Catawba Cooperative. Theirs is a good and proud story of people banding together to save part of a heritage and to help themselves commercially by it.

This week is the story of Sara Ayers. It also is a good story of a proud Indian woman, who, years ago and alone, created a small market for Catawba pottery. In the process, she made some money and a name for herself in crafts circles around the country.

The Catawba Cooperative and Sara Ayers do not like each other very much right now. Their combined stories tell us something quite sad about what happens to individuals when as a people, they lose a culture.
Another difficulty the Catawba potters faced was due to a land dispute, in which many of the Catawba were barred from entering the land (that used to be part of their reservation) where their traditional clay pits are located.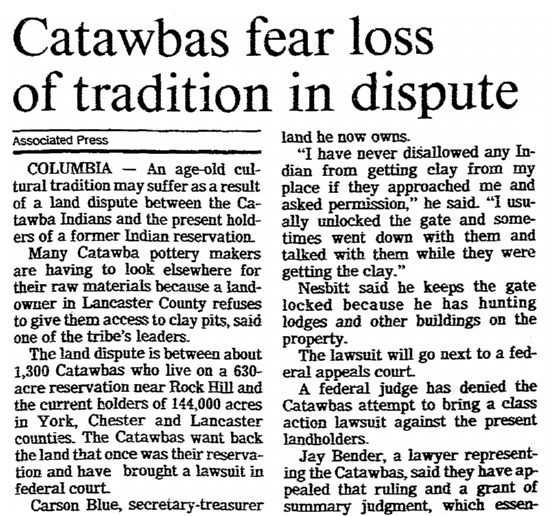 Despite these challenges, the Catawbas – and their distinctive pottery – have endured. According to the Catawba Indian Nation website:
Due to the importance of pottery in the Catawba culture the tribe is committed to making sure that there are always Catawba potters to teach this skill to others so that this 6,000 year old tradition can continue to be passed on to future generations.
Do you have any Native American ancestry in your family tree? If so, please tell us about it in the comments section.
Related Native American Genealogy Articles: