When I am gone, beat the drum and fire the guns. ~ Captain and Chief Tishomingo
As we get closer to July 4th, we think back on the stories of our American ancestors who fought for our freedom in the Revolutionary War. This old newspaper obituary tells us about the story of one of those Revolutionary War veterans, whose heroic story deserves to be more widely known.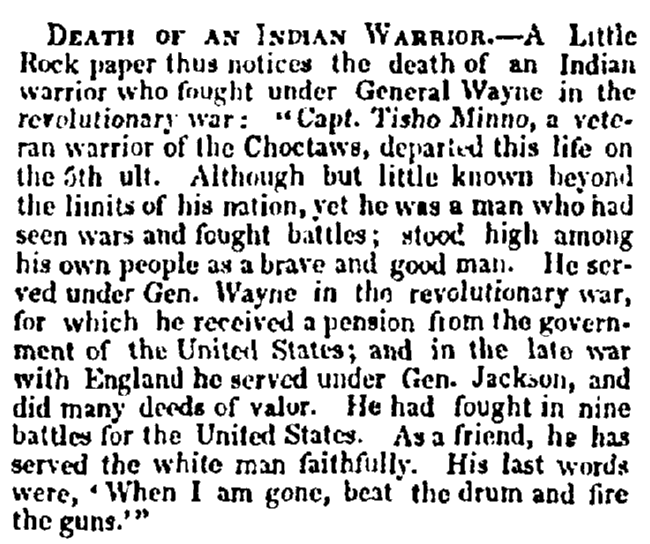 Chief Tishomingo was the last great chief of the Chickasaw Nation.
According to his obituary:
Although but little known beyond the limits of his nation, yet he was a man who had seen wars and fought battles; stood high among his own people as a brave and good man. He served under Gen. [Anthony] Wayne in the revolutionary war, for which he received a pension from the government of the United States; and in the late war with England [the War of 1812] he served under Gen. [Andrew] Jackson, and did many deeds of valor.
Chief Tishomingo was born in Tishomingo, Mississippi – the town was renamed in his honor. The early history of the 19th Century was not kind to Native Americans – even those like Chief Tishomingo who had "fought in nine battles for the United States." He and his tribe were forced to relocate to Oklahoma. He died on the trip near Little Rock, Arkansas.
[search_box]
The first capital of Oklahoma was located in Tishomingo, Oklahoma, which was also named in Captain Tishomingo's honor.
Watch this video about Chief Tishomingo's life that was produced by Chickasaw.tv https://www.youtube.com/watch?v=PL9O9lNNzTk
Find your ancestors' true life stories in more than one billion historical articles that cover over 300 years of American history from coast to coast. Start searching in GenealogyBank.com.
Related Articles:
Note: FamilySearch International (FamilySearch.org) and GenealogyBank are partnering to make over a billion records from recent and historical obituaries searchable online. The tremendous undertaking will make a billion records from over 100 million U.S. newspaper obituaries readily searchable online. The newspapers are from all 50 states and cover the period 1730 to the present.  Find out more at: https://www.genealogybank.com/family-search/
[bottom_post_ad]