Introduction: In this article, Mary Harrell-Sesniak describes a special collection of Native American newspapers, and other online resources to help with your Native American family history research. Mary is a genealogist, author and editor with a strong technology background.

One of the challenging quests for family historians is researching indigenous American ancestry.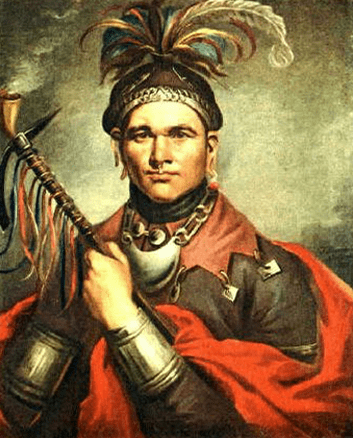 It would be a genealogist's dream come true to find documentation in court houses, churches or within tribal records—but alas, that's often not possible. And when you do find documentation of Native American ancestry, it may be confusing or inaccurate, as shown in the following examples.
The Name "Refused to Answer"
This discovery came about while researching census records of South Florida. Members of local Native American tribes were asked for their family members' names. Some, fearing the intent of the census taker, refused to answer—and as a result, "Refused to Answer" was entered as their name.
Nicknames
Then there are descriptive nicknames bestowed by non-Native American friends and acquaintances. In all likelihood, they were created in order to overcome hard to pronounce names or complicated spellings.
Ever hear of John Abeel or John O'Bail? These were two appellations given to a Seneca chief known as Cornplanter, but that wasn't his real birth name. Cornplanter is reportedly a translation of his tribal name, spelled in a variety of ways including Gar-Yan-Wah-Gah or Gaiänt'wak.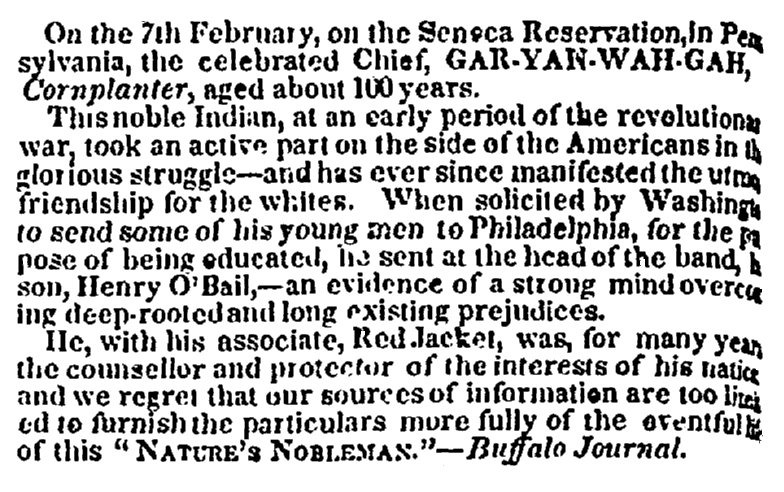 Legends May Not Be Legends
Ever hear the expression "to lie like Sam Hyde (or Hide)"? Thought to be a legendary character, Sam was supposedly a Native American chief in New England whose stories grew to the size of an exaggerated "fish" or tall tale. Every time they were exchanged, the claims grew, including in this report from 1806 about an amazingly large squash that was "nothing to Sam Hyde's Water-Melon."

Newspapers, you've got to love them! Not only do they repeat regional folklore and legendary tales, but they also serve to disprove them. Take, for example, Sam Hyde's Wikipedia article, which has a number of inaccuracies. Part of this e-piece reports:
Sam Hide (or Hyde) is a historic or apocryphal character in the folklore of New England, used in the folk saying "to lie like Sam Hide." There is no record of the death of a Sam Hide in the records of Dedham, Massachusetts, though he is said to have died in 1732…
Should we be surprised that his official death was not recorded in town records? No, because as a member of a tribe, he could not have been considered an official resident. However, GenealogyBank's Historical Newspaper Archives prove that Hyde was not the figment of someone's imagination. He was real, and he died on 5 January 1732 in Dedham.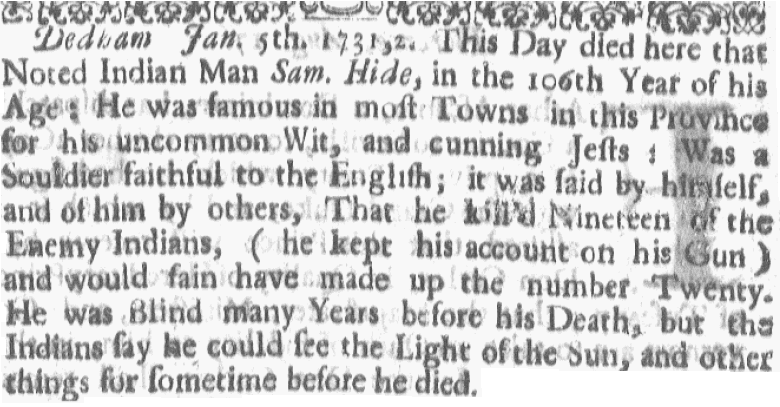 Federal Archives and Records Center
You can also find newspaper articles about resources for researching Native American ancestry, such as this article about the Federal Archives and Records Center at Fort Worth, Texas.
This interesting historical news article reports a wealth of information, including:
The 27,000 cubic feet of permanent records are kept in a huge warehouse building six football fields long, and on row after row of stacks stretching 13 shelves high. They include federal court records from a five-state region, along with documents relating to the Bureau of Indian Affairs and the 60 tribes the government moved through Oklahoma at one time or another.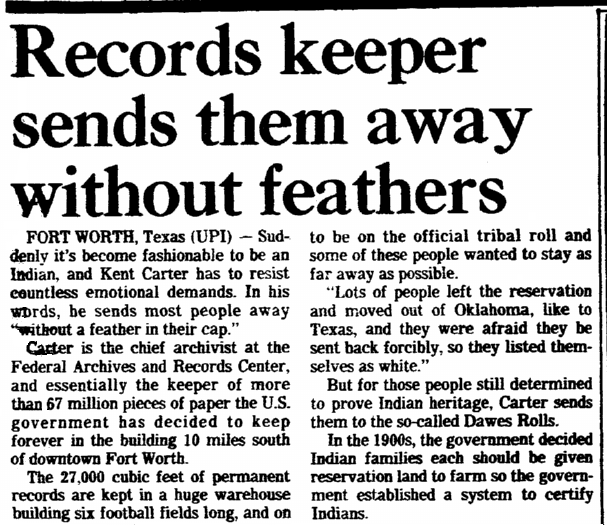 Native American Newspaper Research
So how can historical newspapers guide you along the elusive path of researching Native American Roots?
As seen in the above examples, there is information found in newspapers of general interest, particularly for the better known Indians. In addition, we are pleased to report that GenealogyBank is actively building its collection of Native American newspapers.
Currently, these newspaper titles are available:
Cherokee Advocate (Tahlequah, Oklahoma) Newspaper Archives (1871–1897)

Gallup Independent

(Gallup, New Mexico) Recent Newspaper Obituaries (2007–Current)

Herald and News

(Klamath Falls, Oregon) Recent Newspaper Obituaries (2000–Current)

Lake County Leader & Advertiser

(Polson, Montana) Recent Newspaper Obituaries (2008–Current)

Native American Times

(Tulsa, Oklahoma) Recent Newspaper Obituaries (2009–Current)

Navajo Times

(Window Rock, Arizona) Recent Newspaper Obituaries (2009–Current)

Nome Nugget

(Nome, Alaska) Recent Newspaper Obituaries (2011–Current)

Skagit Valley Herald

(Mount Vernon, Washington) Recent Newspaper Obituaries (2006–Current)
Other Native American Genealogy Research Resources
If you are curious as to whether you have Native American ancestry, review the information from the American Indian DNA Project (hosted by FamilyTreeDNA).
Dawes Commission & Dawes Rolls
A common starting point for researchers is the "Final Rolls of Citizens and Freedmen of the Five Civilized Tribes," known as the Dawes Rolls. Organized in 1893, a government commission established a mechanism to enroll residents of the Indian Territory (now part of Oklahoma) for government purposes. This serves as a type of census, and although this government compilation does not encompass every person of Native American ancestry, you may be fortunate to find your ancestors in one of the online databases.
This Department of the Interior and the Bureau of Indian Affairs website clarifies some common misconceptions about research:
"When people believe they may be of American Indian ancestry, they immediately write or telephone the nearest Bureau of Indian Affairs (BIA) office for information. Many people think that the BIA retrieves genealogical information from a massive national Indian registry or comprehensive computer database. This is not true. Most BIA offices, particularly the central [headquarters, Washington, D.C.] and area [field] offices, do not keep individual Indian records and the BIA does not maintain a national registry. The BIA does not conduct genealogical research for the public."
This National Archives and Records Administration website reports:
"Among the billions of historical records housed at the National Archives throughout the country, researchers can find information relating to American Indians from as early as 1774 through the mid 1990s."
Tribal Genealogy Research Resources
Many tribes maintain their own websites. If you suspect you are of a particular descent, go to the source. Many official tribe websites have lists of genealogy resources such as this page on Cherokee.org. There are also family research services that specialize in specific tribal genealogies such as Cherokee Roots, which can "offer expert assistance in finding your family's connection to the Cherokee People."
Related Native American Genealogy Articles & Resources: