Introduction: In this article, Gena Philibert-Ortega searches old newspapers to find some of our ancestors' Thanksgiving dishes, and shares those old-fashioned recipes. Gena is a genealogist and author of the book "From the Family Kitchen."

I've purchased some new pots and pans and started shopping for the food for our Thanksgiving meal. Are you ready? The bigger question is: what recipes will you be serving at your Thanksgiving feast? While your dinner recipes may be old hat by now, home cooks have always looked for recipe ideas even for this most traditional meal. Luckily for previous generations, the newspaper helped with the planning by providing plenty of Thanksgiving recipes—and by searching GenealogyBank's Historical Newspaper Archives, I've retrieved some of these old fashioned Thanksgiving recipes to share with you.
Lettuce Soup and Cranberry Water Ice?
This 1922 newspaper article from Olympia, Washington, remarks: "Below will be found a menu for the Thanksgiving Day dinner, which is published as an aid in arranging the greatest typical American feast of the year." While some of the recipes are familiar, the recipe for Lettuce Soup might be a new one to you.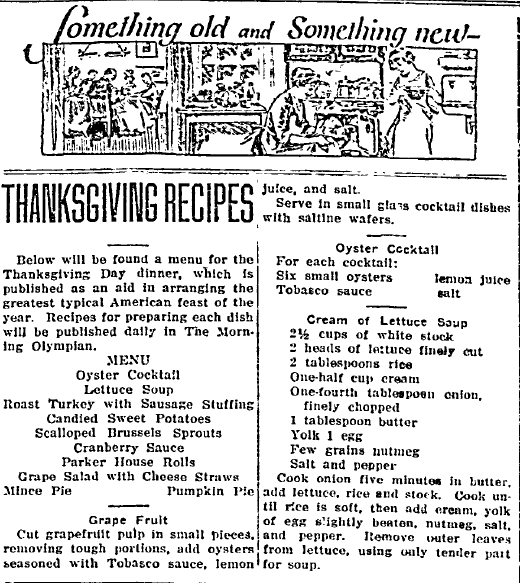 Let's face it, for many of us the Thanksgiving meal is pretty standard fare year after year. According to this 1912 article from Trenton, New Jersey, "The usual dishes present no difficulties to the good cook." So the article, true to its title, provides "new" recipes to try on that annual feast day. Do you like cranberries? Tired of the same old cranberry sauce? This article offers a Cranberry Water Ice recipe that involves pouring a teacupful of hot, but not boiling, water over a quart of plump cranberries. Then cook the mixture until soft and reduced. Once cool, add the juice of a "good sized lemon, a sirup (sic) made of a quart of boiling water and two capfuls of granulated sugar cooked until it thickens. Stir well and freeze to the consistency of water ice." Other recipes are included in this article that features a rather interesting photo of a child holding a dead upside-down turkey.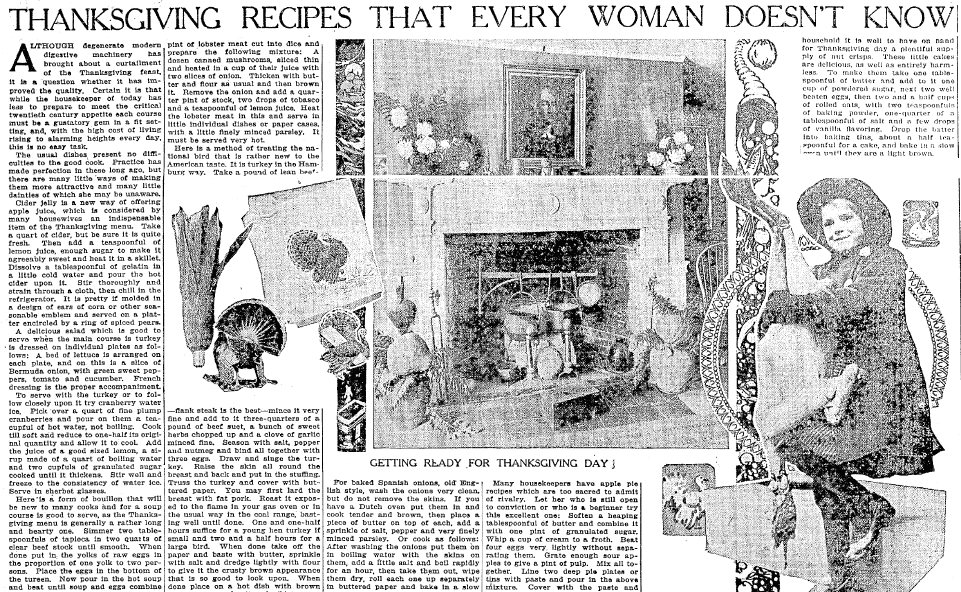 Dressing or Stuffing?
You say dressing, I say stuffing… So do you serve dressing or stuffing with your turkey? Most likely your use of the terms "dressing" or "stuffing" depends on where you live. Typically if you live in the South, you refer to that particular popular Thanksgiving side dish as "dressing." No matter if you say dressing or stuffing, it most likely includes a variety of ingredients such as meats (like sausage or oysters), nuts, breads (cornbread or stale sourdough), and assorted vegetables (celery, onions and even mashed potatoes), spices, and liquid. For some, no Thanksgiving turkey is complete without it being "stuffed," a practice that is losing popularity with today's food-safety conscious cooks.
I must admit, much to most readers' chagrin, my stuffing typically comes out of a box. This cooking convenience started with a U.S. patent (US 3870803) filed in 1971 by Ruth Siems and others from General Foods, when she invented a convenient way to prepare a quick stuffing based on the size of the bread crumbs. However, for those who opt for the homemade variety, the stuffing recipe is typically a source of pride. Want to try something different this year? In this Oyster Dressing recipe the directions are fairly simple. If you don't like oysters, try the accompanying Chestnut Dressing.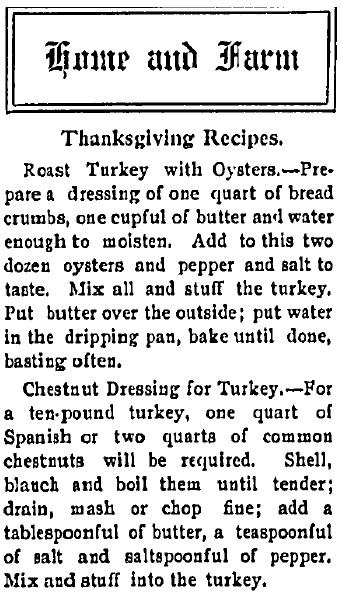 Thanksgiving Memories
One of my favorite Thanksgiving articles has to be this one from a 1935 edition of the Times-Picayune, a New Orleans newspaper, in which people submit a recipe and an accompanying Thanksgiving memory. A recipe for Baked Rabbit submitted by Mrs. O. Le R. Gofrrth includes a Civil War memory of having to improvise when there was no turkey to be had. "Ever since a cold and dreary Thanksgiving Day during the War Between the States, when the turkeys had been given to the Southern forces, and there were no wild ones to be had in Tidewater, Va. …No turkeys or other fowls, but there were rabbits in the woods."
In the same article, Mrs. E. M. Williams shares an old recipe for Popcorn Custard and Squash Pie that she introduces by writing: "This is a delicious dessert for Thanksgiving, because it dates back to the ancient days when one branch of our family lived in Maine. The recipe came from there and has been handed down for several generations, so that it is a real traditional recipe."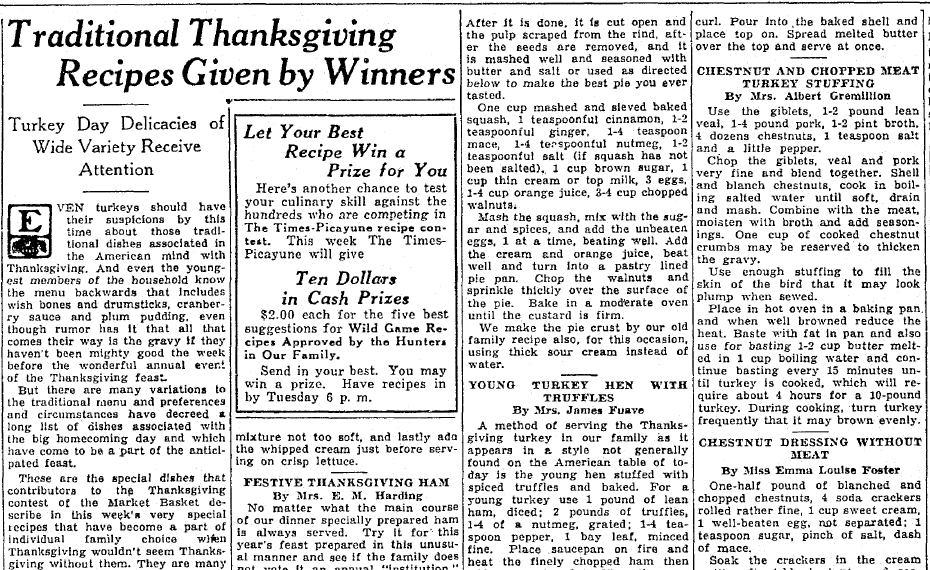 Another reason why I love this historical newspaper article is the grocery store advertisement found on the same page. Picone's Complete Food Store sells turkeys for 28 cents a pound, 2 dozen oysters for 15 cents and "freshly killed" rabbits for "20 cents up." These food prices give us a sense of what Thanksgiving dinner cost a family in 1935. To convert historic prices to today's values, see the website Measuring Worth.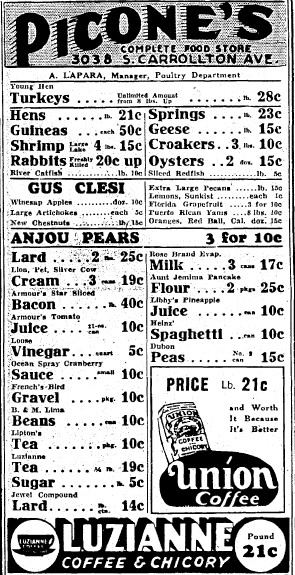 Another article found in the same newspaper 11 years later demonstrates that, depending on where you live and the time period, the idea of a "traditional" Thanksgiving differs. Consider this Thanksgiving menu shared by Mrs. W. A. Dees from when she was at a "camp" at La Branch near Lake Pontchartrain that includes uniquely Louisiana cuisine.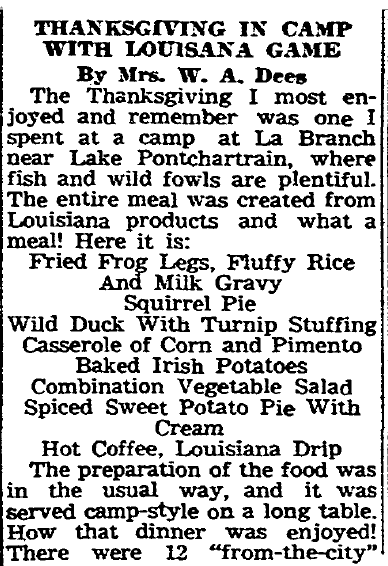 Thanksgiving is about celebrating with family and friends, and whether that is with a turkey or fried frog legs and squirrel pie, the food served helps everyone enjoy the day and the company.
What Are Your Favorite Thanksgiving Recipes?
Share your Thanksgiving recipes with us. Whether they are old traditional recipes or new ones you've incorporated into your annual dinner, we'd love to hear about them. Join us on Pinterest and pin your recipe to our board, Old Fashioned Family Recipes. Simply request an invite to post to our group recipe board. Not on Pinterest? No problem; share your recipes in the comments below.
Happy Thanksgiving to you and your family!
Related Thanksgiving Recipe Articles: