Introduction: In this article—just in time for Thanksgiving—Gena Philibert-Ortega searches old newspapers to learn about the Thanksgiving dinners our ancestors had during World War I. Gena is a genealogist and author of the book "From the Family Kitchen."

For many Americans, the word Thanksgiving conjures up images of family, a bountiful feast, and spending the day eating. However, Americans weren't always encouraged to eat everything and anything on Thanksgiving Day. During both World Wars, food was rationed and families on the home front were encouraged to make do with less. So what did that mean for the traditional Thanksgiving dinner during World War I?
Food Rationing during Wartime
Food rationing is typically associated with World War II, when ration stamps were used—but World War I had its own version of rationing—and this was especially true at Thanksgiving time. In the First World War, families were encouraged to limit some foods so that the United States could feed its soldiers and allies. Overseas, our allies' lands were devastated by the extensive fighting, and their ability to maintain crop production was limited.
Using propaganda posters, recipe booklets, and informational articles, American women were encouraged to alter the family's diets by participating in such endeavors as "Meatless Monday," growing a garden, and limiting the use of sugar. The government led the way in urging Americans to think about what they ate. Herbert Hoover and his U.S. Food Administration, established in August 1917, encouraged food conservation and helped to stabilize the price of wheat.
Newspapers provided families with recipe ideas to help them compile their holiday menus. Women turned to newspapers for recipes and ideas about the type of Thanksgiving they should serve, and newspapers helped women implement these new policies to conserve food.
No Oysters or Turkey for the Thanksgiving Dinner?
What do you typically serve for the Thanksgiving dinner? While portions of the Thanksgiving dinner menu have changed over time, some of the key dishes have always been served. In this 1917 California newspaper article, readers are cautioned that they should refrain from serving oysters on the half shell, Neufchatel cheese, and turkey for Thanksgiving.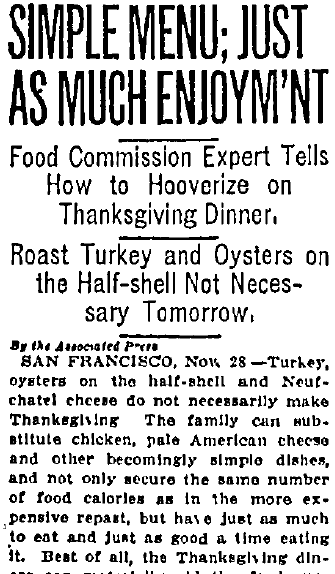 Readers are told: "The family can substitute chicken, pale American cheese, and other becomingly simple dishes, and not only secure the same number of food calories as in the more expensive repast, but have just as much to eat and just as good a time eating it." The author provides some alternative menus but first adds that "…the Thanksgiving dinner can materially aid the food supply by not turning the usual feast into a gastronomic contest."
(Note: the term "Hooverize" in this article's subtitle—a word your ancestor would have known all too well—referred to economizing food. Since Hoover was the head of the Food Administration, his name became synonymous with this effort.)
Cutting Back on Sugar
Sugar was one of the food items that Americans were encouraged to limit. Today, in a world where much of the food we eat is prepared or pre-packaged, we don't realize how much sugar is in a Thanksgiving meal. Cranberry sauce, gelatin salads, desserts and even sugar for coffee and tea were foodstuffs that families had to reconsider during wartime. It's no wonder that newspaper articles like this one discouraged that old standby, cranberry sauce. As pointed out in this old news article, cranberry sauce required large amounts of sugar that seemed, during this precarious time, to be wasteful.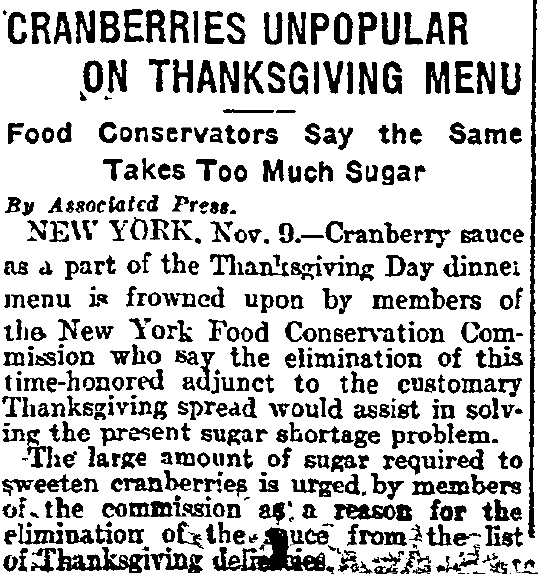 Use It Up, Do Without
American citizens were encouraged to plant gardens to supply produce for their meals. For those unable to plant gardens, patronizing local merchants who produced and sold food was encouraged. This was a predecessor of today's popular "Buy Local, Eat Local" trend.
The main theme of many of the newspaper articles promoting these ideas seems to be: a true American would gladly go without. Consider this 1918 newspaper article's closing sentence: "Turkey may be lacking in some cases, and the four kinds of pie which once closed the feast may be the only tradition of the ante bellum days, but reminiscences of much to be thankful for will dominate the Thanksgiving day of every true American."
What did Thanksgiving dinner look like for your family during World War I? Do you have any stories about your grandparents' Thanksgiving menu? Please share them in the comments below.