Introduction: In this article, Scott Phillips writes about finding some bad news in his family history—and how this turned into good clues for his genealogy. Scott is a genealogical historian and owner of Onward To Our Past® genealogy services.

It seems that in genealogy even bad news can magically be transformed into good news, which is quite a feat when you think about it. Recently I decided that I was going to do some in-depth research on a branch of my family that I had not worked on before. It was during this research that I witnessed bad news turn good right before my eyes—and it was via GenealogyBank.com. Here is that story!
One of the more challenging branches of my family tree has been the Bohutinsky branch of our family. Research on this family branch remains a "work in progress," but I do know that they appeared in Cleveland, Ohio, from Bohemia sometime prior to 1870. This means that they were amongst the earlier Bohemian immigrants to that area. Now let me tell you, not only does Bohutinsky get altered by misspellings, typographical errors, etc., but there are also branches that made the decision to change their surname from Bohutinsky to Bohntinsky, Botin, and even Bugg. Add to this the fact that some of the men chose to abandon their Bohemian given names and adopt Americanized given names—but then at times reverted back to their original Bohemian given names! Needless to say it has been a fun and complicated search.
As you might expect, it got even more challenging as I worked to find marriages and the ensuing families and paths for the female offspring in the family, but here is where truly bad news turned good.
One day as I was doing my research on the Bohutinsky line I happened upon a brief newspaper article from 1885.

I was sad to read the story that James (born Vaclav) Bohutinsky was "fined $5 and costs" in the Cuyahoga County Court of Common Pleas for striking his young married daughter and her "babe." This was certainly not the type of thing I like to find in my family history, nor do any of us. Domestic violence is terrible, even if the defendant was, as the article stated, "a little old man."
However, I soon discovered that this historical newspaper article provided some good news for me as well!
I was very pleased to find that the daughter's given name of Barbara was reported, as was her married surname of Seitz. This was a wonderful genealogical discovery. I immediately switched my search from Bohutinsky to Seitz and started looking for Barbara.
I quickly found an old newspaper article published back in 1900 that leads me to believe Barbara might have been active in the Knights of the Maccabees, a fraternal organization that was formed in 1878.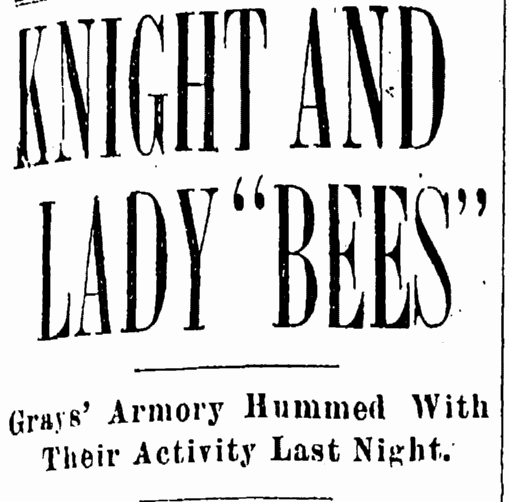 This lengthy old newspaper article listed numerous officers in the organization, and buried in all those names I found mention that Barbara Seitz was "mistress-at-arms."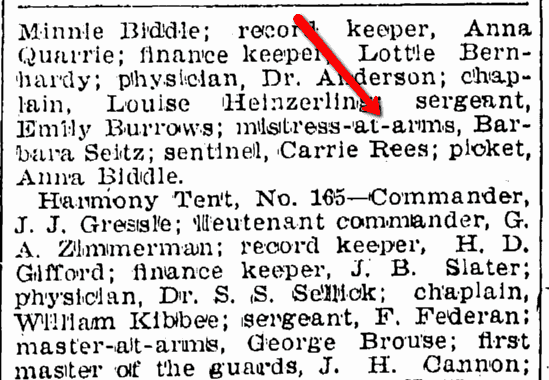 After consulting other genealogy resources such as Ancesty.com, I found the family on the 1900 United States Census.
Then, back on GenealogyBank.com, it wasn't long before I came across a death notice from 1904 which listed the death of one Barbara Seitz at 153 Beechwood Avenue in Cleveland, at the age of only 37.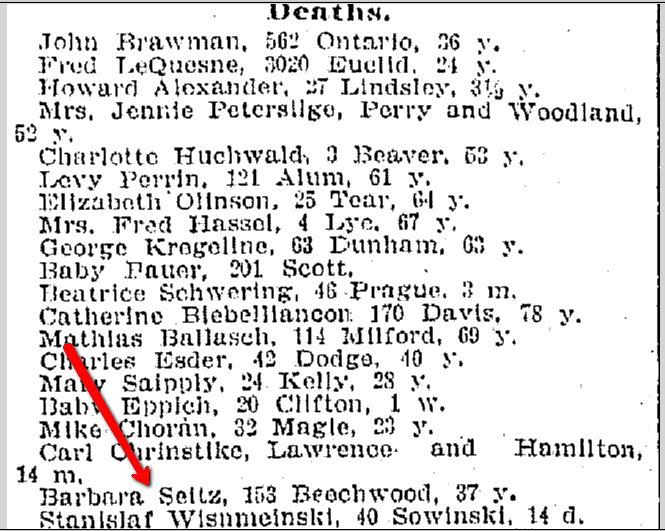 Although Barbara's life and marriage were both cut short, I later found information about the "babe" that was referenced in the first article I had found. As a result of that I now know her name, and I am on the path of that daughter: Grace Seitz Vretman. So my ancestry search continues.
Yes, finding a historical newspaper article about domestic violence in my family history was dismaying, but the silver lining in that dark cloud was discovering an important family clue that has led to other searches for other members of my family.
I still have lots to learn about the Bohutinsky members of my family and especially the Bohutinsky/Seitz/Vretman branch, but it certainly has been nice to see that initial piece of bad news turn into something so good and helpful in my genealogy research!