Fort Johnson in South Carolina was no different from Army bases across the country. From time to time soldiers deserted, as these men did on 3 January 1810. Captain A.B. Armistead wanted them back—and so he ran a newspaper ad offering "ONE HUNDRED DOLLARS REWARD for six Deserters, who deserted from this post on the 3d instant" and promising to pay "all expenses."

Armistead's reward ad provided descriptions of the Army deserters.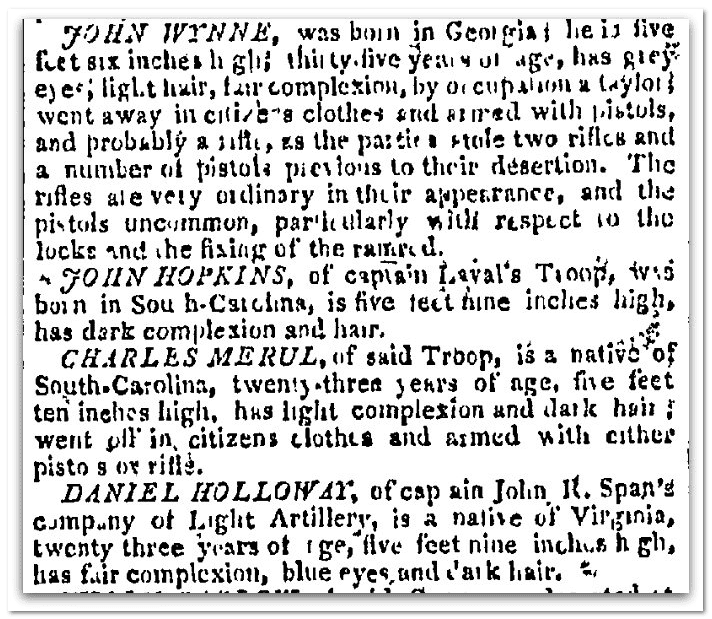 In a note at the end of his 1800s newspaper reward ad, Armistead asked all of the newspapers in Georgia, North and South Carolina to print "this advertisement six times" and to send him the bill.
Here are some of the descriptions of the Army deserters:
Charles Merul was "a native of South-Carolina, twenty three years of age, five feet ten inches high, has light complexion and dark hair; went off in citizens clothes"
Daniel Holloway was "a native of Virginia, twenty three years of age, five feet nine inches high, has fair complexion, blue eyes, and dark hair"
John Wynne "was born in Georgia"; the ad gives  a physical description of him, but the key identifiers were the pistols he was carrying, described as: "uncommon, particularly with respect to the locks and the fixing of the ramrod"
Old newspaper reward ads like this one, published in an attempt to reclaim military deserters, can be rich sources of genealogical information—often providing the names, origins, ages and physical descriptions of the missing soldiers. Historical newspapers had all the news of the day. Every day I am surprised by what I find doing genealogy research in the archives!