Introduction: Mary Harrell-Sesniak is a genealogist, author and editor with a strong technology background. In this guest blog post, Mary writes about two discoveries she made relating to Robert "Believe It or Not!" Ripley, and invites readers to join her in breaking through a brick wall in Ripley's family history.
There is a wealth of discovery waiting to be found in historic newspapers. For one thing, old newspapers provide the stories that help you understand your ancestors and get to know them as real people.
For another thing, while researching your family history in a newspaper archive you occasionally stumble across interesting discoveries that have nothing to do with your family, things you never knew before—like what I found out about Robert L. Ripley and the origins of his "Believe It or Not!" publishing/radio/television/museum empire, and his involvement with "The Star-Spangled Banner."
In this article I want to talk about my Ripley discoveries, and then ask for your help in breaking through a brick wall I've hit in exploring his genealogy.
Ripley's First "Believe It or Not" Newspaper Cartoon
One day while looking through old newspapers I was fortunate enough to stumble upon this tantalizing treasure, explaining how Robert L. Ripley drew his first "Believe It or Not" cartoon.
On 19 December 1918, Ripley—a 27-year-old cartoonist for the New York Globe newspaper—was sitting in front of his drawing board with no new ideas. He was under deadline pressure to produce a cartoon for the next day's paper, so "in desperation" he put together an assortment of odd sports occurrences to make a cartoon. He published it under the caption, "Believe It or Not." He was interviewed on the subject of the cartoon's origin years later, and his recollection was published in the New York Daily Mirror.
When Robert Ripley died in 1949 at the age of 58, his obituary reprinted that first cartoon recollection:
Here is one of Robert Ripley's early "Believe It or Not" cartoons with a sports theme: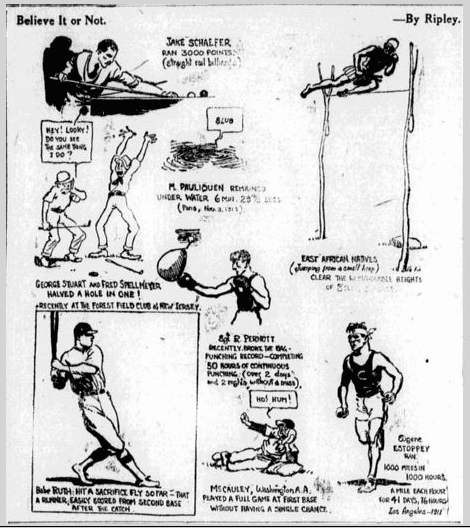 How astonishing it is, that from a single case of writer's block developed an empire of over 90 world-wide attractions, including wondrous museums and amazing aquariums!
Robert Ripley & "The Star-Spangled Banner"
Here's another Ripley tidbit I uncovered while browsing through old newspapers, of historical importance: Ripley had a role in making "The Star-Spangled Banner" our official national anthem.
The lyrics come from a poem written by Francis Scott Key in 1814, entitled "Defence of Fort McHenry." Key wrote his poem after witnessing the British bombardment of Fort McHenry in Chesapeake Bay during the War of 1812. Key's poem was set to the tune of a popular British song, "The Anacreontic Song" (or "To Anacreon in Heaven") and the resulting song came to be known as "The Star-Spangled Banner."
Although officially used by the Navy in the late 1800s, it wasn't the country's national anthem at that time. Nonetheless, crowds caught up in patriotic fever would rise and sing "The Star-Spangled Banner."

And then one day, Robert L. Ripley started a national conversation about its use with this comment, noting that the U.S. "has no official national anthem":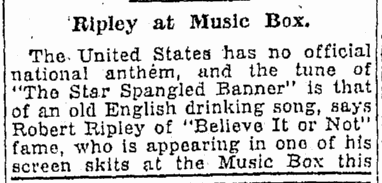 The discussion about the country's lack of a national anthem gained momentum. Several months later, President Herbert Hoover signed the act that made "The Star-Spangled Banner" the official national anthem, on 3 March 1931.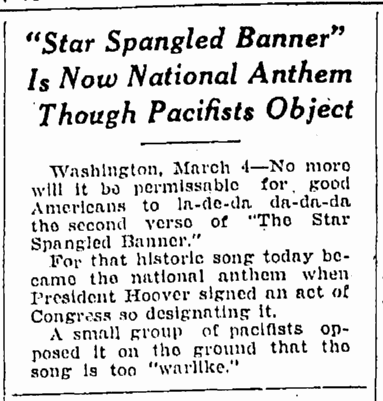 And for you curiosity-seekers, you can read the first publication of Francis Scott Key's poem by searching the newspapers in GenealogyBank. It was published in the Baltimore Patriot (Baltimore, Maryland) on 20 September 1814. No, I'm not going to republish it in this blog—you can have the joy of looking up this amazing discovery yourself.
But readers, I need some help with Robert Ripley, whose ancestry is as elusive as spotting a shooting star on a cloudy night.
Help Me Uncover Robert Ripley's Family Tree!
I can't seem to crack the brick wall in his genealogy. He left no descendants and was only married briefly to actress Beatrice Roberts. I can't discover his family history any further back than his maternal grandmother.
Here are the clues I've been able to find, if any of you determined genealogists want to take up the challenge and break through the Ripley genealogy brick wall:
See one of Findagrave.com's earliest memorials, #1399, from Odd Fellows Lawn Cemetery in Santa Rosa, California
His parents, Isaac Davis Ripley (1854-1904) and Lillie Belle Yocka or Yocke (1868-1915), are also buried there; they married on 3 October 1889 in Sonoma, CA (California, County Marriages, 1850-1952 Database at familysearch.org)
Isaac was a carpenter born in Ohio (various California directories)
In 1870, a census reports that Isaac was possibly residing in the household of Jason and Phelia A. Stubs or Stutes in Belpre, Washington, OH, and attending school, age 16 (see http://ohgen.net/ohwashin/OMP-2.htm — Ohio Historical Society, Newspaper Microfilm Reel # 38487 — marriage license for Jason Stubbs and Phelia A. Hunter of Belpre on 8 May 1865)
Lillie was the daughter of Nancy Yocke (1828-?) and an unknown father from Germany (1880 Analy, Sonoma, CA, census)
Ripley's siblings were Douglas and Ethel or Effie Ripley (obituary); it is unclear if they ever married, but are seen on a passenger list traveling together
We look forward to seeing who can crack this ancestry brick wall first, and promise to publish your results in the GenealogyBank blog! Please post your Ripley genealogy finds on GenealogyBank's Facebook or blog pages as comments, or email us using our blog contact form at: https://blog.genealogybank.com/contact.
(Visited 535 times, 1 visits today)