Introduction: In this article, Mary Harrell-Sesniak gives tips for establishing the provenance of family records – and provides a handy checklist. Mary is a genealogist, author and editor with a strong technology background.
As genealogists, we are always looking for proof of family births, marriages and deaths (BMD).
Many documents, such as this of my Stuart family, are still in private hands – and in the interest of helping related cousins, I would like to encourage others to share records such as this. Since the provenance of the document is important, you may wish to add an identification to what you share.
Note the provenance recorded in the upper-right-hand corner.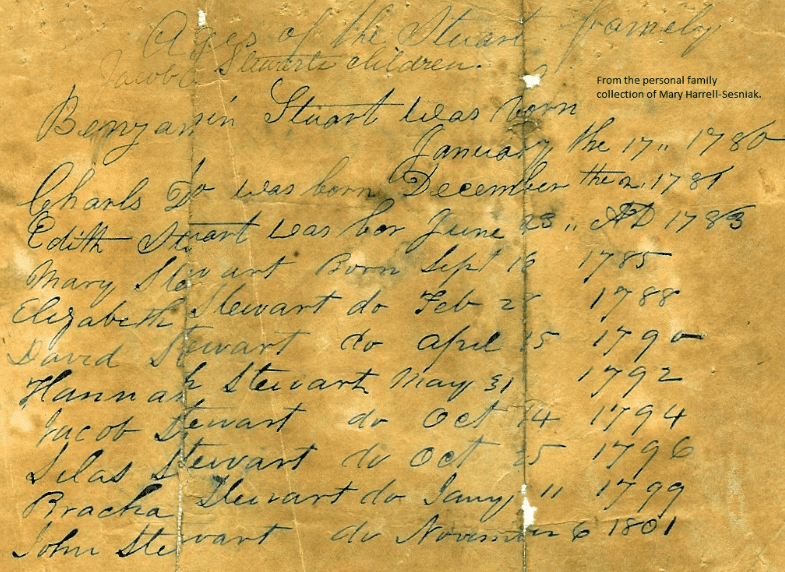 Some organizations have their own ideas of determining authenticity and provenance of documents, but mine are a little different. In the chart below, I've presented my ideas in a Q&A format with space to add a question or two of your own.
 

YES

 

NO

READING FAMILY RECORDS TIPS

Prepared by Mary Harrell-Sesniak

for the GenealogyBank Blog 2019

 

Dates

 

 

Dates can determine recording dates and establish the reliability of the information.

Do you have the title page showing the year of publication?
What is the earliest or oldest recorded event?
What is the most recent or newest recorded event?
How many family generations were recorded?
 

Handwriting

 

 

Use handwriting to determine the recorder and if this is a copy of another record.

Is the original informant (recorder) identified or identifiable?
Does the handwriting change (indicating more than one person)?
Is a later informant identified or identifiable?
Was there calligraphy or a typewriter with identifiable type used?
Can you determine the era based on the handwriting or style of abbreviation? For example, the use of "ditto" is more modern; previously it may have been shown by "do" as seen in the Stuart document above.
Was everything recorded using the same instrument (pencil or pen)?
Was anything added to the record at a later date?
Was any information overwritten (common for fading issues) or erased?
Is the handwriting neat or messy (which can indicate if hastily made)?
Are there any variations in spelling (names or otherwise) in comparison to other records?
 

Type

 

Look at the information and think about the type of information presented and potential uses (for example, proof to obtain a pension or to join a lineage society).
Does the record show only births?
Does the record show only marriages?
Does the record show only deaths or burials?
Does the record show baptisms, confirmations or other events?
Does the record show religious events (Baptism, Bar Mitzvah, Bat Mitzvah, Confirmation, etc.)?
Are family relationships indicated?
Is the first female identified by maiden name?
 

Observations

 

 

Observe what else the document reveals (style of paper, coloration, damage, etc.).

Was the information recorded in an older or more modern style?
Has this document ever been folded or framed? Folding can indicate mailing or storing in an envelope.
Was the family record made in a particular style? (See link below for article on artistic frakturs.)
Was the family record recorded on a commercial document? (See comment about the Library of Congress below.)
Are there identifying marks, such as the publisher, date of publication, or in the case of a fraktur, an artist's name or initials?
Were locations mentioned which can indicate removal of a family from a particular location?
Can you identify how this document came to be in its current location or possession (via will, mother to daughter, antique shop, historical society, etc.)?
Does anyone else have copies of this record?
A good source for identifying the first use of a preprinted family record are documents tagged as "family records" at the Library of Congress. When known, they'll show the approximate date of first printing, such as this one at: https://www.loc.gov/resource/pga.00547/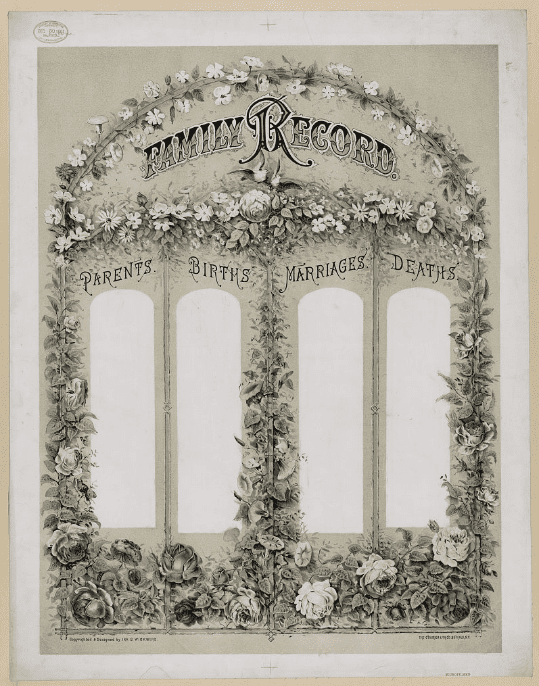 Please review my earlier articles for tips on finding family records: