Introduction: In this article, Mary Harrell-Sesniak writes about a source for finding family Bible records when the Bible is no longer in your possession: reports published in your ancestor's local newspaper. Mary is a genealogist, author and editor with a strong technology background.
Many a genealogist laments the missing records from an old family Bible that is no longer in the family's possession. It would make the proofs so much easier. So, I ask you: what's the next best thing?
The answer may surprise you: it's finding family Bible records quoted in an old newspaper! Yes, records from family Bibles were sometimes printed in your ancestors' local newspapers, and it's worth taking the time to search for those old newspaper articles.
Family Bible Record from 1799
This 1937 newspaper article discusses the last resting places of prominent citizens of Montgomery County, Maryland – and if you read closely, you learn details extracted from a 1799 family Bible!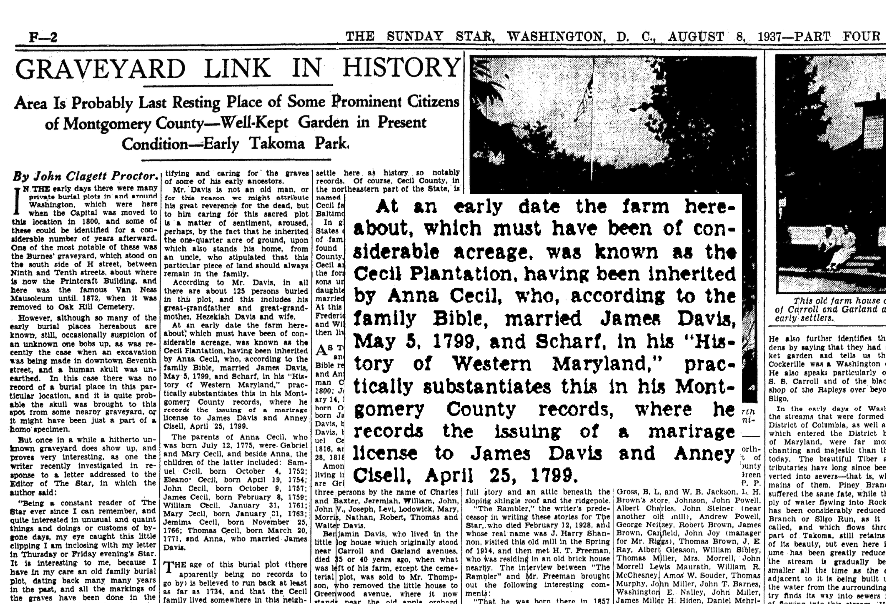 Bible Records from 1837 Helped Tell This Strange Story
When the unusual occurred, the story generally showed up in old newspapers. Such was the case with John McGinty, who "married three women who were grandmother, daughter and grand-daughter in their relationship of birth."
In relating this tale, the newspaper's reporter in part relied upon the family Bible:
"The record of the old Bible shows… that the two were wedded in 1837."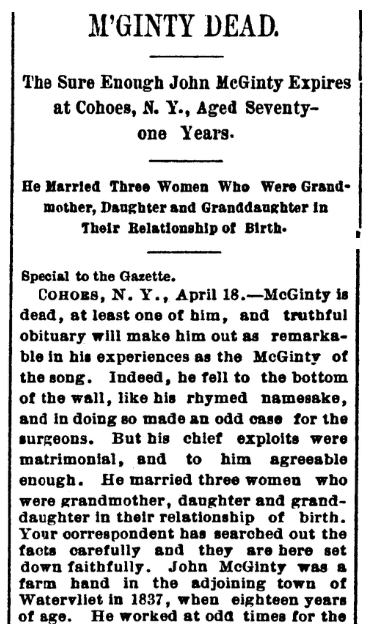 Bible Records Verify Oldest Man's Age
When Peter Brady passed away in 1891, he was the oldest resident of Jersey City: 101 years old.
His family Bible recorded that he was born on 15 May 1790 in the parish of Tydavnet, county Monaghan, Ireland.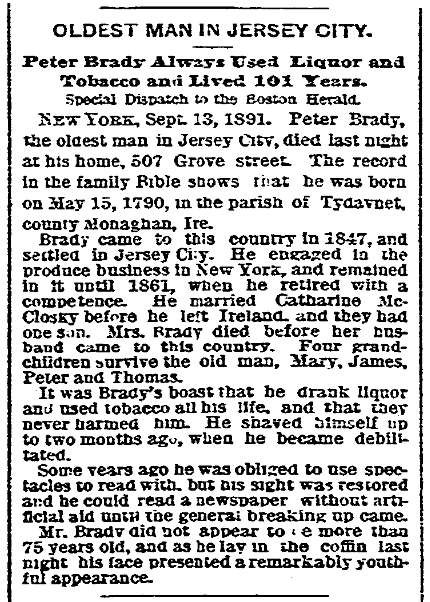 Bible Records Provide Proof of Nancy Davis' Birth
Nancy Davis passed away in January of 1896. The newspaper report notes that, according to the family Bible, she was born in Christian County, Kentucky, on 6 January 1795. She was the widow of Jesse Davis, a prominent farmer who moved to Pike County "more than half a century ago." (Search the last name origin of Davis!)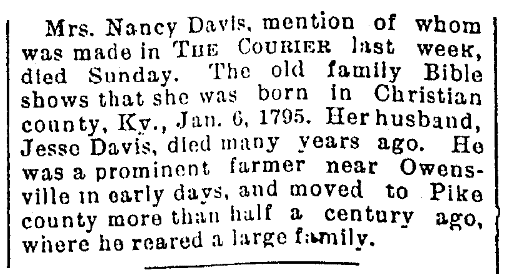 Larger Family than Usual Recorded in Family Bible Records
When Chris Sundermeyer died in Illinois in 1910, 16 brothers attended the burial. The family was even larger than that – this newspaper article reports that: "the Sundermeyer family Bible shows three sons died in youth."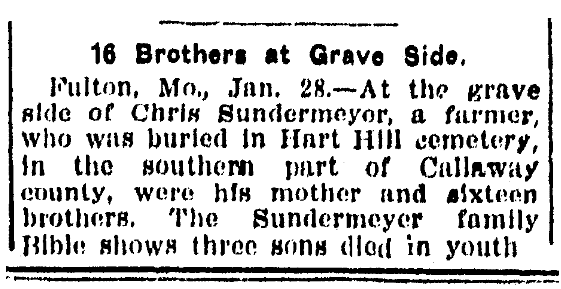 Family Bible Showed He Needed to Register for the Draft
In 1917, Robert Braden of Newberg thought that, at the age of 31, he was not required to register for the draft. Turns out he was a year younger than he thought and was, in fact, eligible for the draft. The proof of his birth was verified "through records in a musty family Bible uncovered by investigations by Assistant United States District Attorney Goldstein."
As the article notes:
"Braden registered willingly and said he was glad to find out his real age though he didn't feel any younger for the discovery."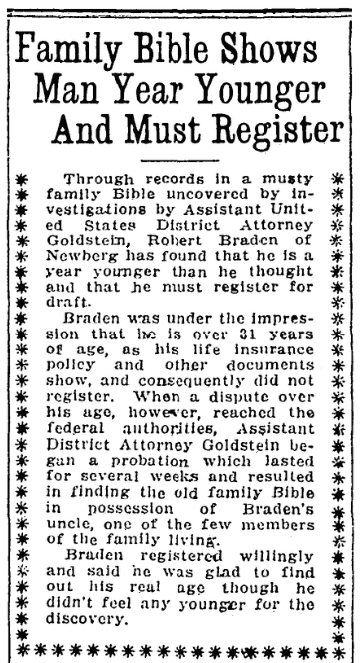 Bible Shows Ancestry of Warren G. Harding
In 1920, A. W. Sexton of East Hampton, Connecticut, was in possession of the Amos Clark family Bible, and this showed the ancestry of presidential candidate Warren G. Harding!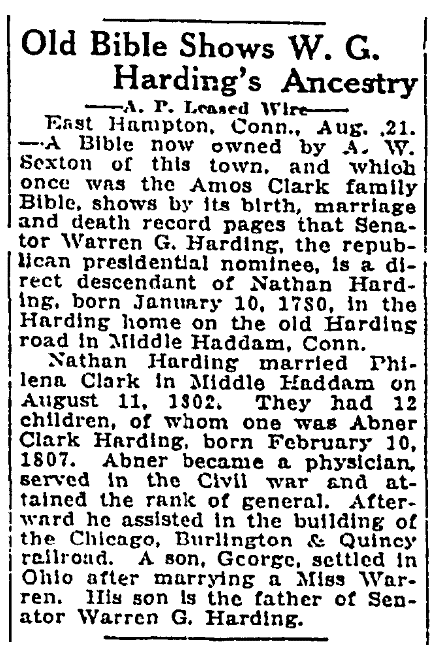 Comparing Family Bibles and Census Records
One of the more likely places to discover family Bibles quoted is in newspaper genealogy columns, such as this article from Margaret Ross' column "Grass Roots" in 1982. It mentions that:
"The widow may have remarried, as a family Bible shows her death in 1919, and I do not find her under the name Adcock in the 1900 census for Arkansas, Louisiana or Texas."
Your Family Bible
Who has your family Bible?
Don't forget that only one person can inherit the family Bible – just as I did with the family Bible of one of my ancestors.
It was the family of Mathias Fisher, a Revolutionary War patriot, who emigrated from Ireland with wife Rachel Hoowe and other family members. I shared it with other Fisher researchers. To see a scan, scroll down to the document section on the Fisher Genes website. Note that I also included a copy of the title page, as many genealogists will not accept Bible records as sufficient proof or evidence without knowing about the publication.
Are you in possession of an old family Bible? We'd love to hear about it in the comments section below.
Related Articles: