Introduction: In this article, Melissa Davenport Berry continues her story about Lady Randolph Churchill, the real-life equivalent of Cora Crawley (the fictional Countess of Grantham in the series "Downtown Abbey"), who was the mother of future British Prime Minister Sir Winston Churchill. Melissa is a genealogist who has a blog, AnceStory Archives, and a Facebook group, New England Family Genealogy and History.
Today I continue with my new series "American Dollar Princesses" with a second part focusing on the lineage of Lady Randolph Churchill (1854-1921), born Jennie Jerome in New York to the "Wall Street King" Leonard Walter Jerome and his wife Clarissa Hall.
Jennie was the first of more than 200 American heiresses to marry into to the British aristocracy. (See: They Called Them 'American Dollar Princesses,' Part 1)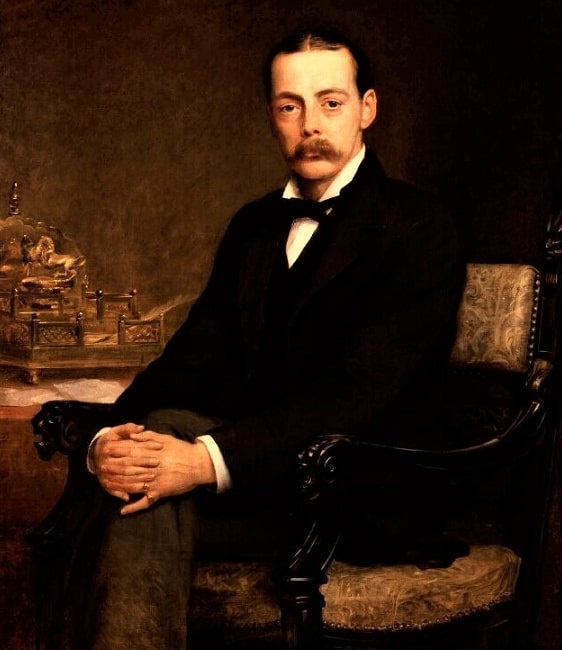 Jennie's marriage to Lord Randolph Spencer-Churchill brought two sons: the great stateman and Prime Minister Sir Winston Spencer Churchill; and Major John Strange Spencer-Churchill.
The Jerome and Hall family lines have a long, rich history in America going all the way back to the Pilgrims. Stay tuned for my "Mayflower Descendants: Who's Who" series, Part 29, which will include the family tree.
To recap: My last story ended with a newspaper article about Lady Churchill from the Utica Observer-Dispatch, published in 1965 when Sir Winston Churchill passed on. Jennie was noted as vivacious, beautiful, controversial, and the only woman in high society circles to sport a tattoo.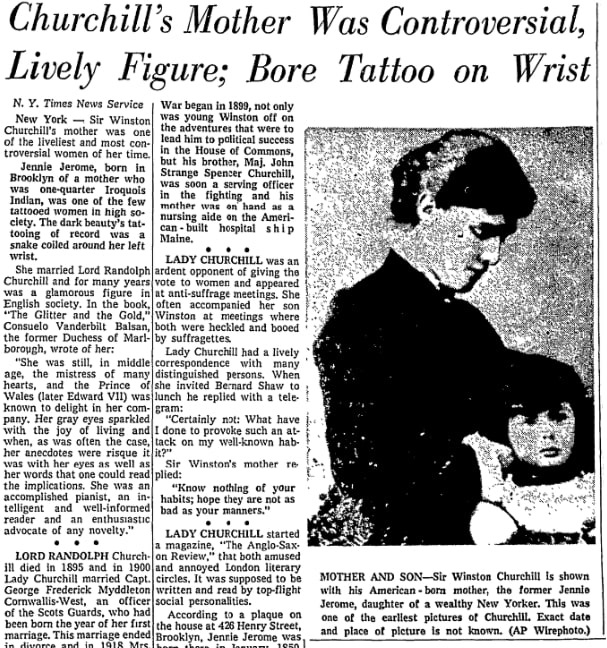 After her husband Lord Randolph's death in 1895, Jennie married Capt. George Frederick Myddleton Cornwallis-West, an officer of the Scots Guards, in 1900. Cornwallis-West was a direct descendant of Thomas West 2nd Baron de la Warr, whose ancestors include the Knollys, Boleyn, and Howard lines. Some of the Cornwallis-West line were part of the Jamestown, Virginia Colony.
More from this Utica Observer-Dispatch article:
This marriage [Jennie to Captain Cornwallis-West] ended in divorce and in 1918 Mrs. Cornwallis-West married Montague Phippin Porch of the British Civil Service in Nigeria. Porch died on Nov. 8, 1964, a few days before the 90th birthday of his stepson, Sir Winston Churchill.

When the South African War began in 1899, not only was young Winston off on the adventures that were to lead him to political success in the House of Commons, but his brother, Maj. John Strange Spencer-Churchill, was soon a serving officer in the fighting and his mother was on hand as a nursing aide on the American-built hospital ship Maine.

Lady Churchill was an ardent opponent of giving the vote to women and appeared at anti-suffrage meetings. She often accompanied her son Winston at meetings where both were heckled and booed by suffragettes.

Lady Churchill had a lively correspondence with many distinguished persons. When she invited Bernard Shaw to lunch, he replied with a telegram:

"Certainly not: What have I done to provoke such an attack on my well-known habit?"

Sir Winston's mother replied:

"Know nothing of your habits; hope they are not as bad as your manners."

Lady Churchill started a magazine, "The Anglo-Saxon Review," that both amused and annoyed London literary circles. It was supposed to be written and read by top-flight social personalities.
Following-up on the mention of the South African War and Lady Churchill being "on hand as a nursing aide on the American-built hospital ship Maine," I found this article in the Philadelphia Inquirer. It first showed a large picture of the hospital ship.
The second half of the article highlighted Jennie's role.
This article reported:
The hospital ship Maine was equipped at large expense chiefly through the efforts of American women residing in London, of whom Lady Randolph Churchill was the leader.
There is a plaque on the house at 426 Henry Street, Brooklyn, that makes the disputed claim that Jennie Jerome was born there in January 1850 [she was actually born on 9 January 1854].
She died 29 June 1921 and is buried at Bladon near Blenheim Palace, the Ducal seat of the Marlboroughs, next to her first husband.
Within a few days after Jennie's death an interesting tribute was published in the Duluth News-Tribune. It tells the story of how this American Dollar Princess, once shunned by the Knickerbocker clique, rose to the upper ranks in N.Y. society when she married an English lord.
This article reported:
Lady Randolph Churchill's death takes from the ranks of England's nobility a woman who for many years enjoyed the reputation of being the only prominent American woman close to the British throne. Jennie Jerome enjoyed her position to the full. She was proud of her husband, Lord Churchill, and equally proud of her rising son, Winston Churchill.

When the brilliant daughter of Leonard Jerome (one of the most noted sportsmen and wits New York has ever known) married a Marlborough, Knickerbocker society marked it as equal to the most notable events of the social leadership of Mrs. Paran Stevens [her daughter married Lord Arthur Henry Fitzroy Paget] and of Mrs. William Astor [her grandson William Waldorf Astor moved to Britain and made a peer as Baron Astor and then Viscount Astor]. The brilliant and gay groups that watched the horses run at Jerome Park never wearied of telling about the conquest of Jennie Jerome. Indeed, years later, the Churchill-Jerome alliance had an influence in New York politics which Theodore Roosevelt found it convenient to recognize.

Randolph Henry Spencer-Churchill had the honor of birth in Blenheim Palace. He was the third son of the seventh Duke of Marlborough, and his mother was a daughter of the Marquis of Londonderry. She was also a grand-niece of Lord Castlereagh [born Lady Frances Anne Emily Vane, daughter of Lady Frances Anne Vane-Tempest and Charles William Stewart – titled Charles William Vane, 3rd Marquess of Londonderry] so when the American girl reached England she was at once ushered into the highest circles. The father of her husband was Lord-Lieutenant of Ireland.
The last paragraph of this article described Jennie's strength and determination:
It was his [Lord Randolph Churchill's] support of an 8-hour bill that made the husband of Jennie Jerome the idol of the working classes. It was the courage, the resolution, and the indomitable will of his American wife that made it possible for him to close his eyes for the last time in England. Stricken in Egypt, he begged her to get him home, and her race against time and surmounting of obstacles reflected the character of the Jeromes.
To be continued…
Explore over 330 years of newspapers and historical records in GenealogyBank. Discover your family story! Start a 7-Day Free Trial.
Note on the header image: a photo of Jennie Jerome, "Lady Randolph Churchill," in her riding habit, by Elliott & Fry. Courtesy of the National Portrait Gallery, London.
Related Article: