Introduction: In this article, Melissa Davenport Berry writes about Lady Randolph Churchill, the real-life equivalent of Cora Crawley (the fictional Countess of Grantham in the series "Downtown Abbey"), who was the mother of future British Prime Minister Sir Winston Churchill. Melissa is a genealogist who has a blog, AnceStory Archives, and a Facebook group, New England Family Genealogy and History.
"My mother always seemed to me like a fairy princess: a radiant being possessed of limitless riches and power… She shone for me like the evening star… She soon became an ardent ally, furthering my plans and guarding my interests with all her influence and boundless energy… She left no wire unpulled, no stone unturned and no cutlet uncooked."

–Sir Winston Churchill, from "My Early Life. A Roving Commission."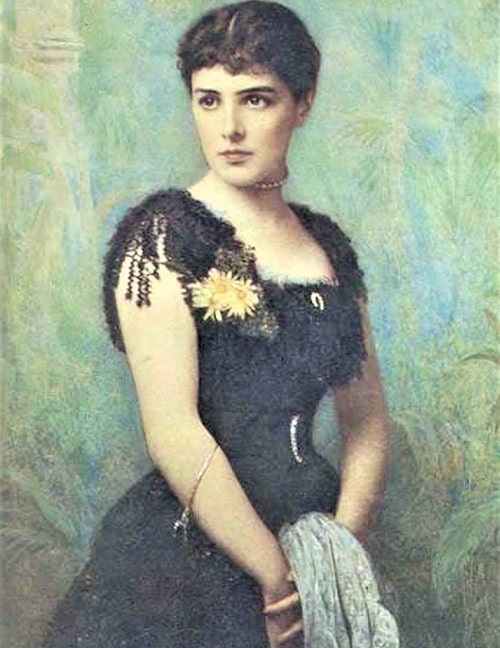 There was a great migration into the United Kingdom between the late 19th and early 20th centuries that changed the course of history and Anglo blood lines. Over 200 American heiresses were ferried across the Atlantic to marry and mate within the British aristocracy.
These heiresses were coined the "Dollar Princesses," as their large dowries bought them an English lord and a title.
This exchange, "cash for class," inspired Elizabeth McGovern's character Cora Crawley, Countess of Grantham, in the series Downtown Abbey created by Julian Fellowes, a member of the British aristocracy himself.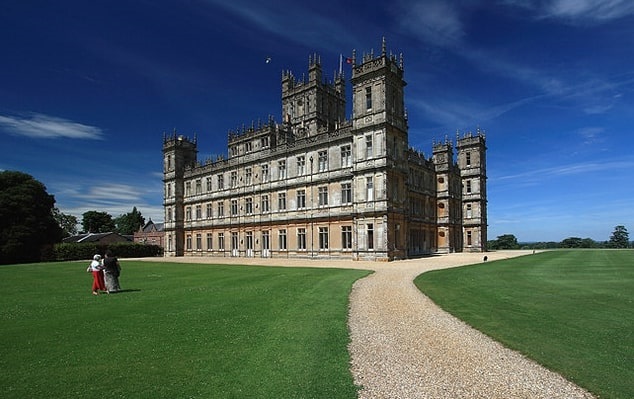 Cora (nee Levinson) was an American heiress whose large dowry contracted a marriage to Lord Robert Crawley, 7th Earl of Grantham, who inherited his family county seat "Downton."
Like many English noblemen, Crawley was rich in title but poor in cash, and an American heiress had the means to maintain his noble house and habits. The trading of titles for cash birthed from the new monied families of America who desperately wanted to enter high society and marry their children into it.
The Knickerbockers ran the social scene in New York. They were the descendants of the great Anglo-Dutch families from generational wealth. Mrs. Astor was the social dictator, and slammed the doors shut on the "Dollar Princess" families whom she referred to as "nouveau riche."
A great example of this class conflict and struggle is the theme of Fellowes' new project series, The Gilded Age, airing on HBO.
Interest in the "Dollar Princesses" spiked after Downtown Abbey, promoting the series Million Dollar American Princesses, which aired in 2014 on the Smithsonian Channel, hosted by McGovern. This series chronicled the American princess brides whose "vitality and cash broke down the doors of the British establishment."
McGovern asserted:
"It's the guilty secret of the British aristocracy – how much American blood runs through its veins."
And while many of you reading this may not suspect your family line could possibly be connected… think again. Many of the heiresses were bred from the stock of America's first Pilgrims, fighting patriots, and fearless pioneers.
They worked the fields and fought the wars, and within a few generations some of them made a fortune in shipping, railroads, retail enterprises, and the stock market.
In 1911 the San Francisco Call Bulletin featured a photo of the family tree of the leading ladies and their lords under the heading, "Growing Titles on the International Marriage Tree: One Match Springs from Another in the Alliances of American Heiresses with Ancient English Houses."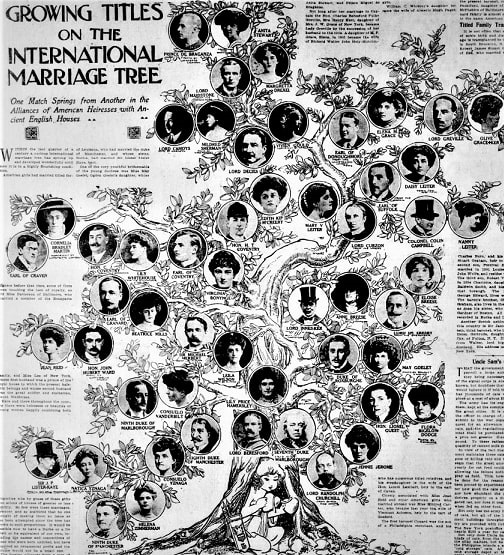 Among the beauties pictured in the tree is Lady Randolph Churchill, the mother of one of the world's greatest statesmen: Sir Winston Spencer Churchill.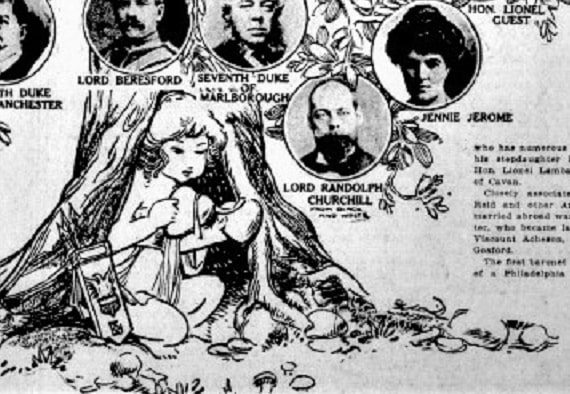 She was born Jennie Jerome in 1854 to New York financier Leonard Walter Jerome and Clarissa Hall. (Note: I will get to the rest of the tree in other articles.)
In 1874 Jennie Jerome married Lord Randolph Spencer-Churchill, the third son of John Spencer-Churchill, Marquess of Blandford (and 7th Duke of Marlborough), and his wife the Marchioness of Blandford, nee Lady Frances Vane.
Jennie would be the trendsetter for the "Dollar Princess" migration. Here is the financial arrangement made upon her marriage, as published in the Mirror and Farmer.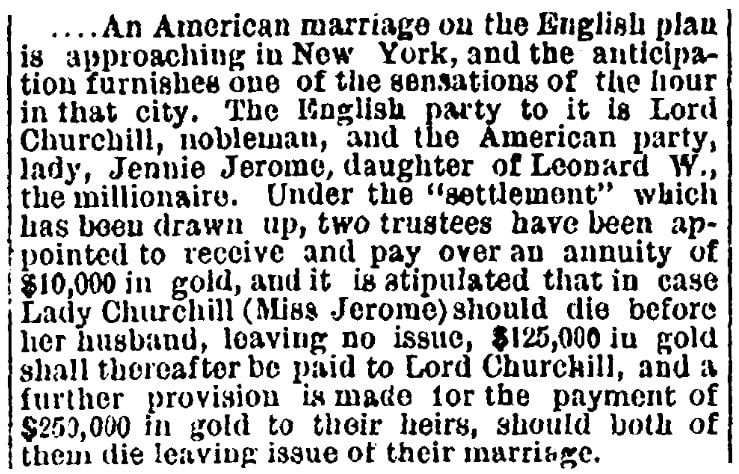 This article reported:
An American marriage on the English plan is approaching in New York, and the anticipation furnishes one of the sensations of the hour in that city. The English party to it is Lord Churchill, nobleman, and the American party, lady, Jennie Jerome, daughter of Leonard W., the millionaire. Under the "settlement" which has been drawn up, two trustees have been appointed to receive and pay over an annuity of $10,000 in gold, and it is stipulated that in case Lady Churchill (Miss Jerome) should die before her husband, leaving no issue, $125,000 in gold shall thereafter be paid to Lord Churchill, and a further provision is made for the payment of $250,000 in gold to their heirs, should both of them die leaving issue of their marriage.
According to sources, Jennie's father Leonard Jerome paid an additional 50,000-pound dowry, plus a 1,000-pound yearly allowance for Jennie.
As soon as Jennie's son Winston met his maker, detailed reports on her life and lineage poured from the press. Here is one of the articles, from the Utica Observer-Dispatch.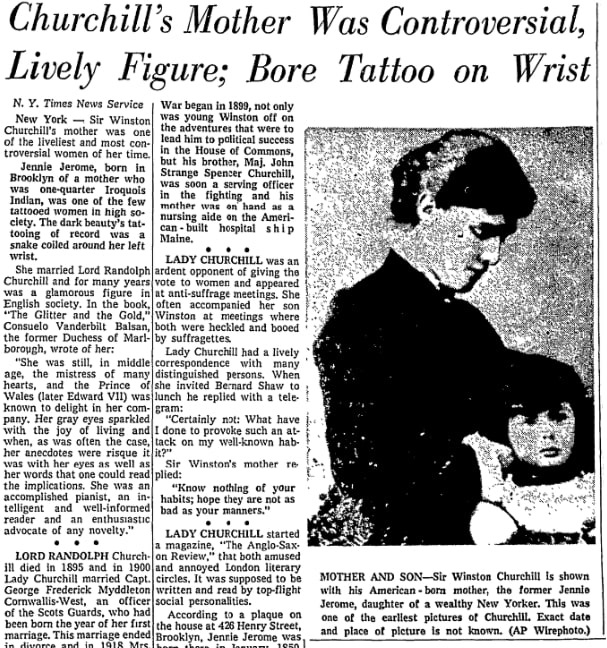 This article reported:
Sir Winston Churchill's mother was one of the liveliest and most controversial women of her time.

Jennie Jerome, born in Brooklyn [New York] of a mother who was one-quarter Iroquois Indian, was one of the few tattooed women in high society. The dark beauty's tattooing of record was a snake coiled around her left wrist.

She married Lord Randolph Churchill and for many years was a glamorous figure in English society. In the book, "The Glitter and the Gold," Consuelo Vanderbilt Balsan, the former Duchess of Marlborough [American railroad heiress who married into the same noble house via Charles Spencer-Churchill, 9th Duke of Marlborough, cousin and friend to Winston Churchill], wrote of her:

"She was still, in middle age, the mistress of many hearts, and the Prince of Wales (later Edward VII) was known to delight in her company. Her gray eyes sparkled with the joy of living and when, as was often the case, her anecdotes were risqué it was with her eyes as well as her words that one could read the implications. She was an accomplished pianist, an intellectual and well-informed reader, and an enthusiastic advocate of any novelty."

Lord Randolph Churchill died in 1895 and in 1900 Lady Churchill married Capt. George Frederick Myddleton Cornwallis-West, an officer of the Scots Guards, who had been born the year of her first marriage.
To be continued…
Note on the header image: a photo of Lady Randolph Churchill (nee Jennie Jerome) with her sons: the future Major John Strange Spencer-Churchill "Jack" (left); and future Prime Minister of the United Kingdom Sir Winston Spencer Churchill (right), in 1889. Credit: Wikimedia Commons.
Explore over 330 years of newspapers and historical records in GenealogyBank. Discover your family story! Start a 7-Day Free Trial.