Introduction: In this article, Jessica Edwards describes Admiralty Records, found in the National Archives of both the U.S. and England. Jessica has had a lifelong interest in her family's history – especially on her father's side, which goes back to the first settlers in Pennsylvania, Jamestown and New England – and has documented and added more than 30,400 people to her family tree!
One unusual source for genealogy information that many family historians don't know about or use are Admiralty Records, which can be found in both the United States and the British National Archives.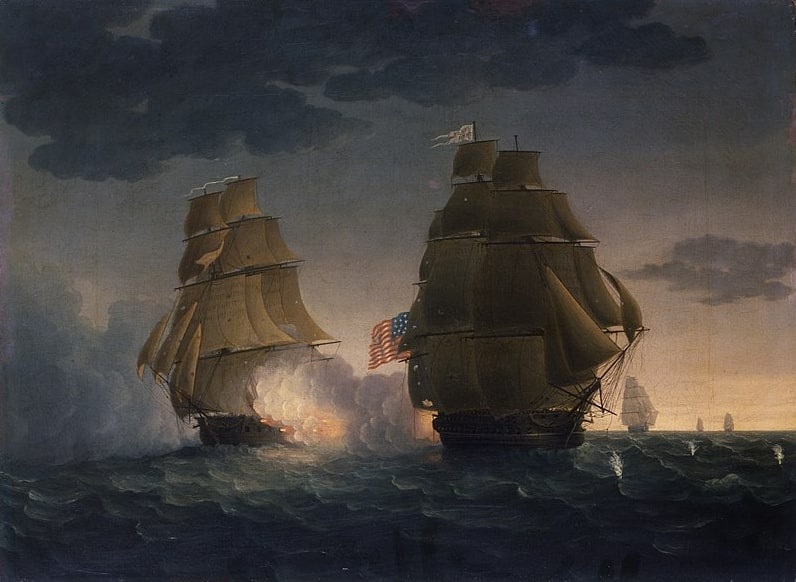 According to the National Archives, Admiralty Records are defined as:
"The majority of this series consists of service records of sea, marine and naval officers. It includes commission and warrant books, succession books, and registers of shore appointments, as well as some service registers. There are collections of passing certificates for lieutenants and warrant officers, returns to the 1822 survey of officers' ages, and leave books.

"A large collection of volumes concerns applicants for admission to Greenwich Hospital. Another consists of the records of the Charity for the Relief of Sea Officers' Widows. Among the remaining records are nominations for naval cadetships and the parochial registers of some dockyard and barrack churches."
These records were created from 1205 to 1960. The National Archives of the United Kingdom says:
"The records of the Navy before 1546 are to be found among records of the Chancery and Exchequer and among records of the Privy Council. From 1546 to 1660 the records are much dispersed: many are among records formerly preserved in the State Paper Office; some are among Exchequer records; some are in publicly and privately-owned collections outside the Public Record Office; a few are among the Admiralty's own records, which begin in the main about 1660."
The name came about because in the Middle Ages the Navy was managed by the King in Council, and sometimes – after 1360 – through an official known variously as the Lord Admiral, High Admiral, Admiral of England or, from the early seventeenth century, Lord High Admiral. Day-to-day administration was by subordinate keepers or clerks of the king's ships. By default, the records became known as the Admiralty Records.
In 1546 the Navy Board was established under the Lord High Admiral and was made responsible (subsequently under the Board of Admiralty) for materials, non-combatant personnel, warrant officers, ratings, and the civil administration of the Navy.
By the seventeenth century the office of Lord High Admiral was on occasion not filled, so the post was put into commission and its duties carried out by a Board of Admiralty (from around 1708 and – apart from one brief period – became permanent).
In 1832 the Navy Board was abolished and the direct control passed to the Board of the Admiralty from the civil administration. On 1 April 1964 the Admiralty was absorbed into the unified Ministry of Defense, which was in the Navy Department.
Admiralty Records are kept in volumes that summarize (alphabetically) in book form the information given in attestation forms. The dates noted in the list for each volume give an approximate indication of the enlistment years covered and generally consist of several different though related types of register. They give age at the time of enlistment, parish of birth, marital status, sometimes information about their dependents, and a simple description of height and complexion.
Another similar set of records were the recruit books which record similar information and give the signature of the medical officer passing a recruit as fit for service. A third part of the information includes what are termed "Discharge Books," which add particulars of discharge. None of the description books lists the ships or battalions in which a man served.
These records can be very helpful for genealogists. For example, I found a relative by the name of John Lewis who was from Swansea in England. His information included: his physical description; whom he enlisted under and where; his job was termed as a "puddler" (which was generally an iron worker); when he was discharged and why; and even his religion (he was Presbyterian).
I found a different relative named John Hoskens. His records reported: his physical description; the officer that attested to his enlistment; his occupation; and how he died (his death occurred while in the military) and when.
The descriptions of someone's job may provide information about their profession. For example, I found that my relative William Hague's records included a trade I was not familiar with (he was a shearman) which caused more research on my part. Turns out, a shearman would first lay a large cloth over a table with a curved top and then use huge shears to cut the nap. I learned that these shears looked like over-sized scissors and had razor-sharp edges – and they could weigh up to 31 pounds! One shearing of a single cloth could take several hours to complete because each cloth was sheared once, and then its nap had to be raised again before being sheared once more. The process only ended when an even finish was obtained. I also learned that it was considered highly skilled work and much valued, and could earn as much as six shillings a week.
I also found information about my relative Joseph Austin in Admiralty Records, including: his age (53); he was considered the head of household; he was married; where he was born (Swansea); he was a navy pensioner; cellar man at a brewer; a laborer; spoke English. I learned that some of his children were born in Plymouth. His information also mentioned that: he was married to Maud Austin aged 49; they had been married for 22 years; had had five children, four still living; and she had been born in St Martin's, Cornwall. I also learned the names and ages of their children: Richard Austin, aged 20, single, born in Plymouth, Devon, a coach smith; Sidney Austin, aged 14, born Plymouth, Devon, a boot shop errand boy; Edith Austin, aged 12, born Swansea, Glamorgan, a student at school. Included in the information was where they lived when he was discharged, which could lead to new possibilities for more information/sources.
These records and many other rarely used sources can be found in both the US and the UK National Archives. Each of them has their own forms to be filled out and methods to use when trying to find what gems you might discover.
Happy hunting!
Explore over 330 years of newspapers and historical records in GenealogyBank. Discover your family story! Start a 7-Day Free Trial.