Introduction: In this article, Melissa Davenport Berry continues her series on descendants of the Jamestown settlers, focusing on the lineage of disability rights activist Helen Keller. Melissa is a genealogist who has a blog, AnceStory Archives, and a Facebook group, New England Family Genealogy and History.
Today I continue my "Jamestown Descendants: Who's Who" series with a focus on the lineage of disability rights activist, social reformer, prolific author, and lecturer Helen Adams Keller (1880-1968), who was also a founder of the American Civil Liberties Union. This is also a continuation of the story of the Aylett and allied families connected to Jamestown and royal lines.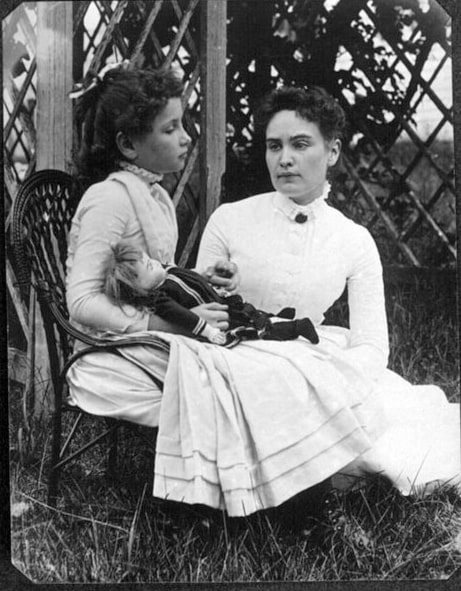 It would take many pages to truly introduce Helen Keller properly. She was an extraordinary woman, who went blind and deaf as a child at the age of 19 months – yet went on to become an author, lecturer, and advocate for disability rights. You can learn more about her by reading her autobiography "The Story of My Life."
Keller was born in Tuscumbia, Alabama, to Arthur Henley Keller (a Civil War Confederate Army captain, editor of the North Alabamian newspaper, and U. S. Marshal for the Northern District of Alabama) and his wife Catherine "Kate" Everett Adams (daughter of Confederate General Charles William Adams and Lucy Helen Everett).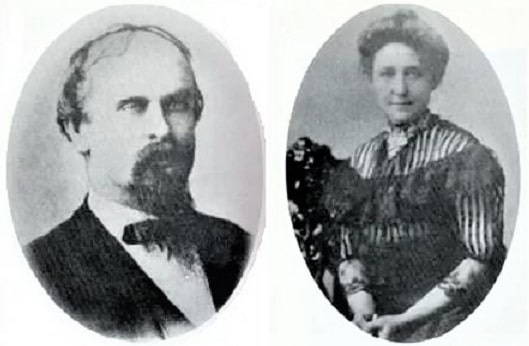 Her maternal line descends from the New England family lines of Sewall, Poor, Adams, Coffin, Knight, Greenleaf, Thurlow, and Noyes – all first settlers of Newbury, Massachusetts. This makes Keller kin cousins to Henry Wadsworth Longfellow and Winslow Homer.
When Keller died in 1968, genealogist George Harrison Sanford King published some of Keller's ancestry in the Richmond Times.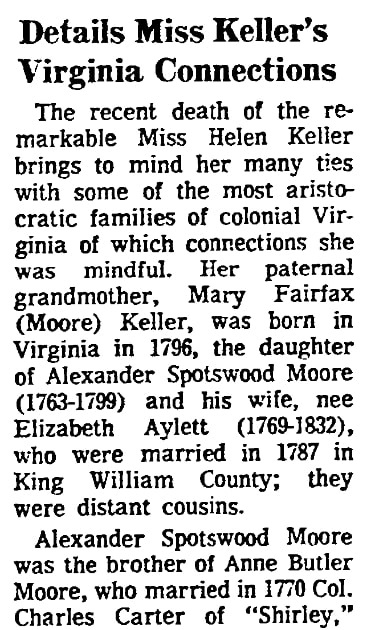 This article reported:
The recent death of the remarkable Miss Helen Keller brings to mind her many ties with some of the most aristocratic families of colonial Virginia, of which connections she was mindful.

Her paternal grandmother Mary Fairfax (Moore) Keller, was born in Virginia in 1796, the daughter of Alexander Spotswood Moore (1763-1799) and his wife, nee Elizabeth Aylett (1769-1832), who were married in 1787 in King William County; they were distant cousins.

Alexander Spotswood Moore was the brother of Anne Butler Moore, who married in 1770 Col. Charles Carter of "Shirley," Charles City County, and became the grandmother of Gen. Robert E. Lee. They were the children of the Hon. Col. Bernard Moore of "Chelsea," King William County, and his wife nee Anna Catharine Spotswood, daughter of the Hon. Alexander Spotswood (1676-1740), governor of Virginia 1710-1722.

Miss Keller's Virginia connections through her great-grandmother, the aforementioned Elizabeth (Aylett) Moore (1769-1832), are equally as conspicuous; this lady was a double cousin of Mrs. George Washington (nee Martha Dandridge), they both being descendants of the Dandridge and Macon families of New Kent County. Elizabeth (Aylett) Moore was the daughter of Col. William Aylett (1742-1781) of "Fairfield," King William County, and his wife nee Mary Macon and granddaughter of Col. Philip and Martha (Dandridge) Aylett and Col. James and Elizabeth (Moore) Macon. Martha (Dandridge) Aylett (first cousin of Mrs. George Washington) was the daughter of the Hon. William Dandridge and his wife, nee Unity West, great-granddaughter of Capt. John West (1590-1659) of "West Point," who was governor of Virginia 1635-1637. Elizabeth (Moore) Macon and the Hon. Bernard Moore were children of Col. Augustine Moore who built handsome "Chelsea" in 1709.

The English ancestry of several of Miss Keller's Virginia forebears is likewise exceptionally distinguished and interesting. Her ancestor Gov. John West (1590-1659) was the grandson of Sir Francis Knollys (c. 1515-1596), treasurer of the household of Queen Elizabeth I, and his wife The Right Honorable Lady Catherine (Cary) Knollys, chief lady of the bedchamber to her Majesty, and which couple are buried in Westminster Abbey. Lady Catherine was the niece of Queen Anne (nee Boleyn), wife of King Henry VIII, and accompanied that ill-fated lady to the scaffold. (See "English Royalty, Boleyn Lineage, and Jamestown Connections.")
If you trace Keller's line back further, you will find Charlemagne and William the Conqueror. (See Famous Kin.)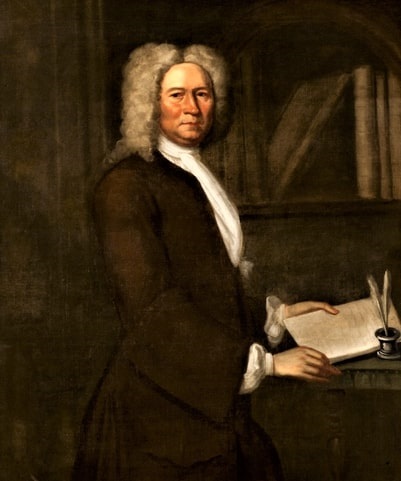 Lineage for Helen Keller:
Alexander Spotswood and Lady Anne Butler Brayne
Anne Katherine Spotswood and Bernard Moore (son of Augustine Moore and Elizabeth Todd)
Alexander Spotswood Moore, nicknamed "Old Grubb," and Elizabeth Aylett (daughter of William Aylett and Mary Macon; Jamestown Gideon Macon)
Mary Fairfax Moore and David Keller
Arthur Henley Keller and Catherine Everett Adams
Helen Adams Keller
I found an article in the Richmond Times on "Chelsea," the seat of Keller's ancestors.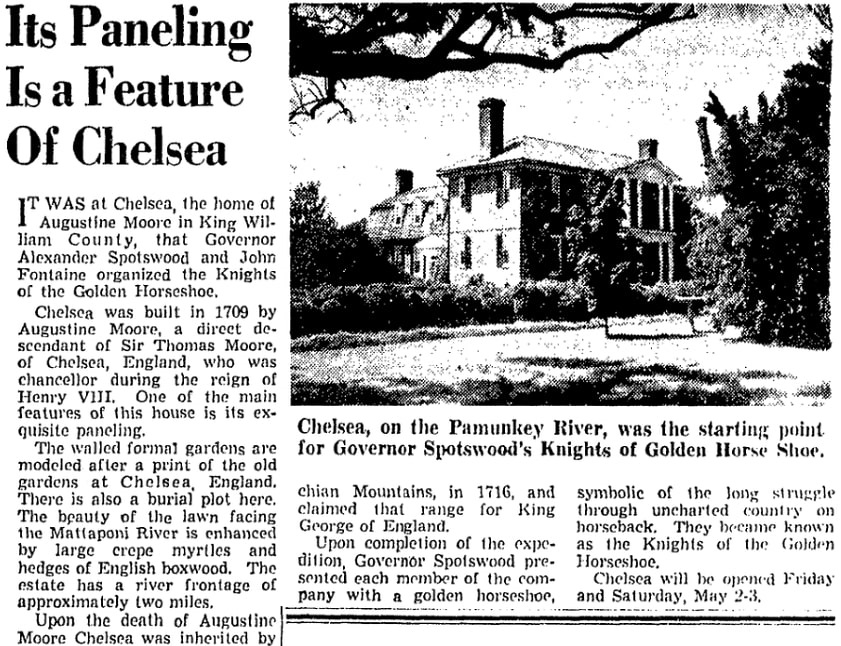 This article reported:
It was at Chelsea, the home of Augustine Moore in King William County, that Governor Alexander Spotswood and John Fontaine organized the Knights of the Golden Horseshoe.

Chelsea was built in 1709 by Augustine Moore, a direct descendant of Sir Thomas Moore of Chelsea, England, who was chancellor during the reign of King Henry VIII. [This needs to be explored – there is confusion on this lineage through purported claims that Augustine descends from Jamestown's John More; stay tuned.]

…Upon the death of Augustine Moore, Chelsea was inherited by his son, Bernard, who married Anne Katherine Spotswood, daughter of Governor Spotswood. This couple's daughter, Ann Butler Moore, was [the] grandmother of General Robert E. Lee. [This couple's son, Alexander Spotswood Moore, married Elizabeth Aylett.]

Just before the battle of Yorktown, during the Revolution, General Lafayette's army camped at Chelsea, and the general made the mansion his headquarters. Alexander Moore was his aide-de-camp.

Chelsea remained in the Moore family until about 1874, when it passed to other owners.

It is interesting to note the origin of the Knights of the Golden Horseshoe, at Chelsea. These were the men who made up the company that accompanied Governor Spotswood and John Fontaine to the Appalachian [Blue Ridge] Mountains, in 1716, and claimed that range for King George of England.

Upon completion of the expedition, Governor Spotswood presented each member of the company with a golden horseshoe, symbolic of the long struggle through uncharted country on horseback. They became known as the Knights of the Golden Horseshoe.
More on this in a later story…
Note on the header image: Photo: Helen Keller, 1904. Credit: Library of Congress, Prints and Photographs Division.
Explore over 330 years of newspapers and historical records in GenealogyBank. Discover your family story! Start a 7-Day Free Trial.
Related Article: