Introduction: In this article, Gena Philibert-Ortega searches old newspapers to discover how our ancestors celebrated the first Armistice Day (now Veterans Day) on 11 November 1919. Gena is a genealogist and author of the book "From the Family Kitchen."
Each year we honor military service veterans by celebrating Veterans Day on November 11. The more recent meaning of the day, to honor all military veterans, was signed into law by President Dwight D. Eisenhower in 1954 when he signed the Veterans Day Proclamation. (1) Prior to that, the holiday was called Armistice Day and was first celebrated 11 November 1919.
Armistice Day 1919
The Great War, known today as World War I, officially ended with the signing of the Treaty of Versailles on 28 June 1919 – but fighting ceased earlier, on 11 November 1918 – the 11th hour of the 11th day of the 11th month. (2)
In 1919, President Woodrow Wilson proclaimed November 11th as Armistice Day. His message to Americans on that day was printed in newspapers throughout the country.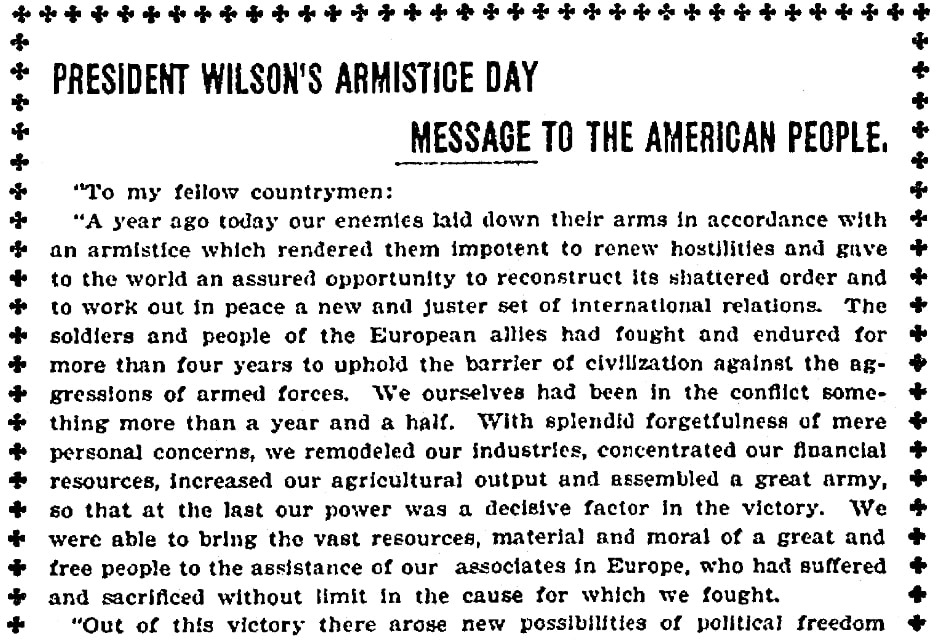 He ended his message with the statement that:
"To us in America the reflections of Armistice Day will be filled with solemn pride in the heroism of those who died in the country's service and with gratitude for the victory, both because of the thing from which it has freed us and because of the opportunity which it has given America to show her sympathy with peace and justice in the councils of nations."
It was a celebration not just for the United States, but for the whole world – as the following newspaper illustration proclaimed, accompanied by this sentence:
"The international annual celebration of November 11 will bind together the peoples of the world, will help promote a common understanding among them, and will make easier the efforts of those who, in years to come, strive for peace and good will among all mankind."
Celebrating in the U.S.
What did Americans do for that first Armistice Day? Like today, it was celebrated in some communities with parades and fanfare, while in others it was simply a day of remembrance. Reading historical newspapers from 1919 provides an opportunity to understand what was happening on that day in your ancestor's city or town.
This newspaper article proclaimed that celebrations were "quiet." One of the activities included the planting of two memorial trees in Washington, D.C.'s Lafayette Square.
Even in places that didn't have parades, something was done – even if it was just hanging patriotic decorations and listening to speeches, like this next newspaper article reported.
Not every community wanted a quiet celebration. This article with suggestions from the War Camp Community Service in New York listed activities such as parades, singing, concerts, dances, and athletics. In addition, it is suggested that it not just involve veterans of the Great War but also include those from the Civil and Spanish-American Wars.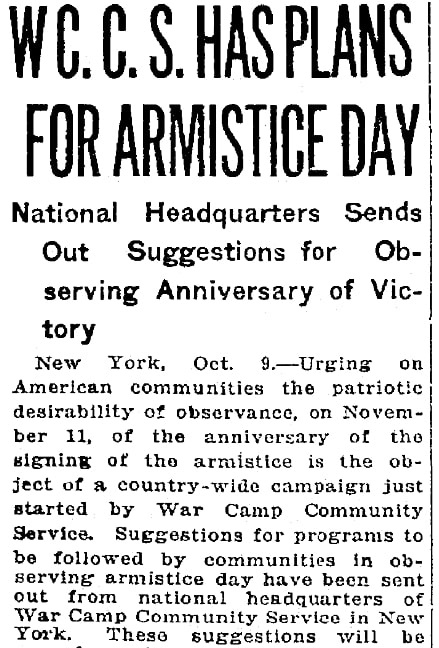 Here is another article about a patriotic celebration that included a parade and a gathering at a local church. The newspaper provided instructions for those participating in the parade and the program of events.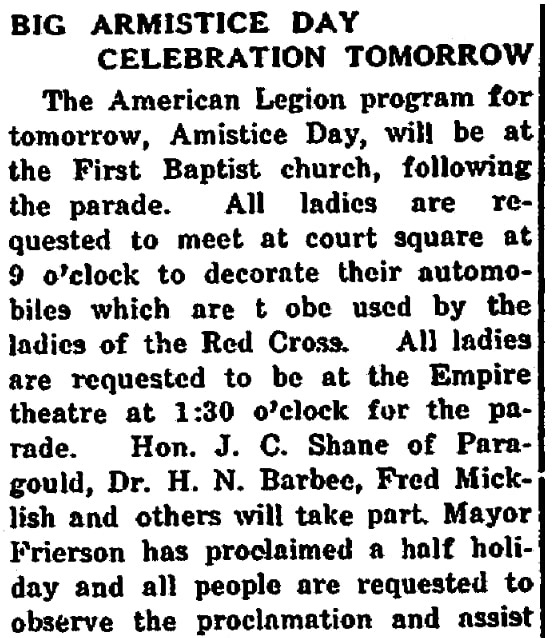 Veterans Day
Veterans Day is a day to honor military veterans and their service. Today's community gatherings echo a tradition that started in 1919 and continues today.
What was your ancestor's community doing 11 November 1919?
Note: Just as an online collection of newspapers, such as GenealogyBank's Historical Newspaper Archives, helped tell the stories of how our ancestors celebrated the first Armistice Day, they can tell you stories about your ancestors that can't be found anywhere else. Discover your family story! Start a 7-Day Free Trial.
Note on the header image: a photo of U.S. World War I veteran Joseph Ambrose (1896–1988) attends the dedication parade for the Vietnam Veterans Memorial in 1982, wearing his original Brodie helmet and doughboy uniform and holding the flag that covered the casket of his son, Clement, who was killed in the Korean War. Credit: National Archives and Records Administration; Wikimedia Commons.
__________________
(1) "History of Veterans Day," US Department of Veteran Affairs (https://www.va.gov/opa/vetsday/vetdayhistory.asp: accessed 8 November 2022)
(2) Ibid.