Introduction: In this article, Melissa Davenport Berry continues her story about the working-class background of the Mayflower Pilgrims – and the Blue Bloods of Boston. Melissa is a genealogist who has a blog, AnceStory Archives, and a Facebook group, New England Family Genealogy and History.
Cleveland Amory, social historian, published an article in the Boston American newspaper on America's first families. Amory asserted that many historians failed to do justice to the Mayflower Pilgrims because they were considered "commoners." Amory defended the "Pilgrims who were, as a group, perhaps the greatest of all this country's heroes." He explained that the Mayflower passengers and their descendants were hard-working men and women who aspired to be of service to their community as they enhanced their lot in life.
Amory interviewed Bradford Smith, descendant of perhaps the greatest of the Pilgrim fathers, William Bradford. Smith noted that the Pilgrims were all working men and said:
"…the chief distinction of the Pilgrims and their claim to our continual veneration is that they established a caste-free government of free men, making no attempt to duplicate the system of degree and station which existed in England and by which the leaders, if they had been smaller men, might well have hoped to advance themselves in the New World."
Smith said he was proud of his ancestor, who distinguished himself as "a self-made man in age of privilege."
A similar view was presented to Amory from Walter Merriam Pratt, the governor-general of the General Society of Mayflower Descendants, who said:
"The Mayflower Society is not interested in the wealth of its members, or their social standing, or their politics. The Pilgrims believed in the equality of all men."
I found an article in the Milwaukee Journal which provided a list of the Mayflower passengers who called themselves "saints," and their occupations.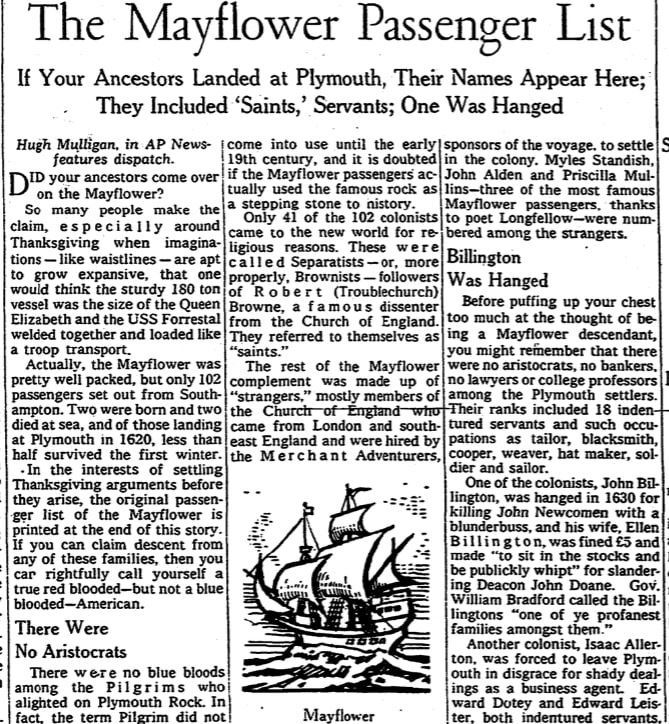 Here is that list of the "Saints" and their occupations.
Mayflower Society member Ruthie Stearns of Nebraska descends from passengers Richard Warren, Francis Cooke, Priscilla Mullins, and John Alden. Of this group, only Francis Cooke was a "saint."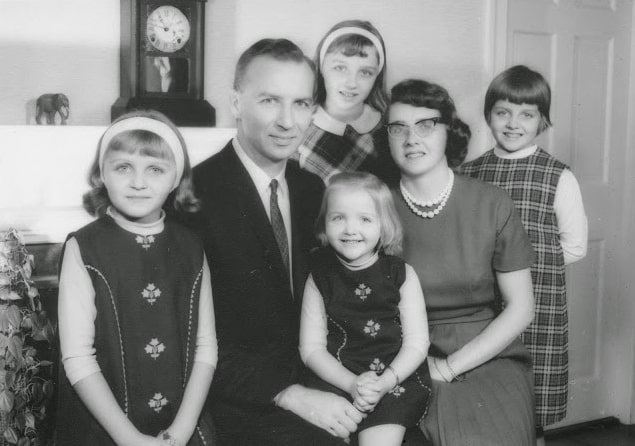 Like their first Mayflower ancestors, Ruthie's family performed "hands on" labor and served their community. She has letters and photographs of the family; her genealogy is listed below. One is innholder John Bartlett of Plymouth, son of Robert Bartlett and Sarah Cooke, grandson of Robert Bartlett and Mary Warren.
I found an ad in the Boston Gazette dated 10 January 1757 announcing that Thomas Foster Jr. was taking over the "Ship Tavern" owned by John Bartlett.

Ruthie's great grandfather, Russell Freeman Hazard, was employed at the famous Moldenke Castle in Watching, New Jersey, as a carpenter. A letter of recommendation written by Richard Moldenke dated 9 October 1905 noted that Russell had been with Moldenke for four years and was "fully competent to perform every duty connected with House Carpentering, and has built my extensive Castle from the laying of the foundations to the finest interior finish."
Moldenke praised Russell as "entirely reliable, sober, industrious and a good citizen" and described his work as "first-class service." Sounds like a Mayflower working lad to me!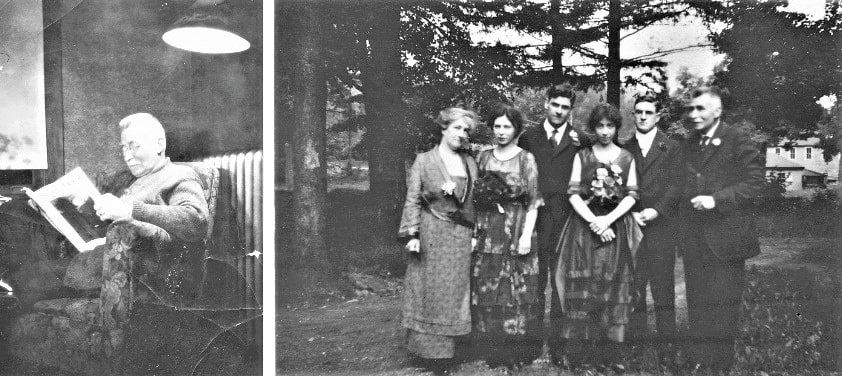 Russell's daughter, Genevieve Sayre Hazard, was a teacher at the Boyton School in Benton Harbor, Michigan. Her husband, Charles Elmer Holmes, served his country in World War I in the Marine Corps, and after his discharge worked with the Red Cross to place veterans in homes.

Ruthie has a letter written to Genevieve from her cousin Hazel June (Hazard) Church. The letter offered some history on her Mayflower descendant Harriet Bacon Hazard. The letter reads:
"She [Grandma Hazard] was a hardworking and loving mother. She spent long hours weaving carpets and caring for the sick."
I found Harriet in the 1880 census in GenealogyBank, which lists her as a weaver, and her husband Jonathan as a carpenter. Sounds like their ancestors in Plymouth Plantation!

A daughter born to Genevieve and Charles, Barbara Dorcas Holmes – Ruthie's mother – married clergymen and human rights activist Rev. Howard Oliver Stearns. I found their marriage announcement in the Roanoke Times, which revealed more on the family.
Ruthie's mother was a teacher and taught Bible school. While the family resided in Danvers, Massachusetts, Ruthie's mother was a Brownie leader and ran a religious forum at Lake Winnipesaukee, New Hampshire. Her father transcribed the sermons of Reverend Samuel Parris, connected to the Salem Witch trials. That story will come in a future blog article.
Note: Just as an online collection of newspapers, such as GenealogyBank's Historical Newspaper Archives, told the stories of Ruthie Stearns's Mayflower ancestors and their descendants, they can tell you stories about your ancestors that can't be found anywhere else. Come look today and see what you can discover!
Further Reading:
Genealogy:
Ruth Stearns———-Richard Warren:
Richard Warren (1578-1628) and Elizabeth Walker (1583-1673)
Elizabeth Warren (1615-1669) and Richard Church (1608-1668)
Joseph Church (1638-1710) and Mary Tucker (1640-1710)
Abigail Church (1680-1720) and William Simmons (1672-1765), son of John Simons (1646-1715) and Mercie Peabodie (1649-1728), daughter of William Peabodie (1620-1707) and Elizabeth Alden (1625-1717)
Peleg Simmons (1716-1807) and Mary Brownell (1717-1799)
Abigail Simmons (1760-1819) and William Sanford (1757-1837)
Prudence Sanford (1783-1858) and Charles Peckham (1775-1859), son of George Peckham (1720-1810) and Jerusha Bartlett (1735-1791), daughter of John Bartlett (1696-1773), son of Robert Bartlett (1663-1718) and Sarah Cooke (1671-1745), daughter of Jacob Cooke, son of Francis Cooke. Robert Bartlett (1663-1718), son of Joseph Bartlett (1639-1711), son of Robert Bartlett (1603-1676) and Mary Warren (1609-1683), daughter of Richard Warren (Charles Peckham connects to Francis Cooke and Richard Warren through daughter Mary Warren)
Abigail Peckham (1800-1853) and Curtis Bacon (1799-1882)
Harriet Bacon (1827-1889) and Jonathan Hazzard (1820-1895), son of Tom "Pistol Head" Hazard* (1787-1846) and Ruth Carpenter (1789-1860); Thomas Hazard (1756-1845) and Hannah Knowles (1764-1818)
Russell Fremont Hazard (1858-1930) and Ella Hildreth Sayre (1857-1904)
Genevieve Sayre Hazard (1891-1979) and Charles Elmer Holmes (1889-1973)
Barbara Dorcas Holmes (1927-1992) and Howard Oliver Stearns (1925-1999); child Ruth Ellen Stearns (b. 1953)
*From Thomas B. Hazard "Nailer Tom's diary."
Son Thomas (Pistol-Head Tom) must have been a constant concern to his father. A curious entry in the Diary reads: "Feb. 16, 1814. I am informed that son Thomas was married to Ruth Carpenter yesterday by Enoch Stidman." The twenty-eighth of the same month, "Son Benjamin and Joanna Carr laid their intenshons of marriage before the meeting," and May 12 they were duly married in Hopkinton, where the bride lived, with Nailer Tom lodging at Sarah Carr's house. Two days later "Son Benjamin brought home his wife" and the next day they all dined at Rowland Hazard's, Son Benjamin and his wife, and Son Thomas and his wife. A real wedding party it must have been. They all stayed to tea, except Son Thomas and his wife, making a day of it. The next day they were all together at Nailer Tom's, and one can fancy the festivities; but the excitement must have been too much for Pistol-Head Tom, for that same week his father "Went to see Son Thomas, he had one fit while I was there."
Related Article: