Introduction: In this article, Melissa Davenport Berry writes about the working-class background of the Mayflower Pilgrims – and the Blue Bloods of Boston. Melissa is a genealogist who has a blog, AnceStory Archives, and a Facebook group, New England Family Genealogy and History.
In 1958 social historian Cleveland Amory wrote an article in the Boston American newspaper on America's "first families" and how they influenced the society circles of his day. Amory wanted to clear the misconception historians cultivated about the Mayflower Pilgrims, who arrived in the New World in 1620.
For example, one American historian, Dixon Wecter, classified Mayflower passengers as "the ne'er-do-wells, underprivileged, and maladjusted." He clumped them in with Jamestown (First Families of Virginia) and Knickerbocker New Yorkers.
Amory asserted that Wecter and other historians "…have gone too far. They not only fail to do justice to the Pilgrims who were, as a group, perhaps the greatest of all this country's heroes," he pointed out that a great many distinguished American citizens are Mayflower-descended:
"…including, to take a random selection, Boston's Adams family, Ulysses S. Grant, the first Mrs. Jefferson Davis [Sarah Knox Taylor], Henry Wadsworth Longfellow, Mrs. Ralph Waldo Emerson [Lidian Jackson Emerson], William Howard Taft, J. P. Morgan, George F. Baker, the first Mrs. John D. Rockefeller Jr. (Abby Aldrich), and Franklin Delano Roosevelt."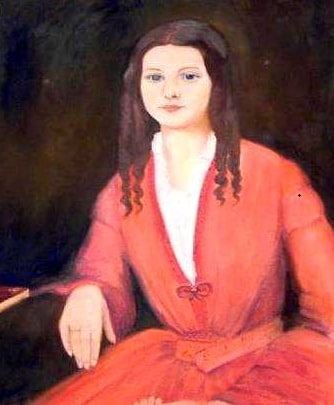 It was not just the historians who looked down on "the other" first family lines. The Boston elite, whose ancestors came over on the Arabella (flagship of the Winthrop Fleet that arrived in Salem in 1630) claimed it brought the country's first Whitney and distinguished forebearer Sir Richard Saltonstall. These blood lines boasted of ten unbroken generations of Harvard men and their socially prestigious ladies.
Amory himself was bred from Brahmin stock. His pedigree consisted of a score of Harvard grads and famous colonial dames, with names such as Copley, Coffin, Appleton, and Peabody. I found several portraits of his predecessors.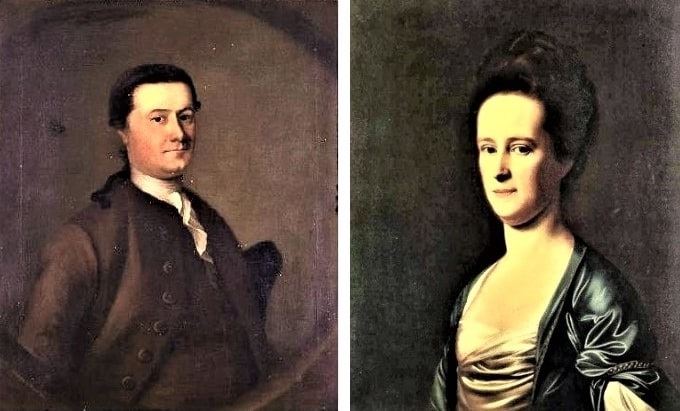 Despite his high position on the social ladder, Amory did not put on airs – rather, he loved to play and pun at the upper echelon, especially its grande dames.
He referenced two of them in the Boston American article. Mrs. Harrison Gray Otis (Eliza Ann Wetherby), who was asked if she was descended from the Mayflower, replied: "Oh no, we came on the second boat. We sent our servants on that." Mrs. Jack Gardner (Isabella Stewart Gardner) put a visitor in their place when they launched into a family history that included the Mayflower. She responded: "Indeed, I understand the immigration laws are much stricter nowadays."
More can be found in Armory's book The Proper Bostonians (1947).
The first families of Boston not only missed the Mayflower, they originally settled not in Boston but in Salem – where, as the saying was, "its Peabody or nobody." Amory shook a few family trees, dug below the upper crust, and found not one "Gent" to be among the Pilgrim group. Yes, the Mayflower transported the first commoners, and the 41 men who signed the famous compact were working men who came to the New World to create a social order that represented "equality of all men."
Ruthie Stearns of Lincoln, Nebraska, joined the Mayflower Society a few years back. She descends from passengers Richard Warren, Francis Cooke, and John Alden. Ruthie shared some of her family photos which will appear in the second part of this story. I found a Plimoth Plantation "Ye Olde Wedding" reenactment of Ruthie's direct Mayflower line featured in the Boston Herald.
The happy couple: Robert Bartlett and Mary Warren. In the 1627 village, Captain Standish Miles officiated the ceremony at his home and the bride's parents, Richard and Elizabeth (Walker) Warren, hosted the "bride ale," the Pilgrim's version of a wedding feast. The top of the "Who's Who" list of attendees was John and Elizabeth (Tilley) Howland. The couple walked through the little village to spread their good news with residents and visitors alike.
Cleveland Amory used his pen to expose the pretensions of upper-crust society, but nursed another passion which is prevalent among WASP and Mayflower lines: Animal Rights. According to sources, Amory's love for animals was fostered by his Aunt Lucy "Lu" Claredon Creshore (1871-1955) of Beacon Hill, who harbored more stray animals than the Beales of Gray Gardens. And for that, Amory is on my "Who's Who" list of those who loved all creatures great and small.
Stay tuned: in my next article, Amory investigates Pilgrim occupations and interviews Mayflower descendants, and I'll have more images from society member Ruthie Stearns – whose gr. grandfather did carpentry work at Moldenke Castle in New Jersey!
Further Reading:
Genealogy:
Ruth Stearns———-Richard Warren:
Richard Warren (1578-1628) and Elizabeth Walker (1583-1673)
Elizabeth Warren (1615-1669) and Richard Church (1608-1668)
Joseph Church (1638-1710) and Mary Tucker (1640-1710)
Abigail Church (1680-1720) and William Simmons (1672-1765), son of John Simons (1646-1715) and Mercie Peabodie (1649-1728), daughter of William Peabodie (1620-1707) and Elizabeth Alden (1625-1717)
Peleg Simmons (1716-1807) and Mary Brownell (1717-1799)
Abigail Simmons (1760-1819) and William Sanford (1757-1837)
Prudence Sanford (1783-1858) and Charles Peckham (1775-1859), son of George Peckham (1720-1810) and Jerusha Bartlett (1735-1791), daughter of John Bartlett (1696-1773), son of Robert Bartlett (1663-1718) and Sarah Cooke (1671-1745), daughter of Jacob Cooke, son of Francis Cooke. Robert Bartlett (1663-1718), son of Joseph Bartlett (1639-1711), son of Robert Bartlett (1603-1676) and Mary Warren (1609-1683), daughter of Richard Warren (Charles Peckham connects to Francis Cooke and Richard Warren through daughter Mary Warren)
Abigail Peckham (1800-1853) and Curtis Bacon (1799-1882)
Harriet Bacon (1827-1889) and Jonathan Hazzard (1820-1895), son of Tom "Pistol Head" Hazard* (1787-1846) and Ruth Carpenter (1789-1860); Thomas Hazard (1756-1845) and Hannah Knowles (1764-1818)
Russell Fremont Hazard (1858-1930) and Ella Hildreth Sayre (1857-1904)
Genevieve Sayre Hazard (1891-1979) and Charles Elmer Holmes (1889-1973)
Barbara Dorcas Holmes (1927-1992) and Howard Oliver Stearns (1925-1999); child Ruth Ellen Stearns (b. 1953)
*From Thomas B. Hazard "Nailer Tom's diary."
Son Thomas (Pistol-Head Tom) must have been a constant concern to his father. A curious entry in the Diary reads: "Feb. 16, 1814. I am informed that son Thomas was married to Ruth Carpenter yesterday by Enoch Stidman." The twenty-eighth of the same month, "Son Benjamin and Joanna Carr laid their intenshons of marriage before the meeting," and May 12 they were duly married in Hopkinton, where the bride lived, with Nailer Tom lodging at Sarah Carr's house. Two days later "Son Benjamin brought home his wife" and the next day they all dined at Rowland Hazard's, Son Benjamin and his wife, and Son Thomas and his wife. A real wedding party it must have been. They all stayed to tea, except Son Thomas and his wife, making a day of it. The next day they were all together at Nailer Tom's, and one can fancy the festivities; but the excitement must have been too much for Pistol-Head Tom, for that same week his father "Went to see Son Thomas, he had one fit while I was there."