In earlier times, genealogy was primarily a solo pursuit, working by yourself to fill in details of your family tree.
With the ease of communication brought on by the Internet age, family historians have discovered the joy – and productivity – of working together, sharing what they've discovered.
To help with that shared experience – and in response to feedback from our members – GenealogyBank has rolled out our Community Clippings Page. (For ease of use, we call the tab at the top of the GB home page simply "Clippings.")
The Community Clippings Page contains all of the newspaper clippings that our members have chosen to make public. It's a place for our members to share what they've found, and enhance each clipping with their own comments and descriptions. Members can easily search clippings made by others, making it even easier to find new discoveries.
This new GenealogyBank feature is very easy to use.
To get started:
1) Log into GenealogyBank.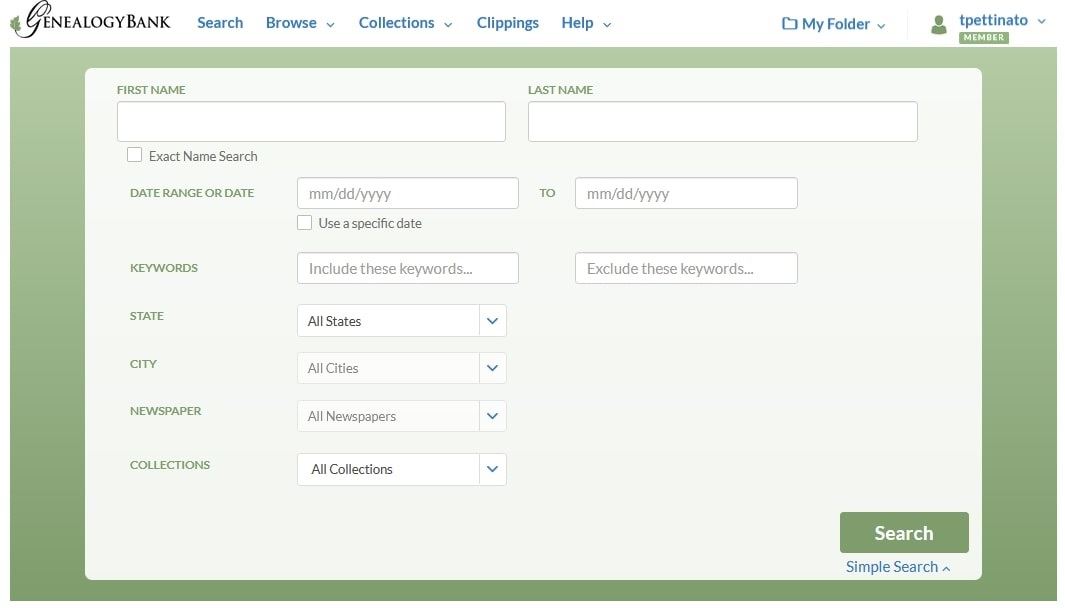 2) Do a search using a specific name (and/or date range, and/or keyword, and/or location, and/or newspaper).
3) Select an article from the search results list that interests you.
4) Create a public clip of the article you want to share with others. Use the Clipping Tool (pair of scissors) to select the article, choose the "Save to My Folder" option when you clip, and make sure "Public" is checked before you click "Save." Before clicking "Save," you have the option of adding a title and description to the clipping you're saving.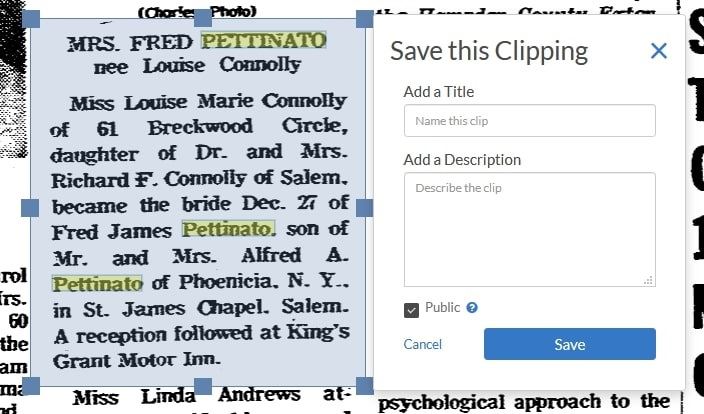 That's all there is to it! Your clipping is now saved into your folder so that you can always find it, plus you've made it public by placing it into the Community Clippings Page for others to discover.
Note: You can change your clipping from public to private at any time by clicking on the clipping and unchecking "Public."
You can go directly to the Community Clippings Page any time you want by selecting the "Clippings" tab on top of the home page. This is what it looks like: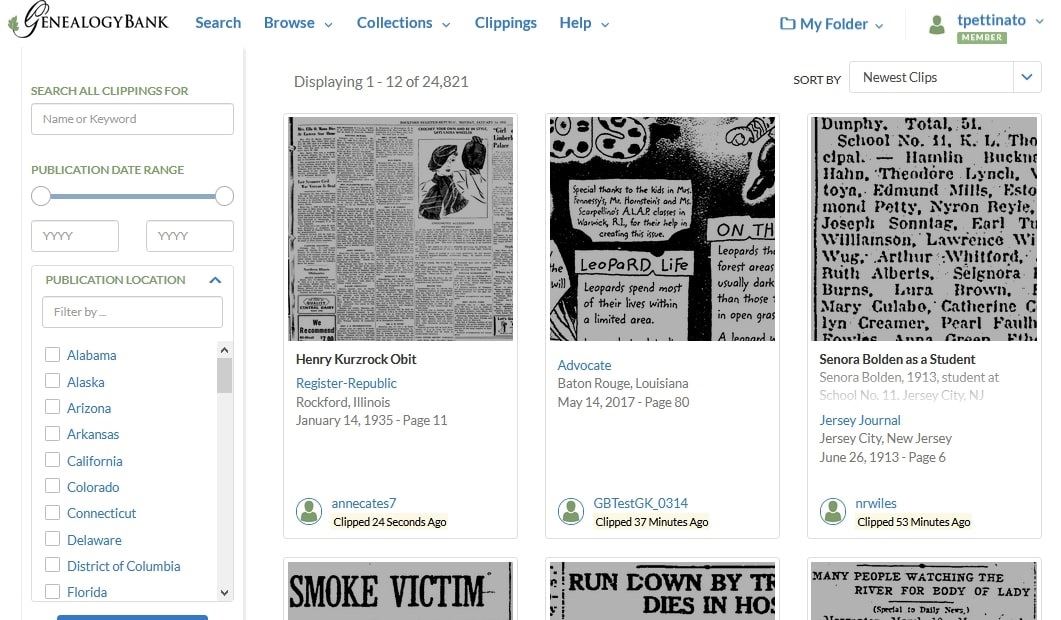 As you can see, members had made public more than 24,000 newspaper clippings as of 10:00 this morning, and more are being added all the time. Visit the Community Clippings Page and browse around – or search a specific name, location or date range using the filters on the left.
We're constantly making new improvements and your feedback helps us decide what to do next.
Some suggestions we're already considering:
Following individuals
Messaging individuals
To tell us what you think, email us at feedback@genealogybank.com.