Introduction: In this article – just in time to help you prepare for your Thanksgiving feast – Gena Philibert-Ortega searches old newspapers to find a variety of stuffing recipes for the Thanksgiving turkey. Gena is a genealogist and author of the book "From the Family Kitchen."
First, let's get one thing out of the way. Do you call it stuffing or dressing? What's the difference? Well, what you call this Thanksgiving side dish might have to do with where you live (where I live "dressing" is salad dressing). The other difference is the way it's cooked. It probably makes sense that "stuffing" is cooked inside the turkey while "dressing" is cooked in a casserole (or other type) dish. But whether you call dressing stuffing or you stuff your turkey with dressing, don't worry – it's basically the same dish.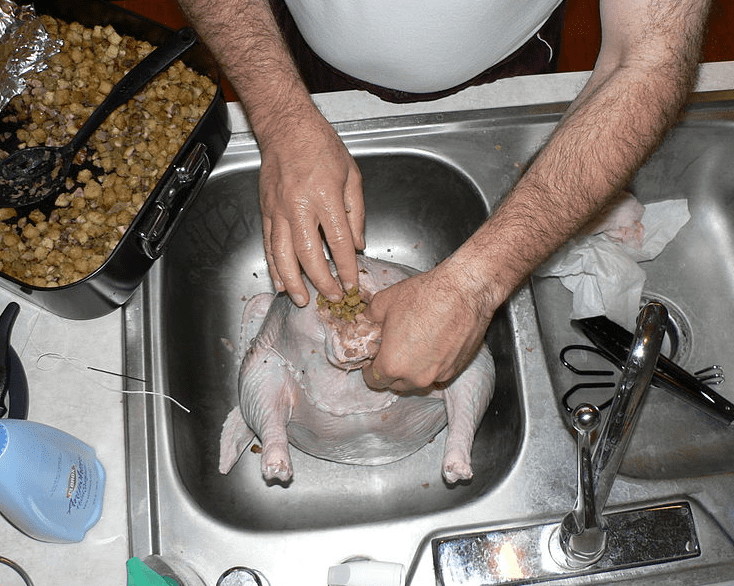 Since I have no memories of stuffing at Thanksgiving growing up (probably because it wasn't my favorite food to eat), I was surprised at the great variety of stuffing/dressing recipes my Facebook friends shared with me. These recipes were handed down in their family or were a much-beloved recipe they discovered in a favorite cookbook. Stuffing recipes share some common elements: some sort of bread, in most cases meat, veggies, and sometimes fruits and/or nuts. For example:
Bread: white bread, sourdough, wheat, biscuits, cornbread, pre-made stuffing mix (croutons)
Meats/Protein: turkey (giblet, organ meats), sausage, ground beef, oysters, chicken, bacon, hard-boiled eggs
Fruits: raisins, apples, craisons
Veggies: celery, carrots, onion, mushrooms
No matter what the main ingredients of the recipe are, it also includes herbs/seasonings, water or broth.
Stuffing Recipes in the Newspaper
So, what about historical stuffing recipes found in a collection of old newspapers, such as GenealogyBank's Historical Newspaper Archives? While stuffing recipes share some commonalities (bread, seasoning, vegetables), there are some recipes that are very simplistic – like this 1900 Chestnut Stuffing that is chestnuts and not much else.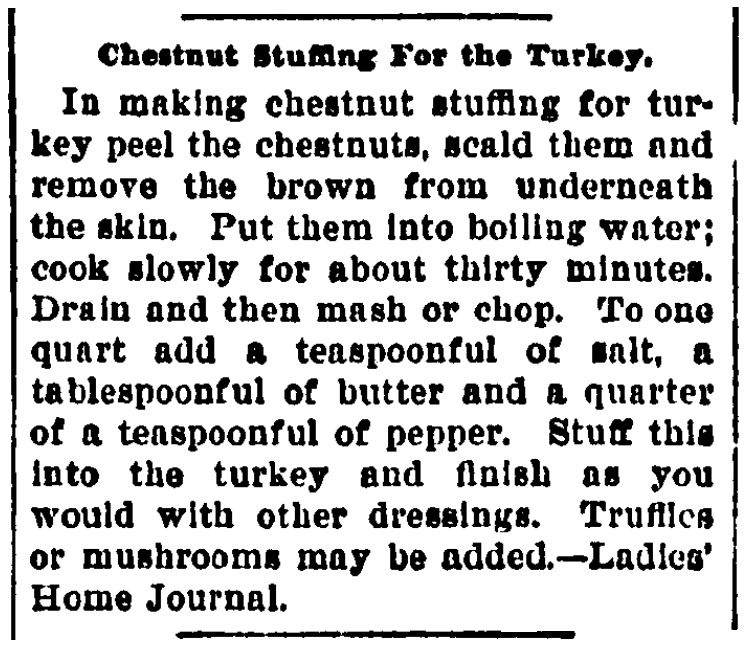 Oysters seem to be a standard ingredient in some families' stuffing recipe. I personally have never had the chance to sample an oyster stuffing, but it was obvious from the responses on my Facebook feed that you either love oysters or really, really hate them. If you want to try an oyster stuffing, this simple 1930 recipe should do the trick.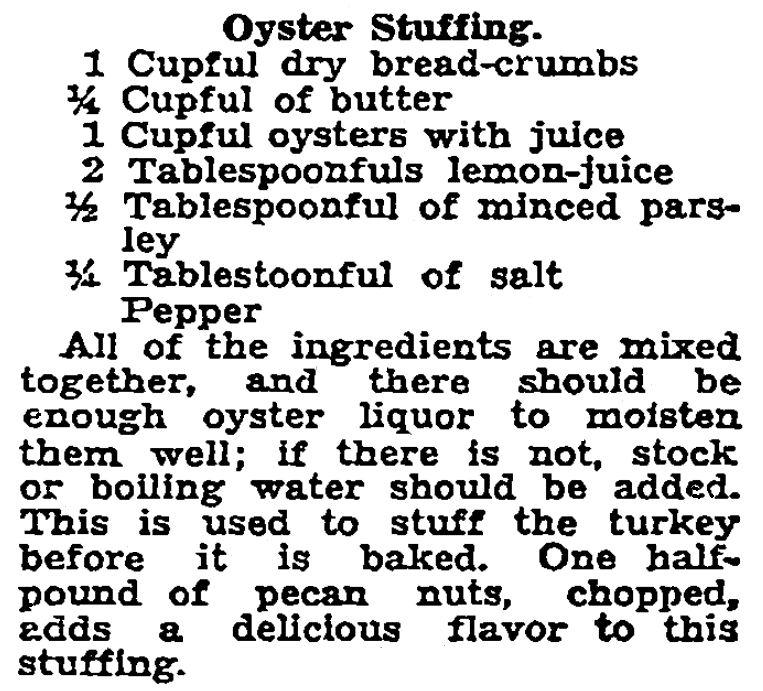 This 1935 newspaper article includes several different types of stuffing for those who may not want oysters or nuts as part of the dish. The article explains that "there are stuffings and then more stuffings and each has its own longing admirers."
This next stuffing recipe is a little different. It's meant as a side dish for chicken, but the author suggests trying it and then later using it for Thanksgiving by doubling the recipe amounts. This dressing includes ham, pecans, and – if you like – brandy. Interestingly enough the bread is moistened with milk instead of water or broth.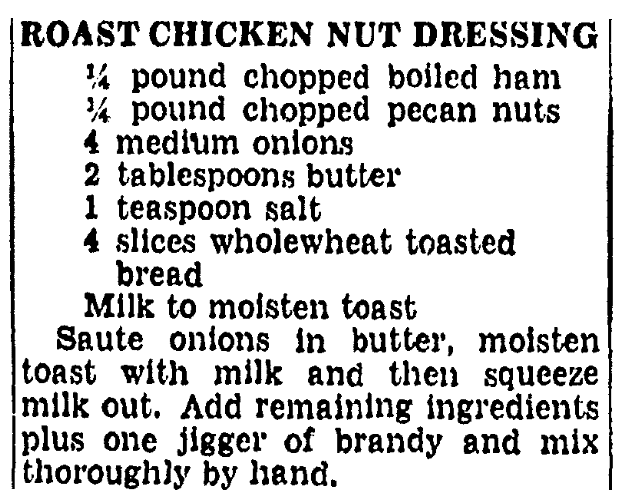 Everything Changed in 1971
For those who love a shortcut, the 1971 announcement of a new boxed stuffing mix that only required water, butter, and 5 minutes must have seemed wonderful. That mix, created by Ruth M. Siems of General Foods, resulted in a U.S. patent for her – and a creative answer to the question of how to create an easy-to-make stuffing that wouldn't be too dry or too soggy. Using eraser-sized bread crumbs, Siems' instant stuffing allowed families to enjoy stuffing year-round and not just on "special occasions." It also allowed the cook to not hassle with stuffing a Thanksgiving bird. Stuffing could be prepared minutes before everyone sat down at the table.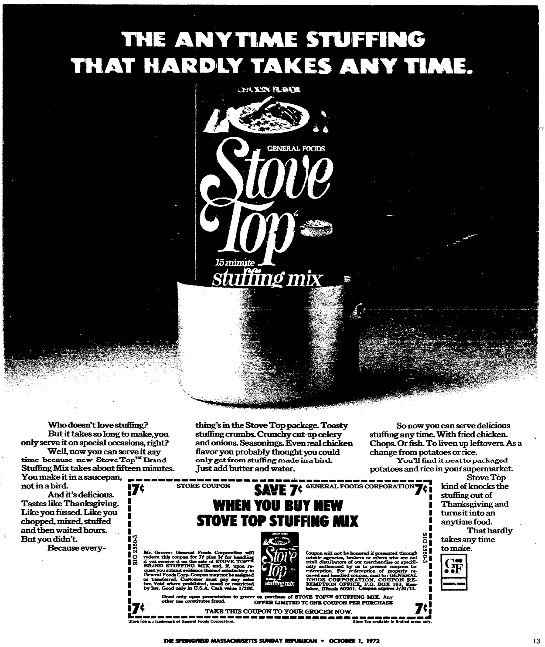 If you decide to really mix it up this Thanksgiving, give some thought to making a stuffing with potato chips like this 1980 newspaper recipe. It's probably no surprise that the author of this recipe is a home economist with a snack food company.
What Will You Eat This Thanksgiving?
So, what's on your Thanksgiving menu? Stuffing or Dressing? Stuffed in the turkey or not? What meat, if any, will be a part of the stuffing? I'd love to hear your family recipes and stories in the comments section below.
Happy Thanksgiving!