According to Wikipedia, Frederick "Maxfield" Parrish (1870-1966):
"…was an American painter and illustrator active in the first half of the 20th century. He is known for his distinctive saturated hues and idealized neo-classical imagery. His career spanned fifty years and was wildly successful: his painting Daybreak is the most popular art print of the 20th century."
He is one of my favorite artists and I am glad that he is my cousin.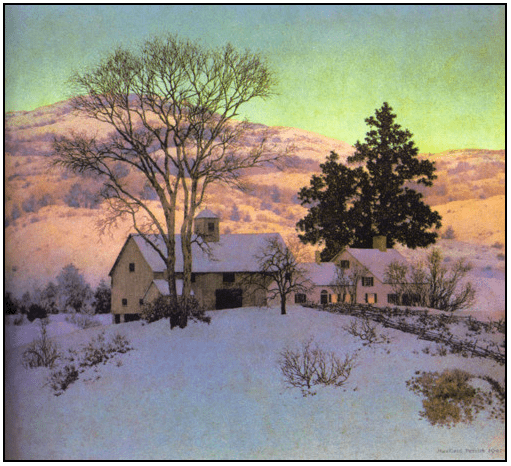 Daybreak (1922) was very popular, but Afterglow (1947) is one of my favorites because it reminds me of our home – and so many homes in New Hampshire where Parrish lived for many years.
"Parrish worked with popular magazines throughout the 1910s and 1920s, including Hearst's and Life. He also created advertising for companies like Wanamaker's, Edison-Mazda Lamps, Colgate and Oneida Cutlery. Parrish worked with Collier's from 1904 to 1913. He received a contract to deal with them exclusively for six years. He also painted advertisements for D.M. Ferry Seed Company in 1916 and 1923, which helped him gain recognition in the eye of the public. His most well-known art work is Daybreak which was produced in 1923. It features female figures in a landscape scene. The painting also has undertones of Parrish blue. In the 1920s, however, Parrish turned away from illustration and concentrated on painting. In his forties, Parrish began working on large murals instead of just focusing on children's books."

— Wikipedia
I spotted this Maxfield Parrish quote commenting on modern art:
"You know, I think it's wonderful. In a few years it'll keep truck drivers busy carting it to the dump."

— Advocate (Stamford, Connecticut), 19 March 1995, page A12:
Today his paintings sell for huge sums. When Daybreak sold 25 May 2006 at auction at Christie's for $7.6 million dollars, it set a new record for an artwork by Maxfield Parrish.
You can read more about Maxfield Parrish's family history here on FamilySearch.
There are thousands of newspaper articles about Maxfield Parrish's life and work in GenealogyBank's Historical Newspaper Archives. Here are just a few of them.
Hindman, Leslie. "Parrish Book Is a Valuable Treasure." Aberdeen Daily News (Aberdeen, South Dakota), 22 February 2002, page 91.
This article is a discussion of Louise Saunders' The Knave of Hearts and other children's books that were illustrated by Maxfield Parrish. When published they were sold for a few dollars but are now selling for "$800 to $1,200."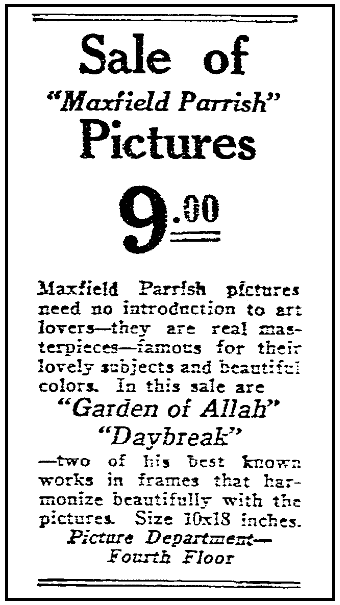 Maison Blanche department store advertisement. "Sale of 'Maxfield Parrish' Pictures." Times Picayune (New Orleans, Louisiana), 31 January 1926, page 11.
"Peregrinations of a Maxfield Parrish Mural." Advocate (Stamford, Connecticut), 12 November 1977, page D-6.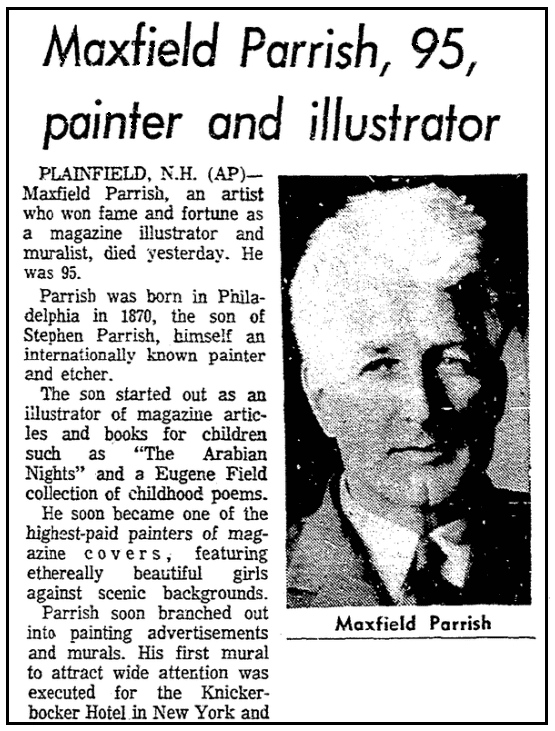 "Maxfield Parrish, 95, Painter and Illustrator." Newark Star Ledger (Newark, New Jersey), 31 March 1966, page 19.
This obituary speaks to the impact of his "Old King Cole" murals:
"…his unusual love of architectural form and detail, as well as a delightful interplay of strong, rather stiff vertical figures with relaxed and diagonal ones."
Trott, Nancy Roberts. "He'd Turn Over in His Grave. Maxfield Parrish's Popularity Brings Bitter Legal Battle." Advocate (Stamford, Connecticut), 19 March 1995, page A12.
This article is about a complicated legal case regarding the ownership and sale of Maxfield Parrish's artwork.
Do you have artist relatives?
Tell us more about them.