Introduction: In this article – to celebrate today being National Fast Food Day – Gena Philibert-Ortega writes about McDonald's iconic Big Mac hamburger, which was invented 50 years ago. Gena is a genealogist and author of the book "From the Family Kitchen."
Quick: What's the first thing you think about when you hear the words "Big Mac"? If you are over 40 years of age, you may automatically think of:
"Two all-beef patties, special sauce, lettuce, cheese, pickles, onions, on a sesame seed bun."
I know that's what I hear in my head when I think of Big Macs. That commercial jingle from the 1970s familiarized Americans with what a Big Mac was, and today serves as a reminder of the hamburger that was once referred to as a "three decker meal."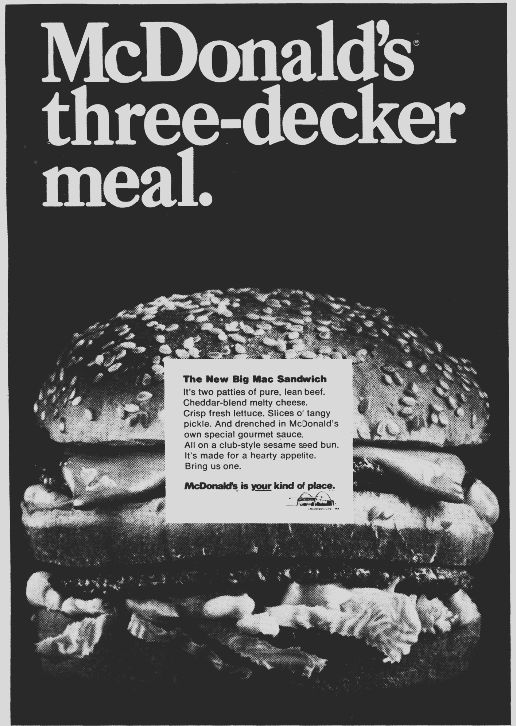 The Big Mac is sold in McDonald's restaurants all over the world, but its beginnings were in Pennsylvania thanks to an idea a McDonald's franchise owner had for a bigger hamburger.
The Big Mac Story
Jim Delligatti, a Pennsylvania McDonald's franchisee, believed that a bigger hamburger was needed for hungry steel workers who arrived at his restaurant straight from work. (1) He came up with a new hamburger that included two beef patties and served it for the first time in his Uniontown, Pennsylvania, McDonald's in 1967. In 1968 this new burger was introduced to McDonald's throughout the United States – and after a few name revisions, it was christened the Big Mac. (2)
The Big Mac was unique in that it not only contained two burger patties, but it also included three buns and a secret "special sauce."
So, what's in that secret sauce? Most people would guess that the sauce is really Thousand Island dressing. Googling "Big Mac Secret Sauce" reveals numerous copycat recipes. Similar to Thousand Island dressing, its ingredients include mayo, ketchup, onion powder, pickle relish, garlic powder, and sugar.
Special sauce copycat recipes can also be found in print, as exemplified in this 1985 newspaper article that suggests a secret sauce made from Miracle Whip, French Dressing, sweet pickle relish, minced onion, sugar and pepper.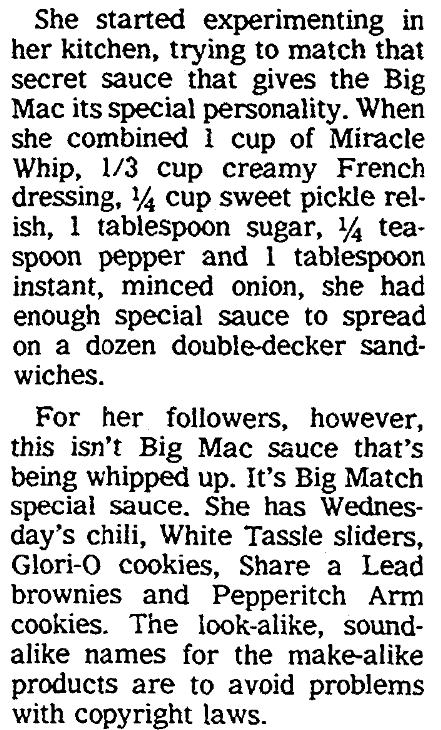 Consumers have been known to customize their Big Mac beyond the classic ingredients by asking for a burger with no pickles, or ordering a Double Big Mac which includes four beef patties instead of two.
When it debuted, the Big Mac cost 45 cents! Just a few years later, in 1970, the Big Mac cost 55 cents. A McDonald's meal consisting of a hamburger, fries, and a shake was advertised for 58 cents in Knoxville, Tennessee, in October 1967. Today, at my local McDonald's, the Big Mac alone will set you back $4.89.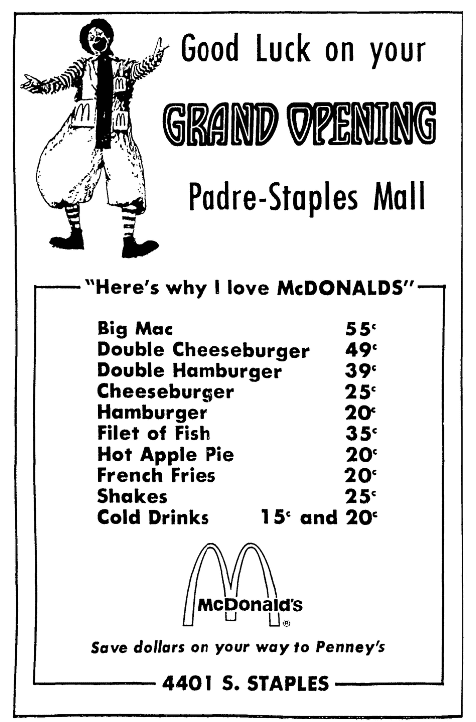 Once the Big Mac was introduced to American diners, it didn't take too long before the Big Mac was sold worldwide. Canadian McDonald's were the first non-U.S. restaurants to introduce Big Macs to their menu, and by 1988 over 60 countries featured the sandwich. The most recent country to add the Big Mac to their menu was Kazakhstan in 2016. (3)
Big Mac: The Museum
The Big Mac isn't just a meal; it's also a museum. If you're a true fan of the Big Mac you might want to take a pilgrimage to the official Big Mac Museum in North Huntingdon, Pennsylvania, where you can see
"…the world's tallest Big Mac statue; an 18-foot electronic world map; handcrafted walnut cases filled with fascinating historic memorabilia; tabletops laminated with images and trivia about the triple-decker sandwich; historic graphics scattered across walls of the facility and a special Big Mac Booth to enjoy the delectable seven-ingredient concoction with a life-like bronze bust of Jim Delligatti." (4)
The museum, opened in 2007, is a tribute to the Big Mac and honors creator Jim Delligatti's 50th anniversary as a McDonald's franchisee.
The Big Mac's 50th anniversary
2018 marks the Big Mac 50th and like other 50th anniversaries, Big Mac's silver anniversary was celebrated with a special MacCoin redeemable for a Big Mac.
The Big Mac remains as popular as ever with over 1.3 billion sold in 2017. (5) Big Macs are an important part of fast food history.
What fast food did you eat growing up or with your family? Do you have any memories involving fast food restaurants or meals? Tell us about them in the comments section below.
__________________
(1) "14 Things You Never Knew About the McDonald's Big Mac," Reader's Digest (https://www.rd.com/food/fun/big-mac-facts/: accessed 9 November 2018).
(2) "50 Years of Big Mac. Big Mac through the Years," McDonald's News.
(3) Ibid.
(4) "Big Mac Museum Restaurant," McDonald's (accessed 9 November 2018).
(5) "50 Years of Big Mac. Big Mac through the Years," McDonald's News.