Introduction: In this blog post, Gena Philibert-Ortega talks about how important food has been in the history of state fairs—both the food and recipe competitions, as well as some unusual treats offered for your consumption at the fair. Gena  is a genealogist and author of the book "From the Family Kitchen."

Do your plans this summer include a trip to your state's fair? State fairs have been around since 1841 and are a showcase for all types of goods, though their origins focused on agriculture.* State agriculture boards utilized early state fairs as a means to assist farmers in learning how to improve their crops and livestock, as well as highlighting products used in farming.
Competitions provided cash prizes as well as bragging rights for participating farmers and their families.** Today, state fairs offer all kinds of competitions and prizes for the best in everything from agriculture and livestock to arts and crafts. The state fair represents the "best of the best," with those who have won ribbons and awards at a county fair competing at the state level.
And of course, there are the food booths at state fairs, making these events veritable smorgasbords—which offer some surprising cuisine. Chocolate-covered bacon, anyone?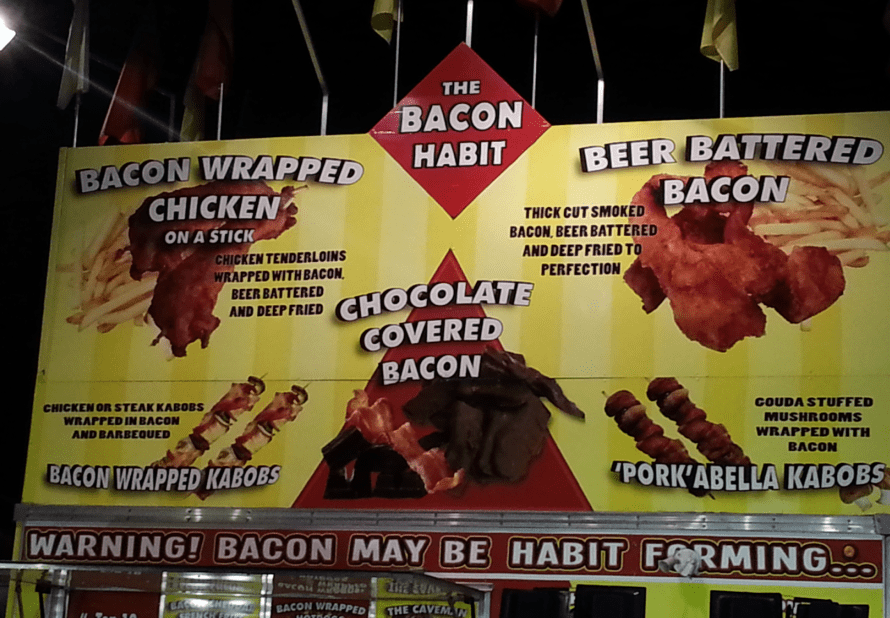 1849 New York State Fair at Syracuse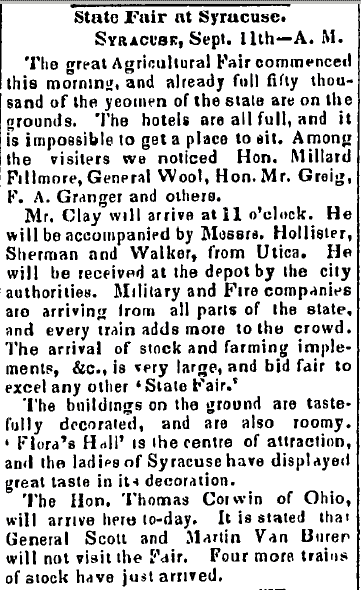 As anyone who's been to a state fair can attest, food is integral to the experience. Often the food we eat at the fair is out of the ordinary and reserved for just such an outing (think deep fried Twinkies, chocolate-covered bacon and funnel cakes). The fair food often borders between what you want to eat and what you want to eat just this once.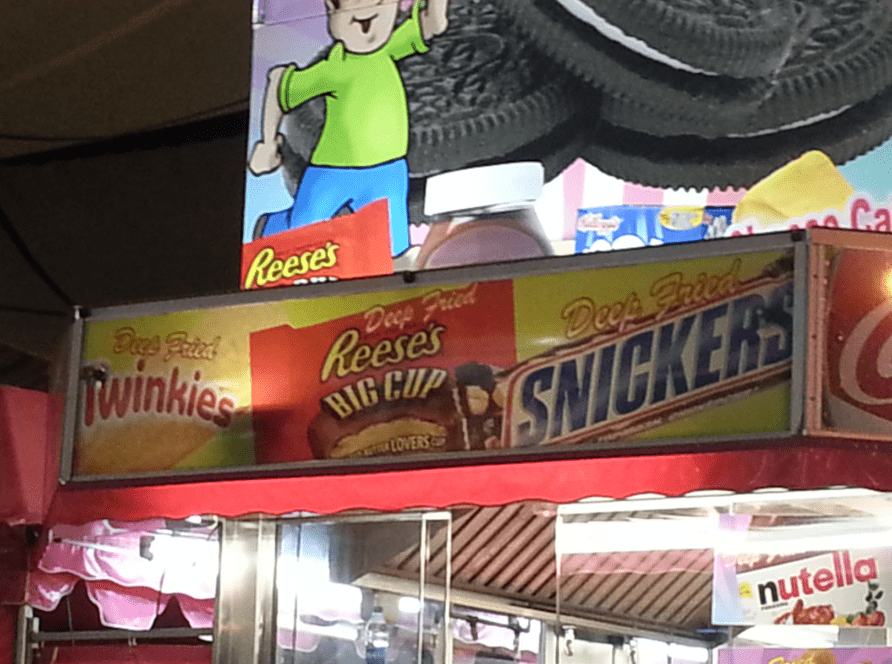 1918 Idaho State Fair Cancelled Due to War
The food served at the fair has changed over time to reflect the region and current tastes as well as world events. Consider this newspaper article referring to a barbeque for the Idaho State Fair in 1918, during World War I. The event, referred to as the "eatfest," was cancelled in an effort to conserve food because the previous barbecue attendees had consumed "five beeves," "600 huge Pullman loaves of bread" and "200 pounds of sugar." Readers are assured that the eatfest would return:
when the war is over and the United States forces march into Berlin they will put on a barbecue that will make the world sit up and take notice…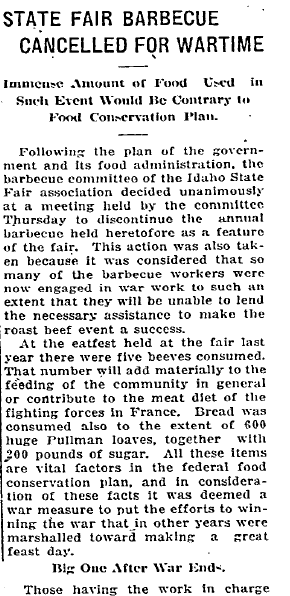 1860 Utah State Fair Awards
Throughout the history of state fairs, all kinds of awards have been given for food. While some awards are aimed toward crops and livestock, others are for prepared food items. In this 1860 award listing from the Deseret Agriculture and Manufacturing Society (the original name for the Utah State Fair), Utah Governor and Mormon President Brigham Young won in several categories including the Vegetables category for best 6 stalks of celery, best 4 heads of cauliflower, and best "peck of silver onions." Interestingly enough, there is a Women's Work category that does not include food.
1933 Texas State Fair Recipe Contest
State fairs evolved to provide women with the chance to submit their favorite recipes for prizes. In this photo montage from the 1933 Texas State Fair, some of the winners in the food categories are listed as well as their street addresses.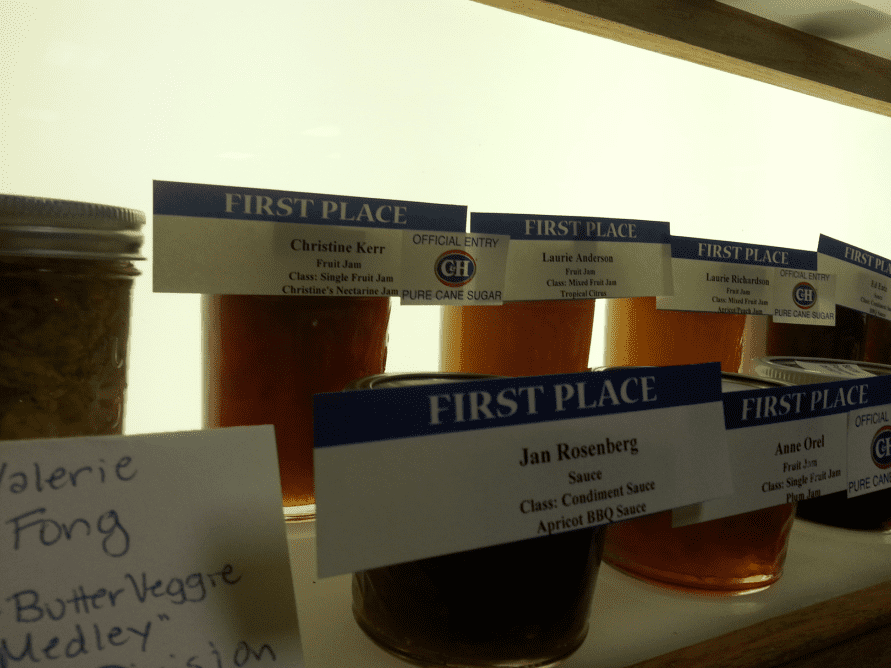 Blue Ribbon Recipes from 1937 Illinois State Fair
The obvious question asked when someone wins a blue ribbon for their recipe is: what is their secret? In some cases, you can find state fair winning recipes printed in the newspaper. In this example from the "Homemakers Institute" column, encouraging women to get their children involved in cooking, two blue ribbon recipes from the Illinois State Fair are featured: Baking Powder Biscuits and Sugar Cookies.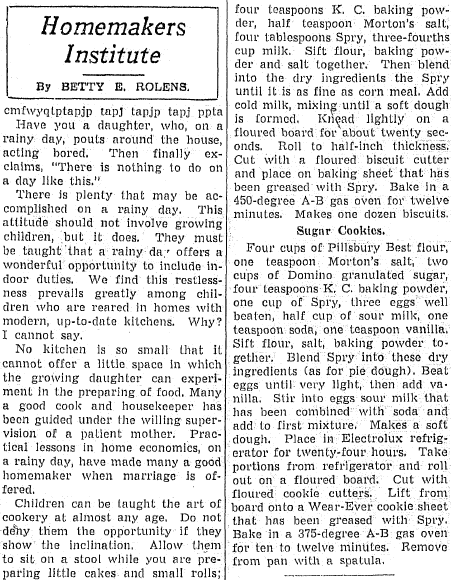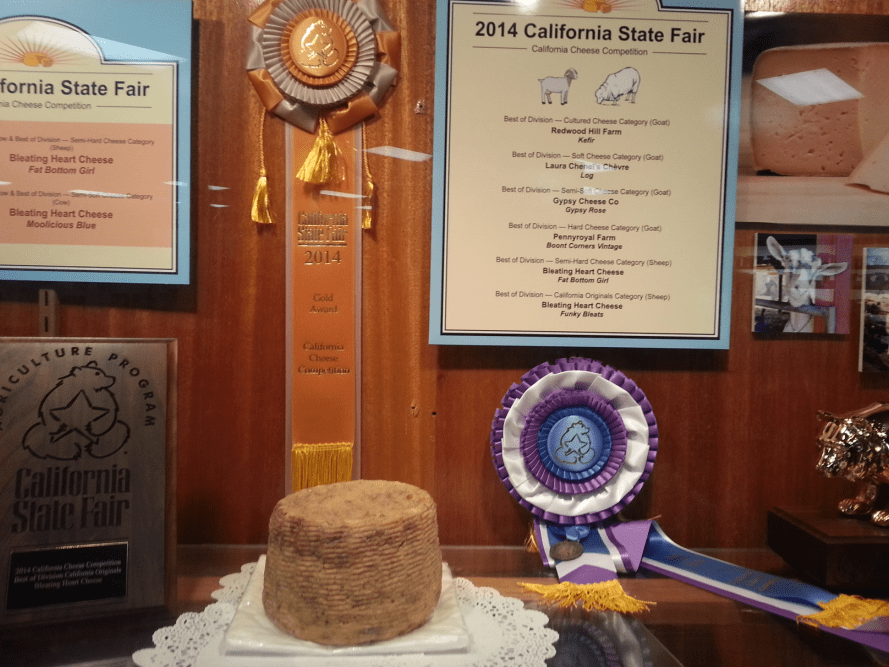 Fruit Cake Prize Winner
In this article about Mrs. Florence Dickinson, a multiple blue ribbon-winning cook, she provides her fruit cake recipe and remarks that "as long as people like to eat, women will like to cook." She goes on to point out that the modern woman, a la 1935, has more time on her hands because of modern appliances and that allows them to not concentrate their entire day on cooking.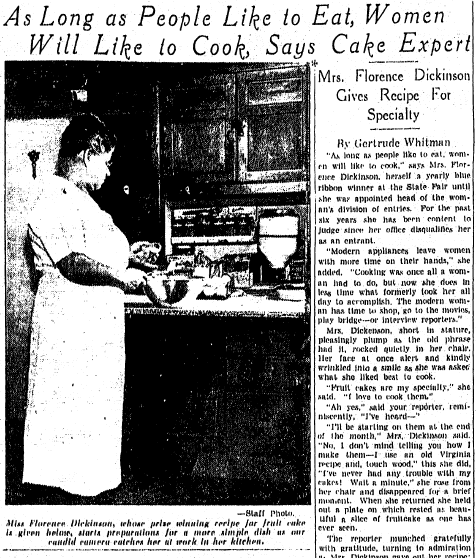 Did anyone in your family win a prize for a recipe they submitted to the fair? Did they pass down their prize-winning recipe? If so, please share your family recipes with us as we'd all love to try a taste.
Provide us a newspaper clipping or recipe card and we'll add it to our Old Fashioned Family Recipes Pinterest board.  You can email the blog editor with your clippings and cards at: apettinato@genealogybank.com
Follow Genealogy Bank's board Old Fashioned Family Recipes on Pinterest.


____________
* Time Magazine. "A Brief History of State Fairs": http://content.time.com/time/photogallery/0,29307,1916488_1921788,00.html. Accessed 26 July 2014.
** Shrader, Valerie V.A. "Blue Ribbon Afghans from America's State Fairs: 40 Prize-Winning Crocheted Designs." New York: Lark Books, 2003, p. 7.
Related Food History & Family Recipe Articles: