Introduction: Mary Harrell-Sesniak is a genealogist, author and editor with a strong technology background. In this blog post, Mary shares comments that she and her fellow family historians have exchanged on social media about why they love genealogy.
I was browsing social media pages recently and saw that my friends were commenting about why they love genealogy. Everyone's reasons for loving family history research varied, but the depth of the intrinsic rewards we feel was shared by all.
Here is my reason for loving genealogy research:
I'm following in the footsteps of my mother, great grandmother and great grandfather, who researched with a passion and left the family with a legacy of several family history books.
What a family treasure that anyone could only hope to equal, which explains my favorite saying: "Genealogy isn't just a pastime; it's a passion!"
Below you'll find excerpts of the quotes (with minor corrections). The initials indicate my social media friends. Hope you enjoy them as much as I have.
"One time I helped a police investigator find the family of a man who had died, who left very little information. He [the policeman] said the family was very grateful. That was rewarding." —A.C.
"As my friend Christie says, 'It's a labor of love.'" —A.J.
"My grandmother died last year and I was really lucky that she'd humor me with questions. I'd bring DD coffee every Sunday and we'd chat—all her peers had gone—and sometimes we'd talk genealogy, but because I knew so much, I think she almost felt like she had somebody who knew the stuff she did and she could talk about events and people who mattered to her, without prompting, and be understood. That's what validates what I do." —A.M.
"At least we can all say 'We know where we came from' [because] we did the research…" —C.D.
"I do it because I want to put stories to names. I wanted to know who I am. And now when I try and not do it, I swear that I hear [my name] in my sleep: 'Find me.' You are never lost as long as one person remembers your name…" —C.F.
"My family and friends are genuinely appreciative of my genealogy research. I've never heard any criticism. I've reunited lost family members and distant cousins." —C.H.
"It is for people who love history and want to know exactly where they came from. It is comforting." —C.K.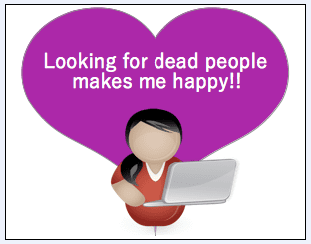 "After 25+ years…I just smile and say…looking for dead people makes me happy!" —C.L.J.Y.
"It's very satisfying when you find lost cousins or other information. I just found a cousin here on one of the groups yesterday; her grandfather is the brother of my grandfather…So cool when this happens." —C.M.S.C.
"[I love genealogy] because dead people are much more interesting than the live people that are around me." —D.E.L.
"My Mom has been the ultimate source in my and my sister's research. She remembers everything, has written things down, and saved pictures from my dad's side of the family. She is so supportive to us and helps out so much. I wish everyone had someone as supportive as her. Thanks Mom!" —D.R.
"Genealogy is a favorite pastime, I love knowing our ancestors' names, families, their work, etc. I have been working on my family and my husband's. It is very rewarding." —D.Y.
"I've found close cousins I had never known…I have laughed so much with them over the years! We met on the Internet searching for the same Great Grandparents! We didn't know each other, but it's like having a cool sister to laugh with on things we have in common! I can't believe how similar we think about things!!! Genetics!" —E.R.
"When I was about 14 it was the Bicentennial year. My great Aunt showed me the grave of an ancestor who was from Lexington during the Revolution. That was what started the genealogy bug for me! I took a college class that year in genealogy, and started to ride my bike to local archives to research how I was related to that soldier, and the rest of my family tree. His name was Andrew Munroe, and his uncles were killed in the Lexington Battle, and Andrew was a Major by the end of the war." —H.W.
"I think of this as more of an avocation than a hobby and if I don't do it, who will?" —J.B.
"I am chuckling about all the comments about helping kids in school with their family history projects. My genealogy path started when a college class I was taking asked for such a project. Two years later, my son had the same project in fourth grade. Seven years later I am still working on it…" —J.C.M.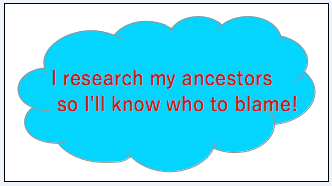 "I research my ancestors so I'll know who to blame!" —J.H.
"I do it for my children and their children and like-minded relatives with whom I share the stories. To know our ancestors' strengths and talents is to know where ours come from and is inspiring to me." —J.R.
"I started really getting into it after I met my husband. His family has been in this one county of Virginia since they came over on a boat. Lol. So jealous—I literally just have to go to the county library, ask about his family, and poof! the library has it all. Lol. Everyone wants to reap my rewards also. But I have the time and I love it, so I keep on. Lol!" —J.R.
"My dad asked me years ago to research his family. He remembered the stories he was told and shared many of them. May he rest in peace because he has since passed, but once I started the journey there was no turning back. Every new name holds promise of a new story. The one thing I didn't comprehend when I started was that the research would open many history books to help me better understand how people lived in their respective eras. I feel like it is an exciting adventure with many mysteries." —J.S.B.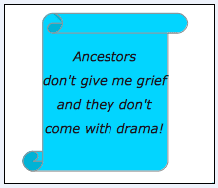 "I was told by a sibling that I like my dead ancestors more than my living relatives. Of course I do!! They don't give me grief and don't come with drama!" —K.P.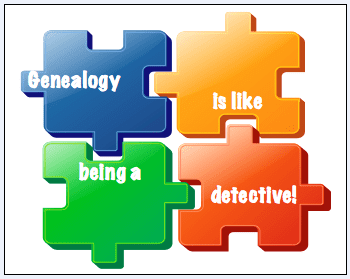 "I've always been interested too, even as a teenager. It made U.S. History come alive in school! My mom and dad used to do genealogy together. They went to libraries and cemeteries every weekend. They were both very involved which is how I got interested at the age of 16. It is like being a detective, isn't it?" —K.V.E.A.
"I love all these comments! I don't have any profound reasons why I love researching, I just do! I didn't care for history or genealogy when I was younger. Then my mother passed away eleven years ago. In cleaning out the attic in my childhood home, one of the first things I found was a statement of service in the Civil War. I was stunned and got the bug at that moment! I also found some tintypes and lots of old photos, unidentified and undated of course…So fascinating. Unfortunately, I got the bug after my parents passed away. How I wish I got it when they were alive especially since I had an older father who was born in 1902." —L.H.

"I've also been doing this for over 40 years, started when I was 9. Anyone that knows me, knows right away that I am a Genealogist. It's not a hobby, it's a calling. I don't discuss it unless someone asks or it's pertinent to the conversation. But overall, I've found that MOST people find what we do fascinating…Sometimes, this passion of mine affects someone's life tremendously. I had one family of my grandmother's first cousin contact me after putting something out…She said, 'this is my father-in-law's family. He's in his late 80s and I never knew ANYTHING about them. His father died when he was 2, his mother remarried, and they never saw his father's family again. He always felt that he was the reason for that and carried the guilt around all his life.' I contacted her back, shared with her that at the time of his father's birth his grandparents were both dead, and his father's siblings lived too far away for interaction to be feasible. The daughter-in-law was able to go back and tell him the story of the family and she said it was like a weight lifted off his shoulders, his whole personality changed and he was a happier man…he died 6 months later, but at peace! So when anyone has anything negative to say, which is rare, I hold that story close and smile." —L.L.B.J.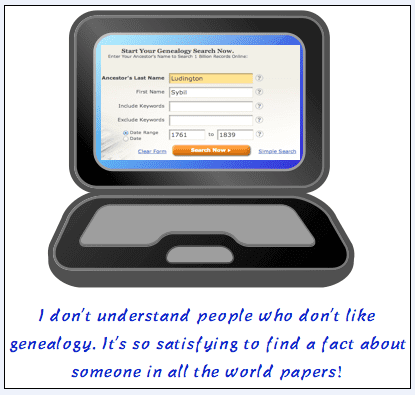 "I have found numerous lost cousins and a diamond ring that was passed down to one of my new cousins that belonged to my great gma. It's so cool to look at it and know she had it on her finger. My quest continues to find a pic of her. I love [genealogy]. I don't understand people who don't like it. It's so satisfying to find a fact about someone in all the world papers." —L.O.R.
"I'm lucky to have a ton of support around me. Even my husband is actively helping me with my family research. I have yet to meet one person in my family that isn't fascinated by the research." —L.S.
"I studied history in college. Genealogy is a continuation of my love of studying the past…and it's personal. Something I can pass on to my children and now my granddaughter." —L.S.A.
"I have some good stories [from cousins] that I've met…that I didn't know I had…Besides, I love skeletons. They make the world go round." —M.F.C.
"I follow my family histories because I WANT to; like people who sit/partake in sports, fish, or knit/sew, it's MY hobby. There are people who are history buffs, and those who are sports nuts and some who are GEN NUTS (which I'm one)." —M.J.W.M.
"It's like playing detective. It's fun learning the stories about our ancestors." —N.H.S.
"Working on my family tree is comforting. I feel close to my mom and dad, who have been gone for a very long time." —P.M.H.
"It's not about the doubters—it's about two other things. First, to ensure [we remember] those who would otherwise be forgotten in less than 100 years, and two, for those yet to come to know and understand their roots. And then they can decide for themselves if they care or not. So don't ever let anyone tell you that you're wasting your time following after dead people. If they are family then you will have to include them too. Although they may wish to be forgotten in a generation or two, ask them about it!" —R.B.
"Always was fascinated with the past; [I] wanted to be an archeologist when I grew up but my teachers were not too happy with that aspiration! I love to do genealogy for several reasons. First, when I do research on my ancestors, I feel like I am bringing my family together again in the past and, since I freely share my discoveries with relatives, I feel it brings us together in the present. I also love it because it makes me feel part of a whole, a link in the chain that would not have a future without myself and my children. I love it because it makes me feel more connected to my country when so many of my ancestors were pioneers and founders of early settlements and churches and helped to build this country by participating in government positions and fighting in various wars for our freedom & protection. And most of all, I love it for the connection I feel with certain ancestors when I can be successful enough in my research to learn some of the personal aspects of their lives. I believe in some way they are always with us, living on in our cells, our blood & our genes." —R.B.K.
"It's more fun than most sports. I like to find new info." —S.C
"[I] love [genealogy] and find it fascinating." —S.H.
"Well, the journey into our past has been interesting, and I am blessed to share it with my cousin." —S.H.E.
"I can't speak for anyone but myself, but I know that I have always been fascinated with my family history. I remember being a young teen and pondering my family origins. I asked a few questions of my grandmothers, but not nearly enough before they either passed or lost the ability to communicate. In reading her saved letters, I know that one of my grandmothers was the same way and her father before her. In letters written between them long before my birth, they discuss the family Bible and family records. He gave her a copy, which I never found. He also left the family Bible to one of his other children, which I've also failed to locate. Other than one of my grandmother's half-sisters, no one else in the family seems to have any interest in it, including the family who now has (hopefully) or had (crossing fingers) the family Bible. Did some of you come to this later in life and develop an interest long after your childhood, or did you always wonder? I've often pondered whether those who don't care just never had it in them in the first place, kind of like how people are born with the ability to either love cilantro or think it tastes like soap and therefore will never like it, no matter what." —S.W.H.
"I credit my old style Polish grandmother for my desire to know my family history. She and her mom "were" those black sheep, moved away, changed their names, pretended they were French rather than Kashubian/Polish…Oh, I had visions of her coming from a family of horse thieves or gypsies or some such thing. When I finally found the truth and reunited with her family, wouldn't you know that the first thing I heard was, 'Oh! We've been looking for you for a hundred years!' I'm glad they didn't give up looking, and perhaps it's the Polish in me that doesn't give up either." —S.W.H.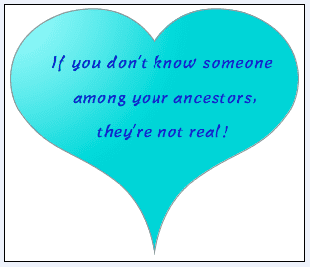 "An in-law, a wonderful and generous lady, told me that if I didn't know someone among my ancestors, they were not real. My sister tells me she only wants to know about the dead relatives I discover if she was mentioned in the will, and [she and] I have fun kidding each other about this…" —T.K.
"It's very nice to make older people especially happy." —T.P.
"Family history is simply the best!" —V.W.
Please tell us your delightful reasons why you love genealogy!
[bottom_post_ad]