Introduction: Mary Harrell-Sesniak is a genealogist, author and editor with a strong technology background. In this blog post, Mary finds vintage advertisements and articles in old newspapers and historical books to gain insights into a part of our ancestors' lives: shopping.
Take a walk down the "past lane" of our ancestors' shopping lives by delving into historical newspapers.
You'll find marvelous articles and vintage advertisements to gain insight into purchases that surrounded them in their daily lives.
Vintage Advertisements
Iconic imagery, such as this 1900 advertisement, puts a face to historical eras and displays important visuals of clothing, hairstyles and accessories. They're marvelous pieces of history—and as such, are highly sought-after collectibles.
Doesn't this ad inspire you to slurp a Coca-Cola while dolled up in frilly plumes and pearls?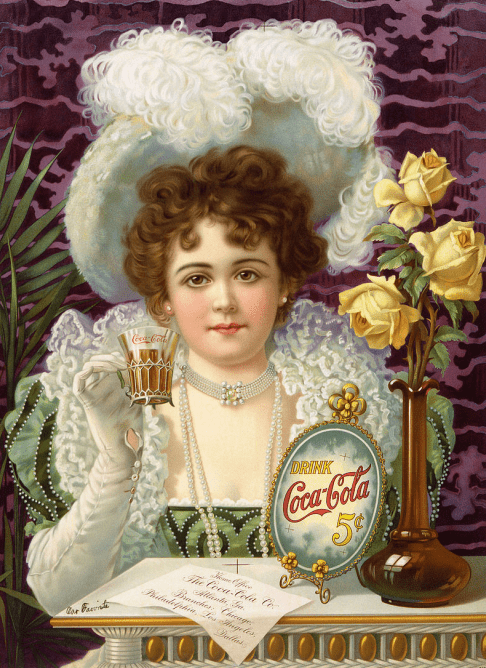 Advertisements in Historical Books
Advertisements abound across every historical newspaper, and are also located within GenealogyBank's impressive collection of advertising ephemera. Use the Historical Books search page to search the books collection for vintage advertisements.
Try entering a business name if you know where your family worked—and if you don't, query the search engine for a type of trade. You'll be amused at what you find.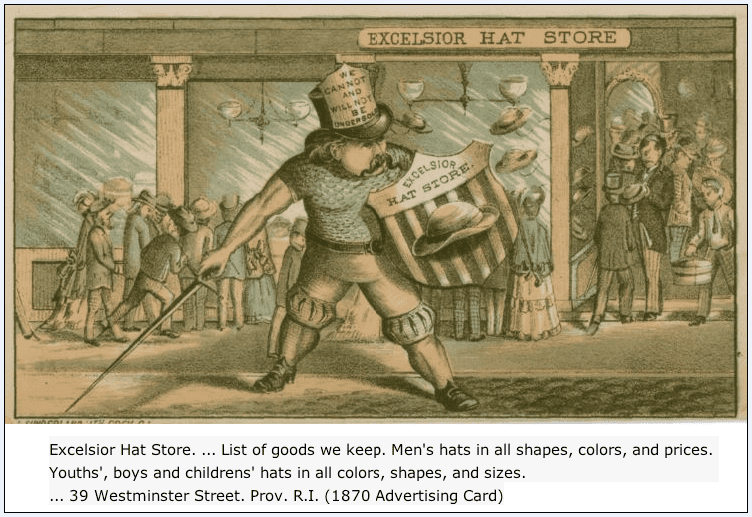 Popular Shopping Items
The popular items of yesterday have certainly changed, so explore newspaper feature pages for intriguing reports. Don't forget newspaper shipping reports. As so many goods arrived by ships, you'll soon discover what were the interests of the day.
Most people would assume that tea was the popular drink of the 18th Century. It was, but another beverage was highly sought after: cocoa.
Doesn't this report confirm what chocaholics already suspect—that our forefathers and mothers loved chocolate as much as we do? I imagine the shortage of cocoa might have been alarming news for some.

Types of Genealogy Discoveries from Vintage Ads
There is much more to advertisements than you can imagine—they can provide all sorts of family history information and clues.
You might identify information about:
where a family worked
their coworkers
wages
working conditions
And who knows, you might even make a startling discovery, such as this one about my Dutch ancestor, Andrew Vos.
His classified advertisement not only confirmed that he was an early and important importer of fine art, but also named the artwork in his inventory. What a thrill to consider that many grandmaster paintings, now only seen in museums, may have passed through his hands.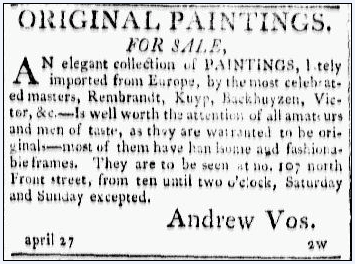 This 1805 newspaper ad also identified his place of business as 107 North Front Street in Philadelphia. Last year my husband and I were able to walk to the location, not far from the Benjamin Franklin Bridge in Philadelphia. What a thrill to walk in the footsteps of an ancestor!
So take a chance. Explore early advertisements and news reports—and don't forget to be creative when adding keywords. Look for business names, along with specific goods and services. Almost anything that our predecessors owned was advertised for sale—even houses from the Sears Catalog.
See: http://www.loc.gov/pictures/item/2010640757/resource/
Keywords to Include
Depending upon the target timeframe, consider using these keywords in your shopping searches:
Antiques
Bookmobile
Bring and Buy Sale
Business Names
Catalog or Catalogue (such as Sears)
Factory
Flea Market
Food (you could discover the price of milk)
Jumble Sale
Marché aux Puces
Market or Market House
Mercantile
Provisions
Sale
Salesmen
Sheriff Sales (useful to discover names of neighbors)
Trade Days
Trading Post
Trash and Treasure
Trunk Sale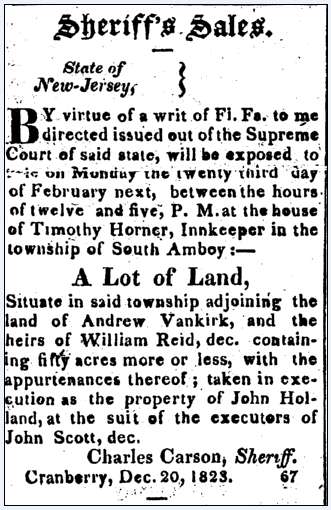 We'd love for you to share your GenealogyBank "shopping" discoveries with us in the comment section!
(Visited 132 times, 1 visits today)