Estimates are that 92,000 American and French troops fought 314,000 British troops, Hessian mercenaries and loyalists during the American Revolutionary War. Of that number 25,000 Americans died in the war and an estimated 25,000 more were wounded.
Their stories were told in America's newspapers – especially in the veterans' obituaries, such as this one for 90-year-old Thomas Hill, "a Revolutionary hero gone."

Here are just some of their stories that you can find in GenealogyBank's Historical Newspaper Archives. We've included the name of the newspaper and the exact page where you can find an article about that veteran.
Hammond, Charles (1752-1853)
South Carolina
Charleston Courier (Charleston, South Carolina), 16 July 1853, page 3
Hancock, George (1754-1820)
Virginia
Pennsylvania Correspondent and Farmers' Advertiser (Doylestown, Pennsylvania), 22 August 1820, page 3
Hanford, Levi (1758-1854)
Connecticut, Delaware, New York
Christian Register (Boston, Massachusetts), 18 November 1854, page 3
Harding, Jeremiah (-1839)
Ohio
Cleveland Herald (Cleveland, Ohio), 24 July 1839, page 2
Harriman, Joab (1759-1834)
Massachusetts
Boston Traveler (Boston, Massachusetts), 1 July 1834, page 3
Haslup, Resin (1746-1834)
Maryland, Pennsylvania
Battles fought in: Brandywine
Baltimore Patriot (Baltimore, Maryland), 30 July 1834, page 2
Heard, John (-1826)
New Jersey
Fredonian (New Brunswick, New Jersey), 22 February 1826, page 3
Heisch, Lewish (1735-1828)
Washington
Boston Intelligencer (Boston, Massachusetts), 20 September 1828, page 6
Hewson, John (1767-1860)
Pennsylvania
Battles fought in: Monmouth, Trenton, Princeton and Germantown
New York Herald (New York, New York), 11 January 1860, page 1
Hightower, John (1719-1846)
Alabama
Hudson River Chronicle (Ossining, New York), 1 April 1845, page 2
Hill, Henry (1753-1833)
Vermont
Battles fought in: Lexington, Brandywine, Monmouth, Princeton and Yorktown
Vermont Gazette (Bennington, Vermont), 15 October 1833, page 2
Hill, Thomas (1761-1851)
Massachusetts
Battles fought in: Concord
Massachusetts Spy (Worcester, Massachusetts), 15 July 1851, page 3
Hodgdon, Samuel (1748-1824)
Pennsylvania
Battles fought in: Ticonderoga
National Gazette (Philadelphia, Pennsylvania), 12 June 1824, page 1
Hodge, David (1717-1819)
Georgia
Battles fought in: Braddock's Defeat
Albany Register (Albany, New York), 3 December 1819, page 3
Cabinet (Schenectady, New York), 24 November 1819, page 3
City Gazette (Charleston, South Carolina), 13 November 1819, page 2
Connecticut Herald (New Haven, Connecticut), 23 November 1819, page 3
Evening Post (New York, New York), 20 November 1819, page 2
Philadelphia Gazette (Philadelphia, Pennsylvania), 17 November 1819, page 3
Tennessee Herald (Shelbyville, Tennessee), 18 December 1819, page 2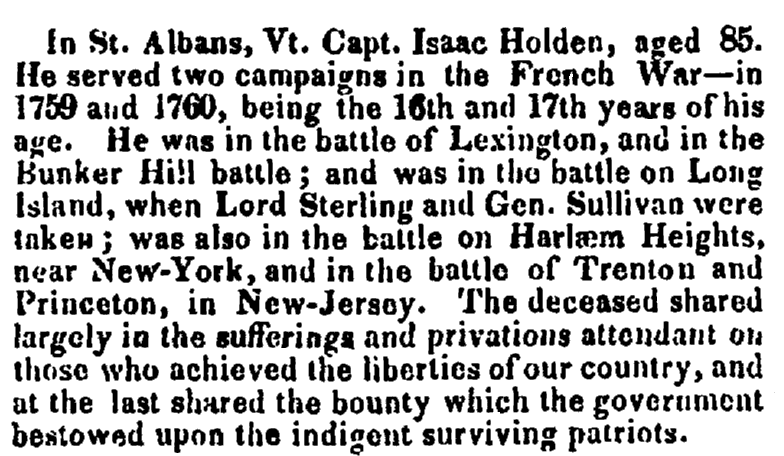 Holden, Isaac (1742-1827)
Massachusetts, New Jersey, New York, Pennsylvania, Vermont
Battles fought in: Bunker Hill, Long Island, Harlem Heights, Trenton and Princeton
Boston Traveler (Boston, Massachusetts), 27 July 1827, page 3
Holdgate, William (1761-1843)
Pennsylvania
Battles fought in: Germantown and Princeton
Charleston Courier (Charleston, South Carolina), 1 June 1843, page 2
Daily Pennsylvanian (Philadelphia, Pennsylvania), 1 June 1843, page 2
Holman, Stephen (-1849)
Maine
Gospel Banner (Augusta, Maine), 24 February 1849, page 3
Hood, Samuel (-1843)
Massachusetts
Boston Recorder (Boston, Massachusetts), 21 December 1843, page 203
Houghton, Robert (1758-1843)
Vermont
Boston Recorder (Boston, Massachusetts), 21 December 1843, page 203
Hughes, John (1748-1818)
Washington
Washington Review and Examiner (Washington, Pennsylvania), 21 September 1818, page 3
Humphreys, David (-1818)
Connecticut
Middlesex Gazette (Concord, Massachusetts), 28 February 1818, page 3
Hungerford, John P. (1759-1833)
Virginia
Battles fought in: Yorktown
Enquirer (Richmond, Virginia), 31 December 1833, page 3
Lynchburg Virginian (Lynchburg, Virginia), 6 January 1834, page 3
Hunt, Christmas (1722-1822)
Delaware, New York
National Advocate (New York, New York), 19 March 1822, page 2
Irvine, Matthew (-1827)
South Carolina
Pittsfield Sun (Pittsfield, Massachusetts), 20 September 1827, page 3
Spectator (New York, New York), 14 September 1827, page 3
Weekly Eastern Argus (Portland, Maine), 25 September 1827, page 1
New York Daily Advertiser (New York, New York), 14 September 1827, page 2
Rochester Telegraph (Rochester, New York), 18 September 1827, page 2
Johnson, John (1736-1821)
New York
City Gazette (Charleston, South Carolina), 7 March 1821, page 2
Johnson, John (1740-1843)
Pennsylvania
Battles fought in: White Plains, Trenton, Princeton, Brandywine, Germantown, Monmouth, Stony Point, Guilford Courthouse and Yorktown
Burlington Weekly Free Press (Burlington, Vermont), 7 April 1843, page 3
Constitution (Middletown, Connecticut), 5 April 1843, page 2
Johnston, Witter (1753-1839)
New York, Ohio
Newark Daily Advertiser (Newark, New Jersey), 18 December 1839, page 2
Jordon, Josiah (1760-1840)
Vermont
Battles fought in: Brandywine
Bellows Falls Gazette (Bellows Falls, Vermont), 15 August 1840, page 3
Kenton, Simon (1734-1836)
Ohio, Virginia
Philadelphia Inquirer (Philadelphia, Pennsylvania), 18 May 1836, page 2
Princeton Whig and Somerset and Middlesex Advertiser (Princeton, New Jersey), 27 May 1836, page 2
Kerr, Joseph (1752-1822)
South Carolina
City Gazette (Charleston, South Carolina), 24 January 1822, page 2
Kilpatrick, Robert (1735-1834)
South Carolina
Charleston Courier (Charleston, South Carolina), 15 July 1840, page 2
Related Articles: