This week while researching my Applebee relatives in GenealogyBank's New York records, I came upon a surprising newspaper article – a story about my cousin Charles F. Applebee, who was reported dead in New York City in 1878, but was, as it turns out, very much alive.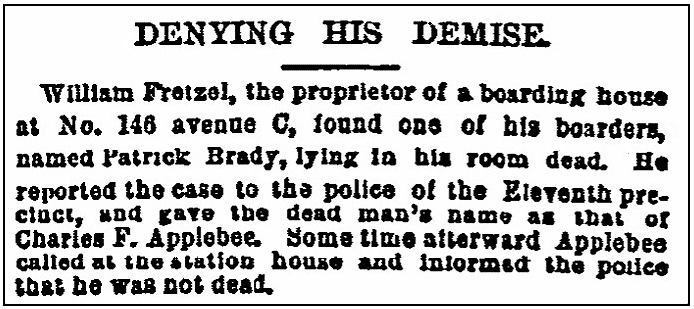 According to this article:
"William Fretzel, the proprietor of a boarding house at No. 146 avenue C, found one of his boarders, named Patrick Brady, lying in his room dead. He reported the case to the police of the Eleventh precinct, and gave the dead man's name as that of Charles F. Applebee. Some time afterward Applebee called at the station house and informed the police that he was not dead."
Wow – what a mistake!
The boarding house where Charles lived belonged to William Fretzel and was located at No. 146 Avenue C. The building has since been torn down, but that lot is still very much a community fixture in New York City. The site of the old boarding house is now the home of the 9th Street Community Garden Park, one of the largest community gardens in New York City.
The 9th Street Community Garden was established in 1978, exactly a century after this regrettable incident at William Fretzel's boarding house.
Genealogy Tip: Find the stories about your relatives by searching for them in GenealogyBank's Historical Newspaper Archives. Start your search today!