There is more than one way to find your relatives in GenealogyBank's massive archive of Recent Obituaries.
I've noticed that genealogists often go to the Recent Obituaries collection when they are researching a specific relative that died in the past 40 years. They search, find them and go.
But wait—there's more.
There is another valuable approach you can take with the Recent Obituaries that lets us find relatives even when we don't know their names—and even if we have never heard of them before!
Obituaries are handy resources for genealogists. They speak about the person, their interests and what was important to them. Many obituaries mention that the deceased had a sense of family and history. I often see obituaries that say so and so loved genealogy, and then name the ancestors that fought in the Revolutionary War, or who had come to America on the Mayflower.
Tracing Your Mayflower Ancestry
Having studied this for the past 50 years, I've concluded that nearly all Americans with ancestral roots prior to 1820 that lived in upper New England (Massachusetts, Vermont, New Hampshire, Maine and probably Rhode Island) have at least one ancestor that came over on the Mayflower.
I know I do.
I have seven Mayflower ancestors (including Thomas Rogers) and I want to track down and document all of the descendants of my Pilgrim ancestors.
The Recent Obituaries archive is a terrific way to do this.
Typically I will enter the name of a Mayflower passenger and the word "Mayflower" in the Include Keywords searchbox.
For example, here's a search for "Thomas Rogers" and "Mayflower."

This GenealogyBank search pulled up a lot of accurate search results, like this one for Mary-Jane Earle Hensley.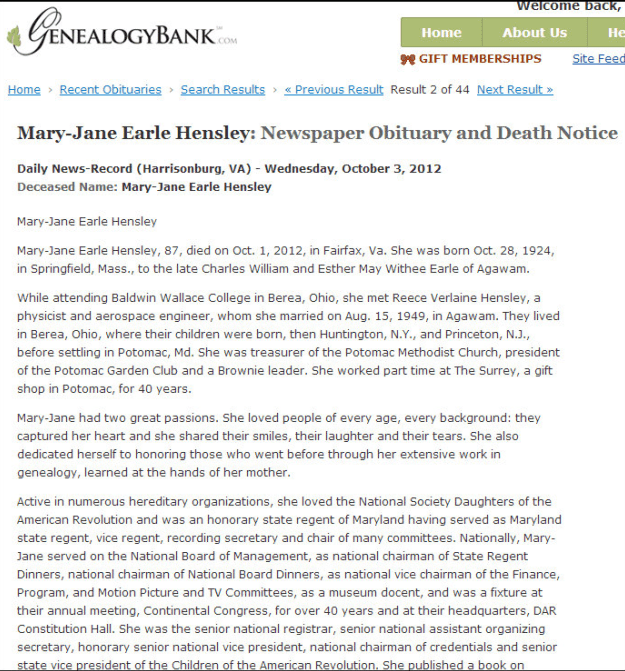 This is a great genealogical find.
According to this obituary, not only was Mary-Jane a descendant of Thomas Rogers—but "She published a book on Thomas Rogers, Mayflower Pilgrim, in 1980."
By building on the information in her obituary I can use other newspaper articles, census and other records to chain backwards on the family tree to Thomas Rogers. This way I can extend and complete our family history and document each person as I go from person to person in the tree.
You can do this with other clues in an obituary.
Did the family come from a very small town?
Do you share a Revolutionary War ancestor or other famous relative?
Build on those clues and rely on GenealogyBank's Recent Obituaries to accurately document your family tree. To learn more about how to use obituaries for genealogy research, watch our tutorial on YouTube: "Obituaries: Clues to Look For."
Note: FamilySearch International (FamilySearch.org) and GenealogyBank yesterday announced an agreement to make over a billion records from historical obituaries searchable online. The tremendous undertaking will make a billion records from over 100 million U.S. newspaper obituaries readily searchable online. The newspapers are from all 50 states and cover the period 1730 to the present.  Find out more at: https://www.genealogybank.com/family-search/
Related Articles & Resources:
[bottom_post_ad]