FamilySearch International (FamilySearch.org) and GenealogyBank (GenealogyBank.com) today announced an agreement to make over a billion records from historical obituaries searchable online. It will be the largest—and perhaps most significant—online U.S. historical records access initiative yet. Find out more at: https://www.genealogybank.com/family-search/
The tremendous undertaking will make a billion records from over 100 million U.S. newspaper obituaries readily searchable online. The newspapers are from all 50 states and cover the period 1730 to the present. The completed online index will be fairly comprehensive; for example, it will cover 85% of U.S. deaths from the last decade. The indexed death records collection will easily become one of the most popular online databases ever.
Obituaries Provide Information—and Stories
Obituaries can solve family puzzles, tell stories, dispel myths, and provide tremendous help with family history research.
Finding your ancestors' names in obituaries has never been easier. Through the FamilySearch and GenealogyBank partnership, the valuable information contained in obituaries—including the name of the deceased, surviving family members' names, their family relationships, locations, and dates—will be indexed, making it easier for genealogists to discover new relatives and gain a deeper understanding of their family's past.
A single obituary can include the names and relationships of dozens of family members. For example, this obituary for James Thayer Geddes sheds light on where he lived during his lifespan, his education, his career choices and his personal interests, as well as providing information connecting five generations of ancestors and descendants in his family tree.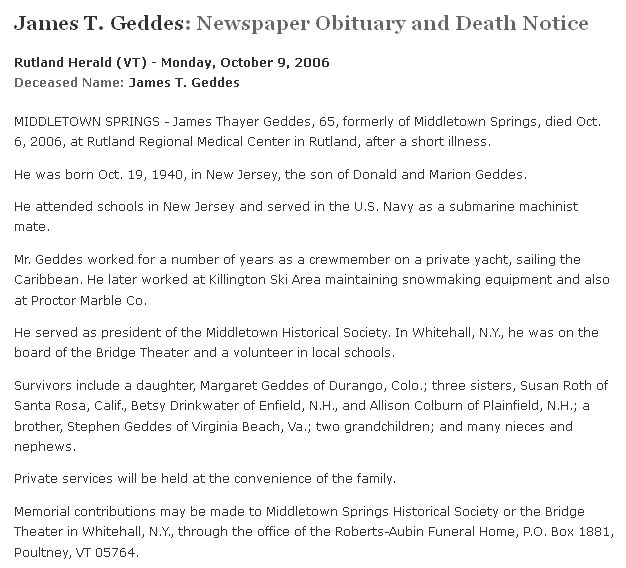 Dennis Brimhall, CEO of FamilySearch, explained that obituaries are extremely valuable because they tell the stories of our ancestors' lives long after they are deceased. He invites online volunteers to help unlock the "treasure trove" of precious family information locked away in newspaper obituaries.
"Billions of records exist in U.S. obituaries alone," Brimhall said. "The average obituary contains the names of about ten family members of the deceased—parents, spouse, children, and other relatives. Some include much more. Making them easily searchable online creates an enormously important source for compiling our family histories. The number of people who will benefit from this joint initiative is incalculable."
GenealogyBank's growing collection currently has over 7,100 historical U.S. newspapers, spanning more than 200 years. The death notices in these publications go beyond names and dates. They can provide insightful firsthand accounts about an ancestor that simply are not available from censuses or vital records alone.
"Obituaries, unlike any other genealogy resource, have the ability to add incredible dimensions to an individual's family history research. They contain a wealth of information including facts and details that help capture the legacy of those who have passed on," said Dan V. Jones, GenealogyBank Vice President. "The unique life stories written, dates documented, and generations of family members mentioned are often only found within an obituary, which makes them such an invaluable resource. Obituaries have the unique power to tell a story and enable individuals to learn more about their family relationships. GenealogyBank is proud and excited to partner with FamilySearch in bringing these obituaries to researchers all over the world."
Volunteers Are Key to Project's Success
The success of the massive U.S. obituary indexing campaign will depend on online volunteers. The obituaries are fairly simple to read, since they are digital images of the typeset, printed originals that appeared in the newspaper, but require human judgment to sort through the rich historical data and family relationships recorded about each person. Information about online volunteering is available at FamilySearch.org/indexing. A training video, indexing guide, detailed instructions, as well as telephone and online support, are available to help new volunteer indexers if needed.
Work has already begun by tens of thousands of volunteers to transcribe the information from GenealogyBank's vast U.S. obituary collection to make it quickly searchable online. Find out more at: https://www.genealogybank.com/family-search/
About FamilySearch
FamilySearch International is the largest genealogy organization in the world. FamilySearch is a nonprofit, volunteer-driven organization sponsored by The Church of Jesus Christ of Latter-day Saints. Millions of people use FamilySearch records, resources, and services to learn more about their family history. To help in this great pursuit, FamilySearch and its predecessors have been actively gathering, preserving, and sharing genealogical records worldwide for over 100 years. Patrons may access FamilySearch services and resources free online at FamilySearch.org or by using over 4,600 family history centers in 132 countries, including the main Family History Library in Salt Lake City, Utah.