Today is the anniversary of the death of Theodor Seuss Geisel, a.k.a. "Dr. Seuss" (1904-1991), who died on 24 September 1991 at the age of 87.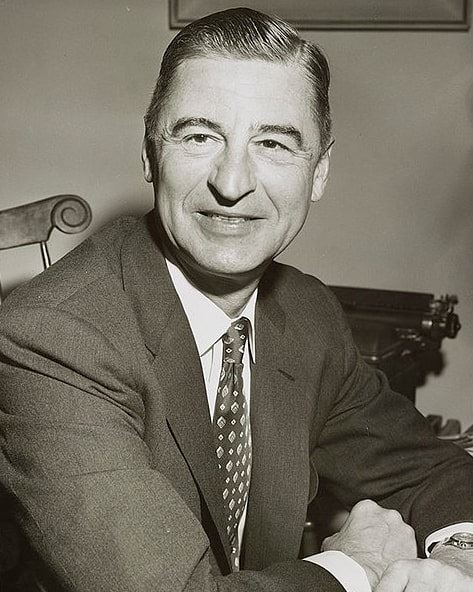 In a long and varied career, Theodor Geisel was a novelist, poet, illustrator, and cartoonist. He also was involved in various aspects of filmmaking, finding success as a screenwriter, animator, and filmmaker. He used those talents for the U.S. Army during WWII, and shortly after the war co-wrote (with his wife Helen Palmer Geisel) the film Design for Death about historical and cultural forces in Japan that led to its involvement in the war. The 1947 film won the Academy Award for Best Documentary Feature in 1948.
However, Geisel was best known as "Dr. Seuss," the American author and illustrator of beloved children's books. His vivid imagination, crazy rhymes, and colorful illustrations graced more than 60 children's books, creating such enduring characters as "The Cat in the Hat" and "Horton" the elephant. Generations of American children grew up learning to read from such classics as The Cat in the Hat, Green Eggs and Ham, and Horton Hears a Who! – books that are still popular and read by children today.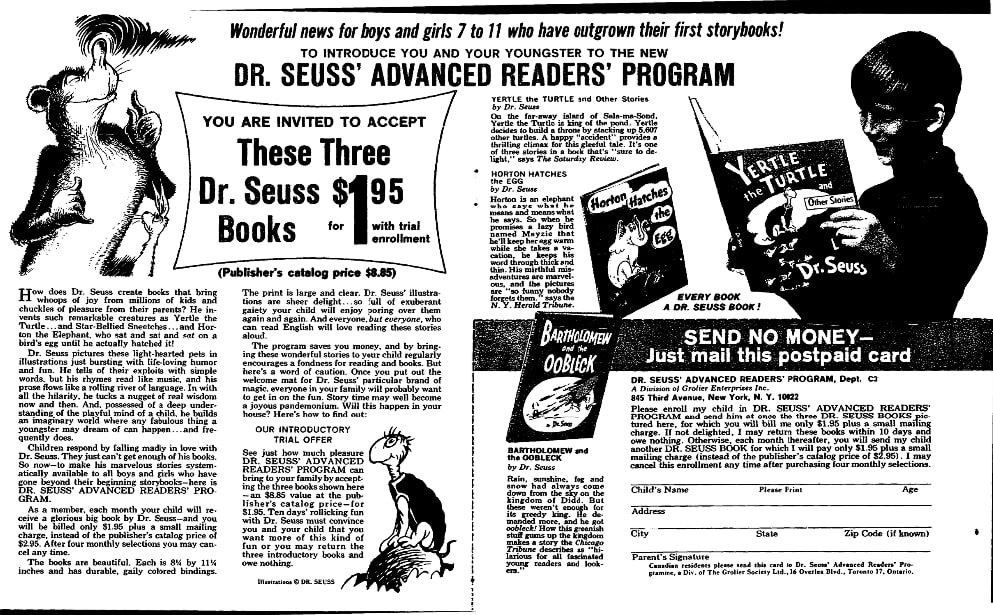 In this obituary, published two days after Geisel's death, we learn how the wild animals that peopled his imagination and stories came from his childhood experiences in the zoo.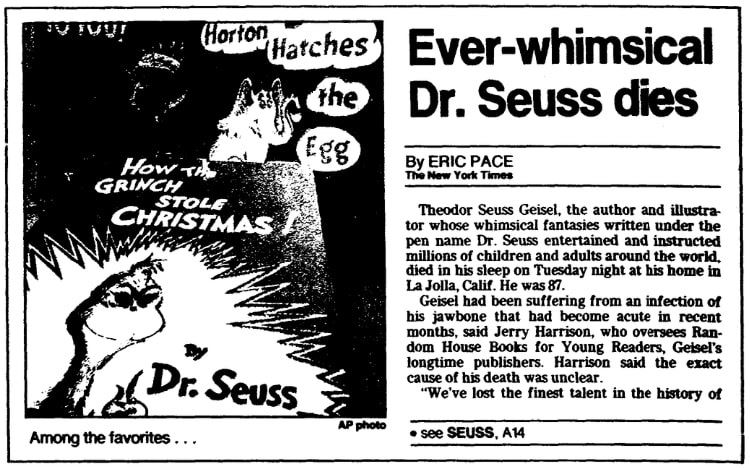 Dr. Seuss's obituary states:
"The world of Geisel's imagination was nourished by his childhood visits to the zoo in Springfield, Mass. He was born in Springfield on March 4, 1904, the son of Theodor R. Geisel, the superintendent of parks, and Henrietta Seuss Geisel.

"Superintendent Geisel, the son of an émigré German cavalry officer who founded a brewery in Springfield, expanded the zoo and liked to show it off to his son.

"'I used to hang around there a lot,' Geisel recalled in an interview. 'They'd let me in the cage with the small lions and the small tigers, and I got chewed up every once in a while.'"
You can find birth notices, marriage announcements, and obituaries in newspapers, of course – but you can find so much more: you can find the stories of our ancestors' lives.
For example, in 1974 the journalist Jack Webb visited Theodor Geisel at his home in La Jolla, California.
Webb found that, every day, neighborhood children came knocking on the door to visit their friend "Dr. Seuss":
Webb also wrote about the character of the man he came to interview:
Here are a few excerpts from some of Dr. Seuss' books.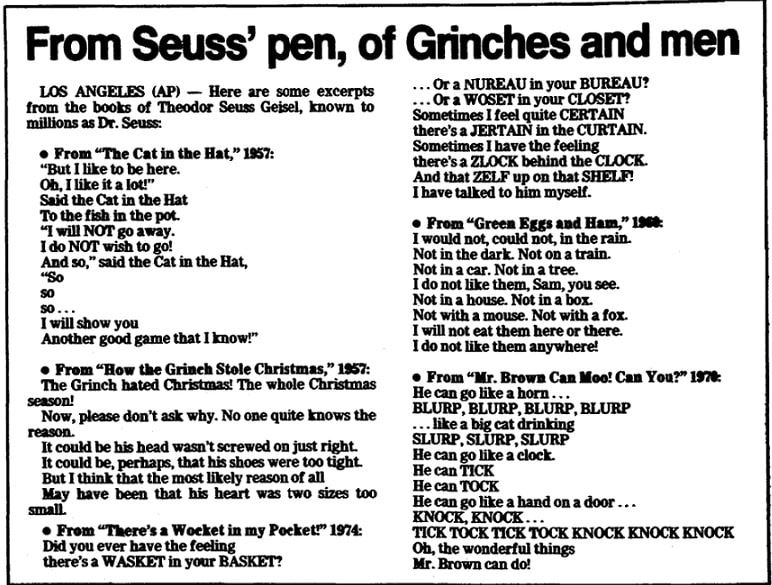 Note: Just as an online collection of newspapers, such as GenealogyBank's Historical Newspaper Archives, tell the stories of Dr. Seuss' life, they can tell you stories about your ancestors that can't be found anywhere else. Come look today and see what you can discover!