Introduction: In this article, Gena Philibert-Ortega searches old newspapers to learn about Chef Boyardee – a real person who helped greatly during WWII. Gena is a genealogist and author of the book "From the Family Kitchen."
There are a number of food spokespeople that are familiar to most Americans. Betty Crocker, Uncle Ben, Orville Redenbacher, and Dr. Pepper are a few that come to mind. In many cases these names and faces are fictional – but in the case of Italian canned food icon Chef Boyardee, the face beneath the tall white chef hat is real.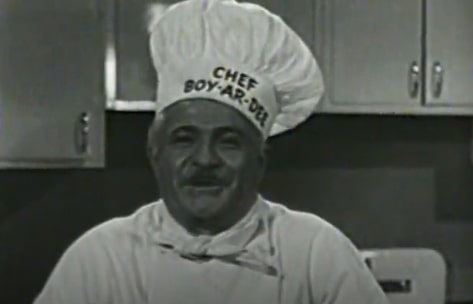 Ettore "Hector" Boiardi
Ettore "Hector" Boiardi was born in 1897 in Piacenza, Italy. At 16 years of age he immigrated to the United States, eventually working with his brother as a chef in the kitchen of New York City's Plaza Hotel. In 1926 he opened his first restaurant, "Il Giardino d'Italia" (The Garden of Italy), in Cleveland, Ohio. Customers raved about his tomato sauce and asked for samples, and Boiardi began sending them home with milk bottles filled with his delicious sauce.
This demand led him to the idea of packaging his food and distributing it to grocery stores. (1) His first product sold to stores was a packaged spaghetti dinner that included a "canister of grated parmesan cheese, a box of dry spaghetti, and a large jar of spaghetti sauce." (2) He branded his packaged dinner with his name, but later changed "Boiardi" to a phonetic spelling – making it easier for Americans to pronounce. Thus, the Chef Boyardee brand was born.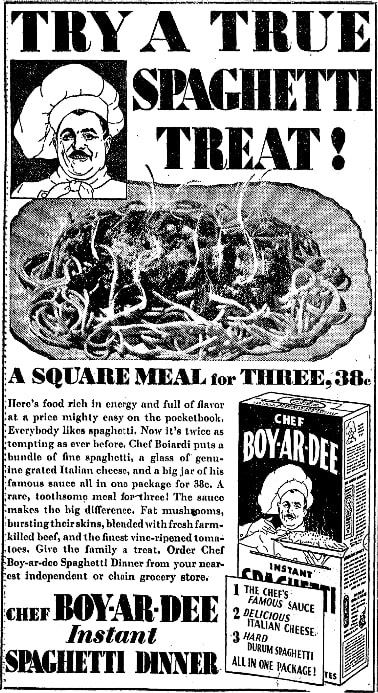 Chef Boy-Ar-Dee
Chef Boyardee's growing popularity stemmed from a number of factors, including his use of fresh, quality ingredients. To ensure this, in 1928 Boiardi created a large production facility in Milton, Pennsylvania, so that he could grow his own tomatoes and mushrooms, and a factory to make and can his famous spaghetti sauce.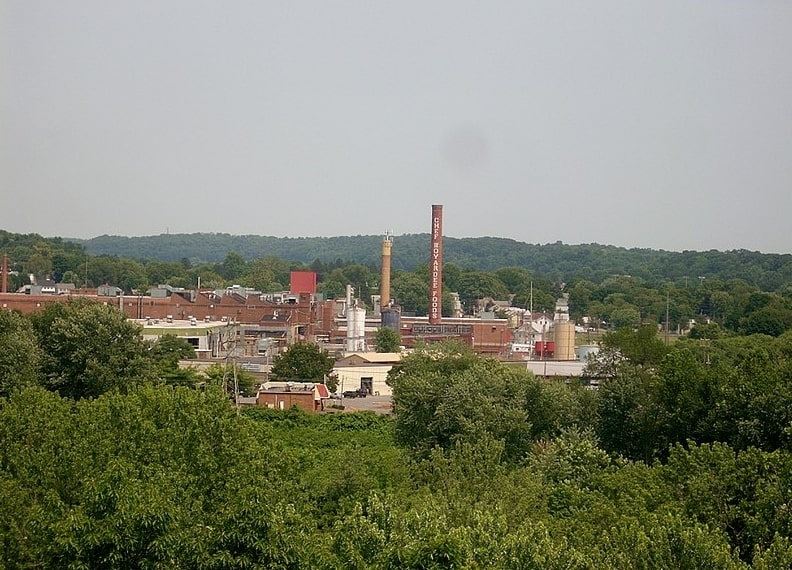 The Chef Boyardee company became "among the largest importers of parmesan cheese and olive oil from Italy." (3)
That meatless spaghetti dinner package evolved to include a canned spaghetti and meatball dinner offering much like what we see on our grocery shelves today.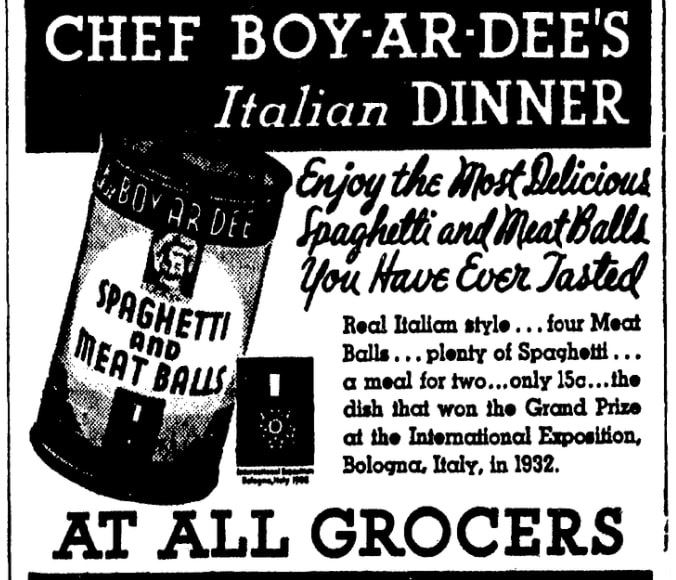 Not surprisingly, Chef Boyardee added to their food offerings over the years with various pasta meals and even a line of soups in the 1940s. As the Chef Boyardee brand continued to grow, it was and still is more than just canned foods and pasta.
The Chef Goes to War
It is said that an army marches on its stomach, and Chef Boyardee was there to help feed the soldiers of World War II. The Boyardee factory in Milton, Pennsylvania, ran 24 hours a day/7 days a week producing Chef Boyardee foods for the war effort. (4)
According to this newspaper advertisement, some Boyardee products were only available to the military during this time. What was available to Americans on the home front was that original Boyardee offering, the spaghetti dinner, which was said to be ready in 12 minutes, and helped to "save time and ration stamps."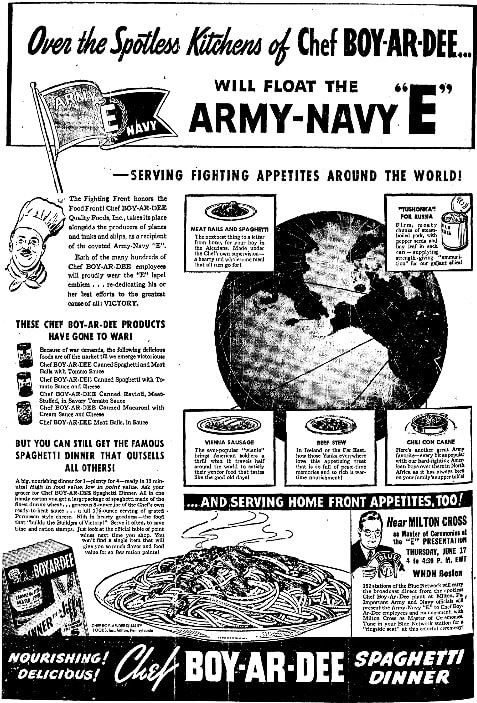 Later during the war, Chef Boyardee sold the Victory Dinner to American consumers, which cost them no ration points and was offered at a low price. In this 1944 advertisement, the cost was only 8 cents!

The chef's efforts would not go unrecognized. Chef Hector Boiardi was awarded the Gold Star in 1946 for his help with supplying troops with food. (5)
An End of an Era
Hector Boiardi was a hero for helping with the American war effort, but the end of the war meant a difficult decision. Boiardi knew he couldn't maintain the amped-up level of war time production which had required extra employees. He either had to lay off thousands of those extra workers, or sell the company to someone with deeper pockets.
He decided that in order to save those employees' jobs, he would sell his company to American Home Products. (6)
Though no longer in charge of the company, Boiardi continued as a consultant and appeared as the spokesperson for his namesake from 1946 until 1978. He died on 21 June 1985 in Ohio at the age of 87.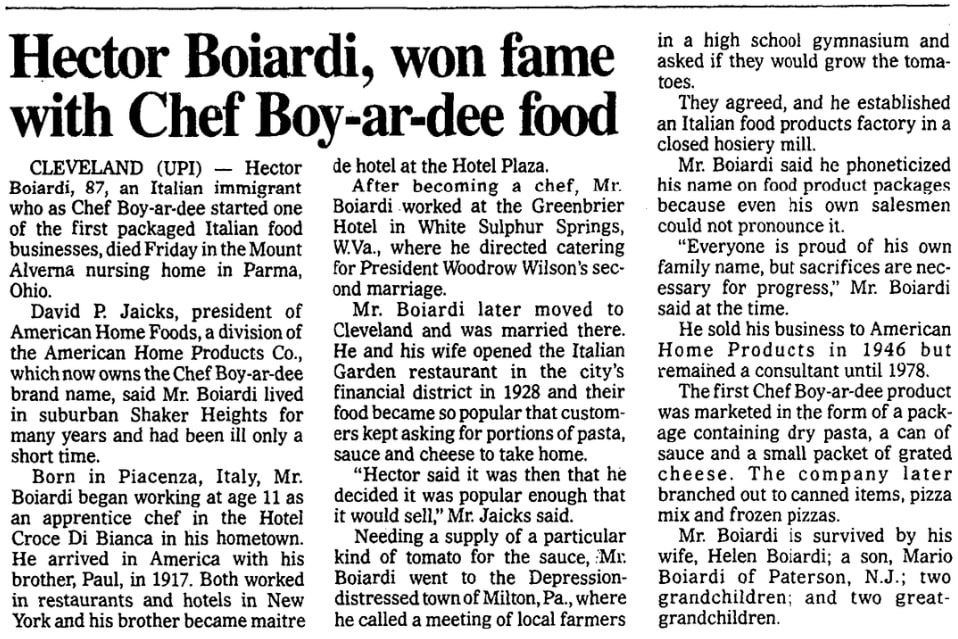 Today the Chef Boyardee brand is still as popular as ever and continues to offer canned pasta meals, produced today by ConAgra Foods. That familiar grandfatherly face with the tall white chef hat still greets consumers in grocery stores – and reminds us that, in some cases, a food icon has a real story behind the label.
Note: Just as an online collection of newspapers, such as GenealogyBank's Historical Newspaper Archives, told the stories of the real Chef Boyardee, they can tell you stories about your ancestors that can't be found anywhere else. Come look today and see what you can discover!
_______________
(1) "Ettore Boiardi," Wikipedia (https://en.wikipedia.org/wiki/Ettore_Boiardi :accessed 7 April 2019).
(2) "The Surprising History of the Real Chef Boyardee," History (https://www.history.com/news/the-surprising-history-of-the-real-chef-boy-ar-dee :accessed 7 April 2019).
(3) Ibid.
(4) "Chef Hector Boiardi, a True American Hero," Chef Boyardee (https://www.chefboyardee.com/articles/chef-hector-boiardi-true-american-hero :accessed 7 April 2019).
(5) Ibid.
(6) Ibid.