Introduction: In this article, Melissa Davenport Berry continues her series on Mayflower descendants – focusing this time on the Fuller family line. Melissa is a genealogist who has a blog, AnceStory Archives, and a Facebook group, New England Family Genealogy and History.
The Fuller family that braved passage across the Atlantic on the Mayflower in 1620 left many descendants.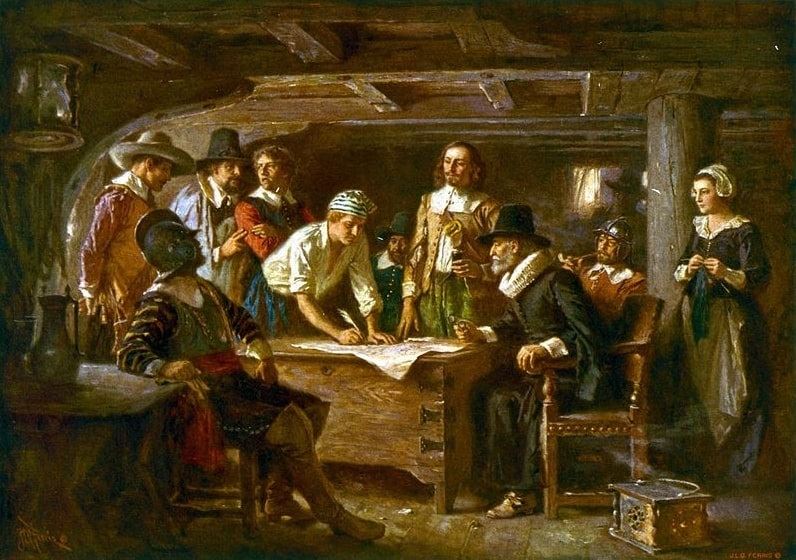 Elizabeth Needham Ballard, member of the Mayflower Society in Texas, is a direct descendant of Captain Matthew Fuller, who came to Plymouth in 1640. His father, Edward Fuller, was one of the signers of the Mayflower Compact in 1620. Matthew Fuller was a noted physician and soldier, and was appointed Surgeon General of the Plymouth forces.
Elizabeth shared some photos and Bible records of her kinfolk for this article, and I found some interesting newspaper articles by searching GenealogyBank's Historical Newspaper Archives for her line.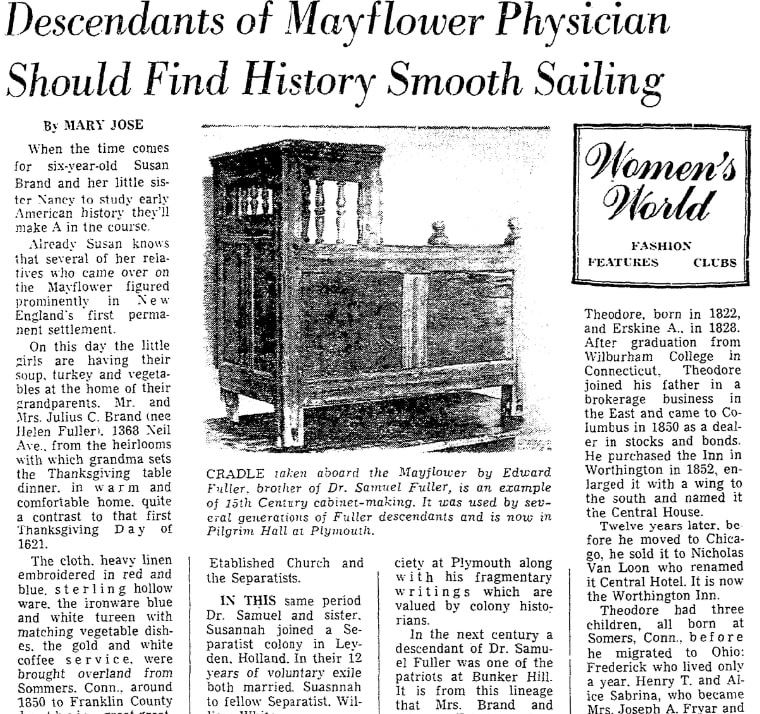 This article has good information about the Fuller brothers, Samuel and Edward, such as this: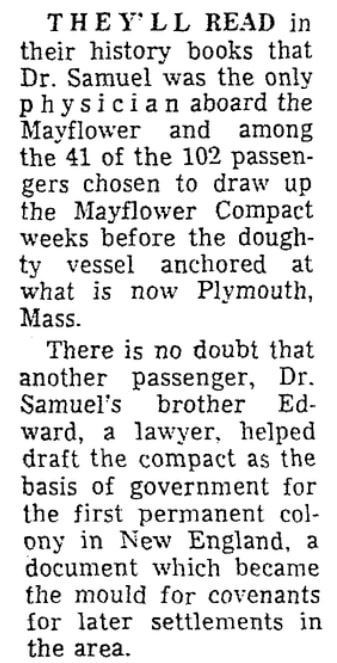 And this: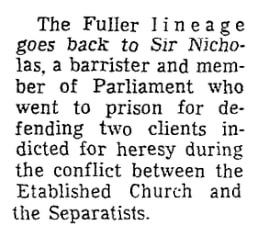 Capt. Mathew Fuller's daughter Elizabeth married Moses Rowley of Barnstable, Massachusetts. This 1982 newspaper article outlined the different branches of the Rowley family, who settled in New England.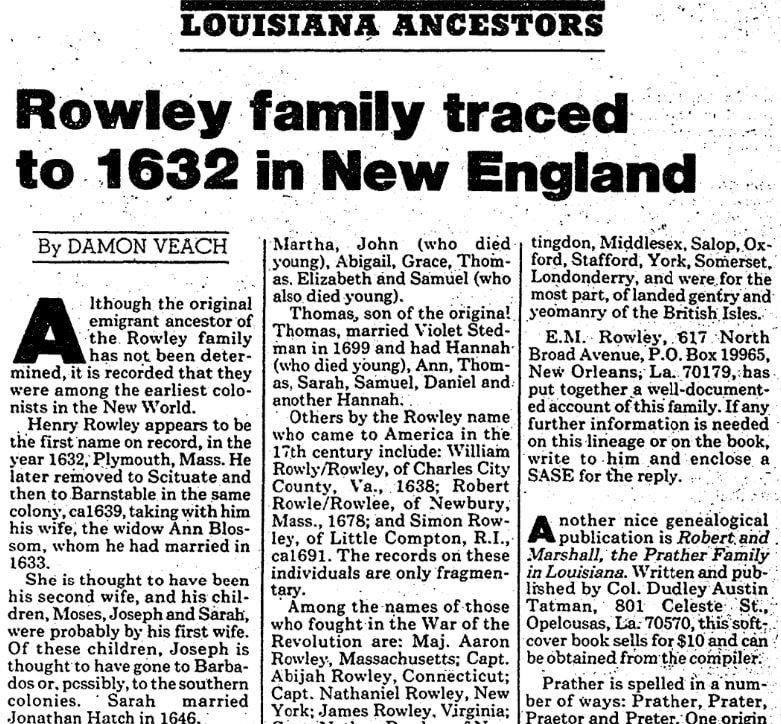 The family line can be traced back to Henry – first noted in the Plymouth, Massachusetts, records in 1632 – who married the widow Ann Blossom in 1633. Moses Rowley was a neighbor of Samuel Fuller. He was made Deputy of General Court and later moved to East Haddon, Connecticut.
Moses' granddaughter Abigail Rowley married Micah Mudge, a Revolutionary War patriot and one of the founders of Richmond, Massachusetts. This illustration, from the Springfield Union, shows Richmond being surveyed and reports that "The first settler in Richmond was Micah Mudge, who established a home there in 1760."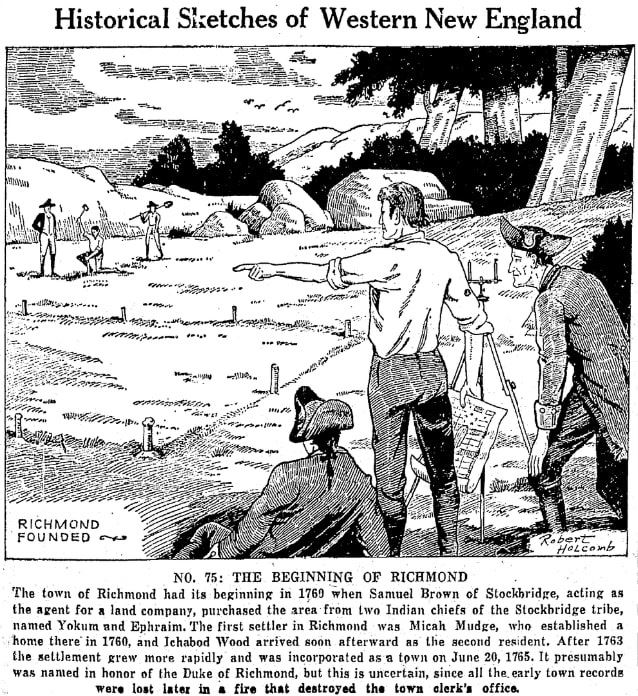 I also found this advertisement for Lee Savings Bank using the Berkshires Scrapbook archives. The ad portrays a warm family scene of protection and security using an image of Micah and Abigail Mudge with daughter Elizabeth, the first white child born in Richmond.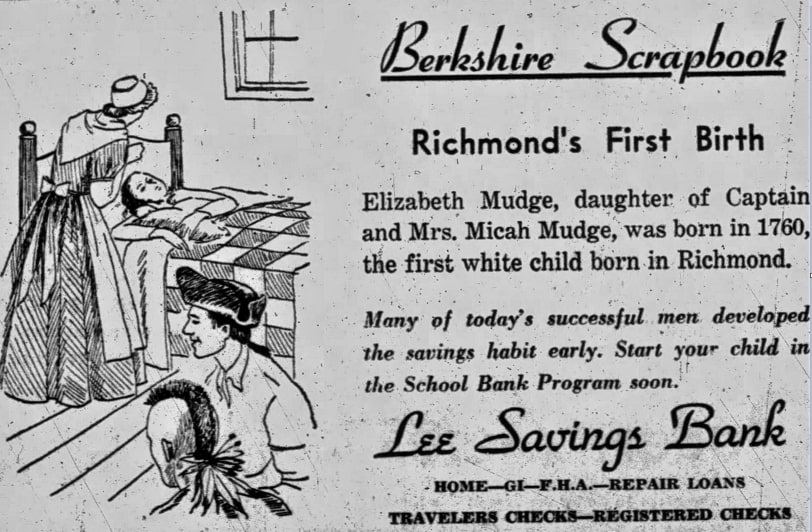 Charlotte, second daughter born to Micah and Abigail, married Daniel Thurston, a Revolutionary War patriot. Daughter Elisabeth "Betsy" Thurston married George Washington Croshaw, who descends from the Stockton family of New Jersey.
A son Doughty Stockton Croshaw, Civil War Union soldier and publisher/editor of the conservative newspaper the Independent in Batavia, Ohio, married Ellen Marie Fairman. Their daughter Ida J. Croshaw married Charles M. Needham.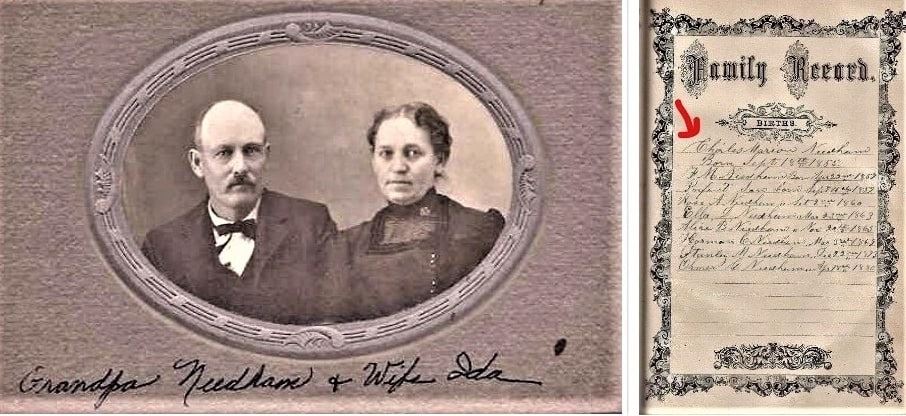 The couple moved to Indiana and purchased a 10,000-acre farm known as Needham House Farm. For many years they were the leading horse breeder and harness supplier in the area.
Just recently, Needham House Farm (1887) was listed on the historic register and honored with the Hoosier Homestead Award at the State Fair organized by Lt. Gov. Suzanne Crouch this past August.

Elizabeth Needham Ballard says:
"I love researching this family; it has led me to kings and queens, Jamestown, the Mayflower, and New Amsterdam, New York. I have found royalty, Huguenots, presidents, senators, governors, poets, witches, clergy, Quakers, soldiers in the Colonial Wars, the French and Indian War, signers of the Declaration of Independence, soldiers in the American Revolution, the War of 1812, the Mexican War, the Civil War, the Spanish-American War, WWI and WWII. The family is full of clergy, farmers, scholars, horse breeders, manufacturers of farming and horse equipment, a newspaper owner and editor, world travelers and adventurers. My father and I traveled the world researching the family; I feel their loves, hopes and desires in me, as I speak their names they live on forever, never to be forgotten."
Some famous descendants of Edward Fuller are Mormon church founder Joseph Smith, artist Georgia O'Keeffe, Amelia Earhart, actor Don Knott and radio/tv host Dick Clark.
Further Reading:
Genealogy:
Elizabeth Needham Ballard——Fuller Mayflower line:
Edward Fuller, died Jan-Mar 1621 on board the Mayflower in Plymouth Harbor, m: (in England or Leiden) Mrs. Edward Fuller (maiden name unknown), died Jan-Mar 1621 on board the Mayflower in Plymouth Harbor
Mathew Fuller, m: (in England) Francis ____, presumably Hyde
Elizabeth Fuller, m: 22 Apr 1652 (in Barnstable, Massachusetts) Moses Rowley
Moses Rowley, m: Jan 1675 (in Barnstable, Massachusetts) Mary Fletcher
Jonathan Rowley, m: 4 Feb 1742 (in Colchester, Connecticut) Abigail Green
Abigail Rowley, m: 1767 (in Richmond, Massachusetts) Micah Mudge
Charlotte Mudge, m: 20 Feb 1786 (in Lebanon, New York) Daniel Thurston
Elizabeth Curtis Thurston, m: 18 Apr 1822 (in New York) George Washington Croshaw
Doughty Stockton Croshaw, m: 11 Apr 1854 (in Medina, New York) Ellen Marie Fairman
Ida Julia Croshaw, m: 24 Mar 1878 (in Batavia, Ohio) Charles Marion Needham
Francis Marion Needham, m: 15 Oct 1902 (in Indian Creek, Indiana) Lola Montez Knarr
Roland Francis Needham, m: 4 Sep1923 Dorothy Cosette Felker
Francis Marion Needham, m: 5 Aug 1954 (in Gloucester, England) Constance Louisa
Elizabeth Needham Ballard
Related Articles: