Introduction: In this article, Melissa Davenport Berry continues her series on descendants of the Jamestown settlers, writing more about Wallis Simpson, for whom King Edward VIII abdicated his throne. Melissa is a genealogist who has a blog, AnceStory Archives, and a Facebook group, New England Family Genealogy and History.
Today I continue with my "Jamestown Descendants: Who's Who" series with my second part on the Jamestown's Peter Montague scion, the notorious Wallis, Duchess of Windsor (1896-1968), wife of Prince Edward, Duke of Windsor.
To recap: When the soon-to-be-twice-divorced Wallis began a liaison with King Edward VIII of the United Kingdom, she became one of the most talked about women in the world. Edward's intention to marry her while he was still king created a constitutional crisis (the marriage would not have received the approval of the Royal Family nor the Church of England), so he quit being king to become her husband. Instead of being king, he became the Duke of Windsor, and she the Duchess of Windsor.
My last story, Jamestown Descendants: Who's Who, Part 18 (part 1), covered Wallis' royal lines and her Jamestown ancestor Peter Montague. To view Wallis' lineage, see: Americana-Archives. What is evident in Wallis' early life are the auspicious marriages the women members of her family made, which helped deliver her a charmed life as well as her social connections.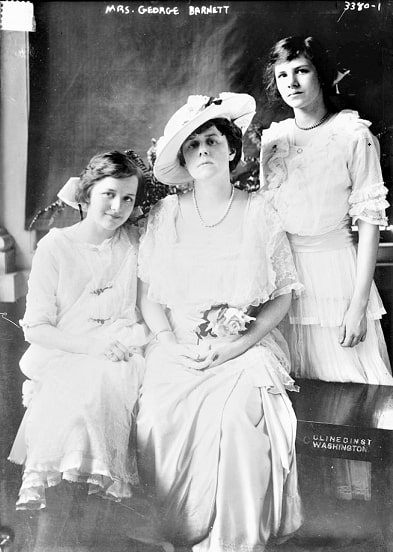 Wallis' early years are told in photos and newspaper clips. She attended the exclusive all-girls boarding school Oldfield where she rubbed elbows with the higher echelon, and later made her debut in society. This photo spread was published by the Oregon Journal.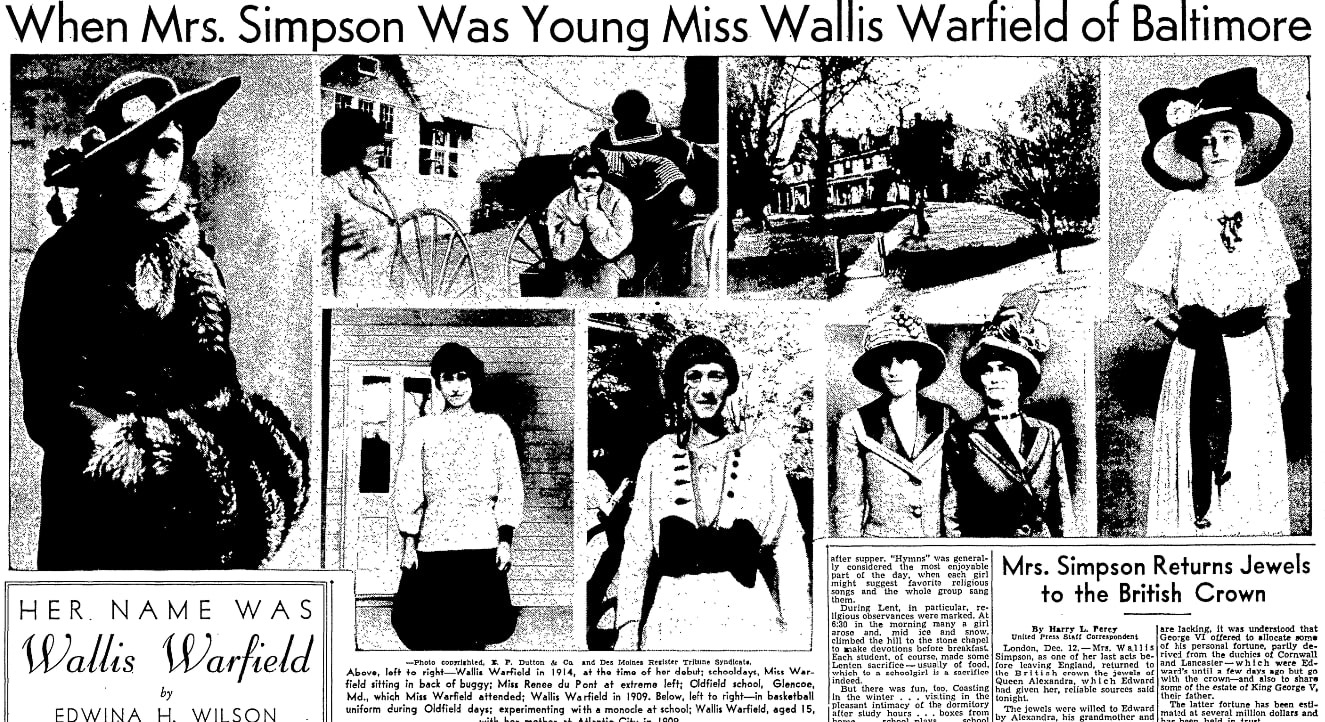 This photo caption reads:
Above, left to right – Wallis Warfield in 1914, at the time of her debut; school days, Miss Warfield sitting in back of buggy, Miss Renee du Pont at extreme left; Oldfield School, Glencoe, Md., which Miss Warfield attended; Wallis Warfield in 1909. Below, left to right – in basketball uniform during Oldfield days; experimenting with a monocle at school; Wallis Warfield, aged 15, with her mother at Atlantic City in 1909.
The photos and narrative were published by the author Edwina Wilson from her 1936 book "Her Name Was Wallis Warfield."
Another photo spread was published by the Trenton Evening Times.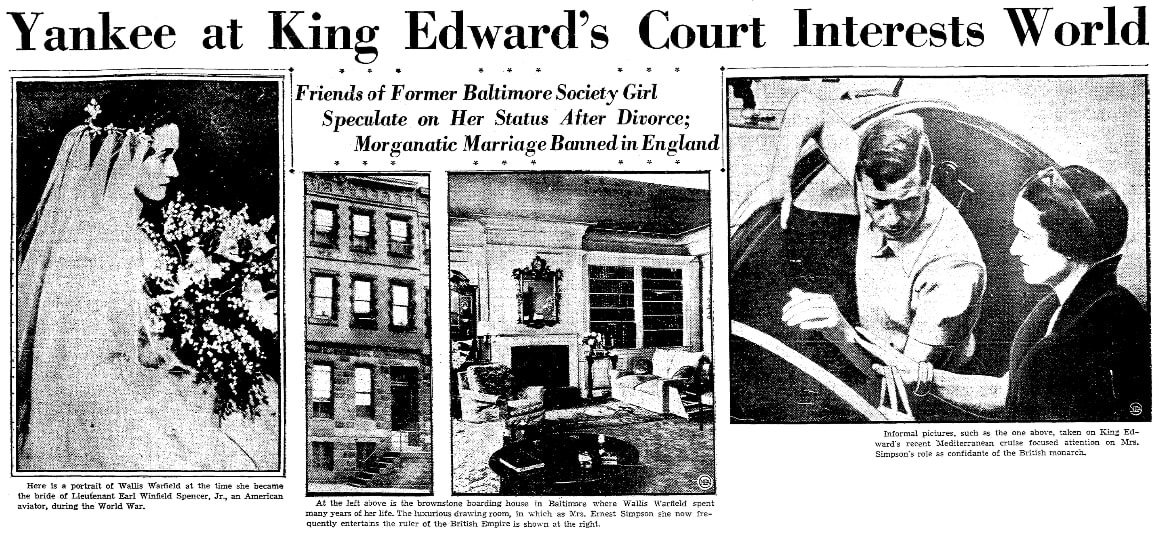 These photo captions read:
(Left) Here is a portrait of Wallis Warfield at the time she became the bride of Lieutenant Earl Winfield Spencer Jr., an American aviator, during the World War. (Center) At the left above is the brownstone boarding house in Baltimore where Wallis Warfield spent many years of her life. The luxurious drawing room, in which as Mrs. Ernest Simpson she now frequently entertains the ruler of the British Empire, is shown at the right. (Right) Informal pictures, such as the one above, taken on King Edward's recent Mediterranean cruise, focused attention on Mrs. Simpson's role as confidante of the British monarch.
Here are more pictures from the Trenton Evening Times' photo spread.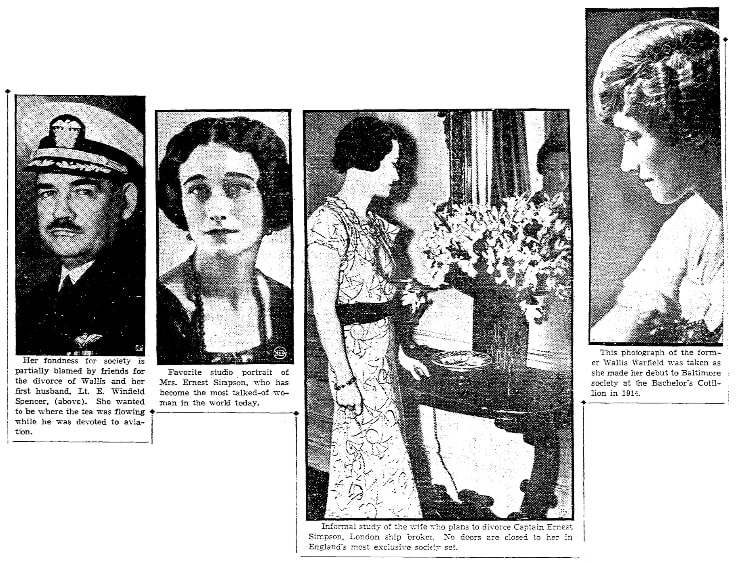 These photo captions read:
(Left) Her fondness for society is partially blamed by friends for the divorce of Wallis and her first husband, Lt. E. Winfield Spencer. She wanted to be where the tea was flowing while he was devoted to aviation. (Center, Left) Favorite studio portrait of Mrs. Ernest Simpson, who has become the most talked-of woman in the world today. (Center, Right) Informal study of the wife who plans to divorce Captain Ernest Simpson, London ship broker. No doors are closed to her in England's most exclusive society set. (Right) This photograph of the former Wallis Warfield was taken as she made her debut to Baltimore society at the Bachelor's Cotillion in 1914.
According to sources, Wallis had a society wedding for her second wedding, and her bridal party were all former debutantes.
The matron of honor was Ellen Yuille Sturgis (wife of William James Sturgis, and daughter of Thomas Burks Yuille and Nancy Williams Long). Bridesmaids were: Emily McLane Merryman (niece of Wallis' Aunt Bessie, and daughter of Elijah Gittings Merryman and Emily McLane, who married John Thomas Sadler); Mercer Taliaferro (daughter of John Christopher Taliaferro and Austina Brockenbrough, who married David Lukens Shoemaker Brewster. Wallis was matron of honor at their wedding); and Mary Huntemuller Kirk (daughter of Henry Child Kirk and Edith Huntemuller, who married Jacques Raffray, a French aviator. More on that below).
This article revealed how Wallis got her name, and detailed her close relationship with her Aunt Bessie:
The parents [Teackle Wallis Warfield and Alice Mary Montague] – particularly the father – had wanted a boy. Refusing to sacrifice completely his dream of a son to carry on his name, T. Wallis Warfield decided the baby should be named "Wallis" for himself and "Bessie" for her aunt, Mrs. D. Buchanan Merryman, of Washington, nee Bessie Montague.

The child was so christened and, from that day to this, Bessie Wallis Simpson has had no stauncher, closer friend than Mrs. Merryman.

It was she who accompanied her niece on her first trip to Europe. It was she who comforted Wallis after the death of her mother in 1929. It was Mrs. Merryman who chaperoned Mrs. Simpson on many of the European holiday trips when she was among the guests of His Royal Highness, the Prince of Wales, now King Edward VIII of England.

Today Mrs. Merryman is "distressed" by newspaper notoriety attending her niece's recent visit at Balmoral Castle and her presence, with other guests, on the royal yacht Nahlin on the King's recent Mediterranean holiday.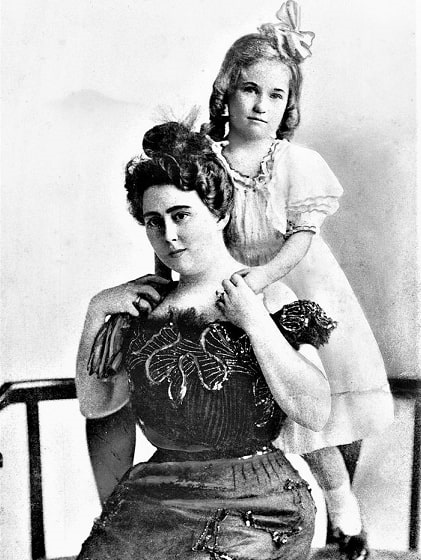 Other close connections in the family line sprang from her mother's cousins and nieces. They were the offspring of Henry Brown Montague's son, Walter Powhaten Montague, and his wife, Lelia Imogen Sinclair, a descendant of Jamestown families Randolph, Wyatt, Bland, Sherman, Royal, Byrd, Moore, and Beverley, and great-great-granddaughter of Commodore Andrew Sinclair, a hero in the War of 1812.
One daughter, Lelia Sinclair Montague (who married 1st Basil Brown Gordon and 2nd Major General George Barnett, 12th Commandant of the United States Marine Corps) helped launch Wallis into society.
Another daughter, Corrine Deforest Montague, introduced Wallis to her first husband Lt. Spencer.
And for an ending tidbit, Mary Kirk (in the bridal party at both of Wallis' first two weddings) divorced Raffray in 1937 to marry Wallis' second husband, Ernest Aldrich Simpson, just a few months after Wallis was issued a divorce from Simpson to marry Edward. I mean you can't make this stuff up!
Here is a photo with nuptial announcement in the Detroit Times.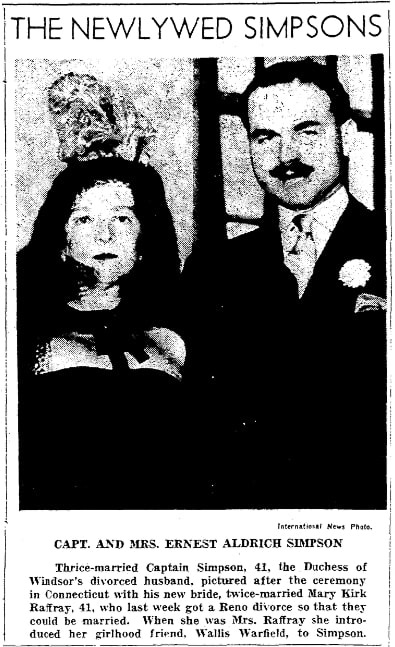 This photo caption reads:
Capt. and Mrs. Ernest Aldrich Simpson. Thrice-married Captain Simpson, 41, the Duchess of Windsor's divorced husband, pictured after the ceremony in Connecticut with his new bride, twice-married Mary Kirk Raffray, 41, who last week got a Reno divorce so that they could be married. When she was Mrs. Raffray she introduced her girlhood friend, Wallis Warfield, to Simpson.
Wallis, a fashion icon dressed by Channel, Dior, and Givenchy, coined the phrase "You can never be too rich or too thin." To escape notoriety, she lived away from the palatial court life of England in France with the Duke of Windsor. The rest is history!
Explore over 330 years of newspapers and historical records in GenealogyBank. Discover your family story! Start a 7-Day Free Trial.
Note on the header image: Wallis and Edward, Duchess and Duke of Windsor. Courtesy of the Maryland Historical Society.
Related Article: