Introduction: In this article, Gena Philibert-Ortega searches old newspapers to find recipes for delicious side dishes for your Thanksgiving feast. Gena is a genealogist and author of the book "From the Family Kitchen."
There is a great variety of side dishes people serve with their Thanksgiving meal. Looking through these dishes it's obvious that in some cases it's a regional favorite, and in others it's a common dish most people prepare for their annual feast. For example, here are some favorites from New England:
Thanksgiving Side Dishes
So, what are some of the most popular sides throughout the country? Not in any particular order they are:
Mashed Potatoes
Baked Sweet Potatoes
Sweet Potato Casserole
Hashbrown Casserole
Brown Gravy
White Gravy
Turkey Gravy
Rolls
Crescent Rolls
Biscuits
Green Bean Casserole
Corn
Creamed Corn
Broccoli Casserole
Cornbread Dressing
Dressing
Stuffing
Deviled Eggs
Mac and Cheese
Cranberry Sauce
Side Salad
Which one of these is a common food on your Thanksgiving table? Any that you avoid at all cost?
Let's Make Some Thanksgiving Food!
Ready to start cooking? My guess is that these popular sides are familiar to you, but maybe you'd like to try a new recipe this year. Why not search newspapers, such as GenealogyBank's Historical Newspaper Archives, for a different take on an old favorite?
Mashed Potatoes and Gravy
I love mashed potatoes with gravy, and when there are leftovers (if there are leftovers) I try to use them to make a Shepherd's Pie. But if you need more ideas for those cold leftover potatoes, you may be interested in these 1916 recipes. They just might give you some ideas for something different. Potato Doughnuts anyone?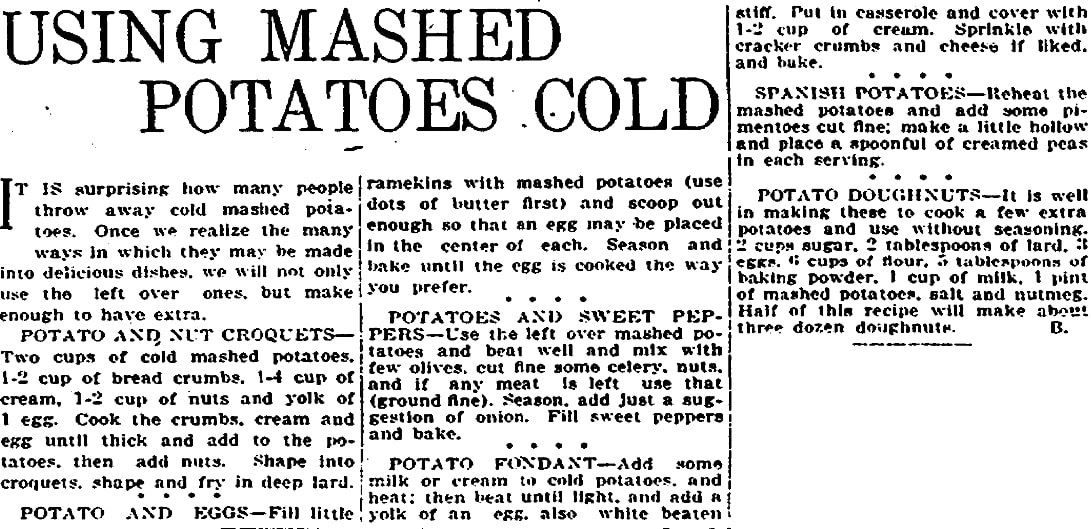 Need some gravy for those potatoes? This 2009 newspaper recipe uses turkey fat, turkey drippings from the roasting pan, and a turkey stock that you can make ahead of time (that recipe is also part of this article). This entire article includes quite a few Thanksgiving Day staples, and overall, it's a great article to save for future reference.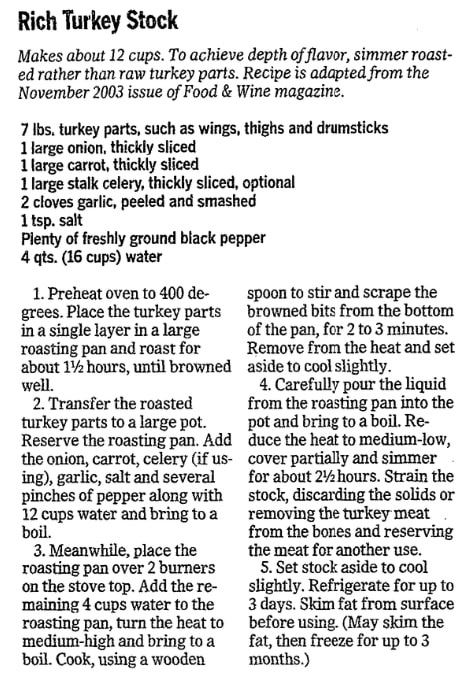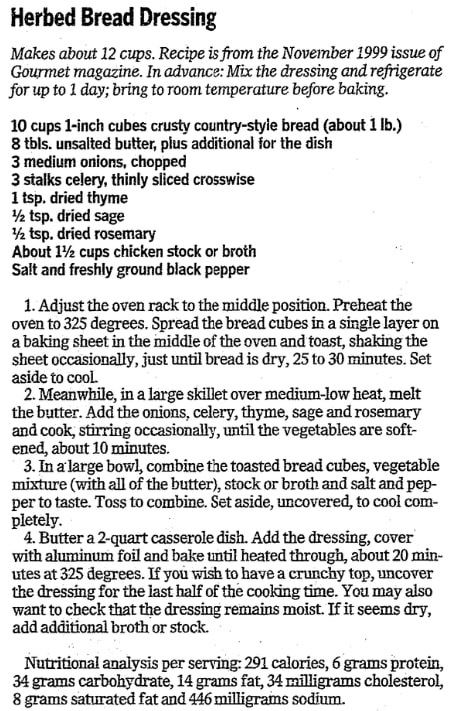 GenealogyBank Tip: Did you know that you can save articles to your GenealogyBank account? This feature, called "My Folder," is a great way to save articles you find. To save to My Folder, once you locate a newspaper article that you're interested in click on the folder with the plus sign found in the upper right corner. You can then give the article a title and description. It is now saved in your My Folder for future reference.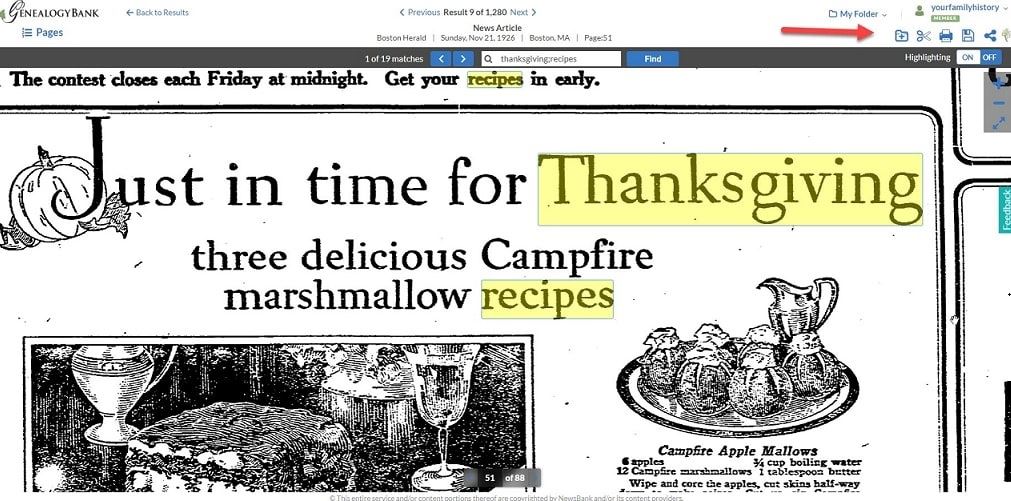 Bread
Biscuits or rolls? Which does your family prefer? I remember my great-grandmother making biscuits, and I would love to have those again. However, I must admit that I buy rolls to save time. If you have the time and want to try an old-fashioned recipe, you might be interested in this one from Mrs. Booker, who was a cook for an Ohio governor.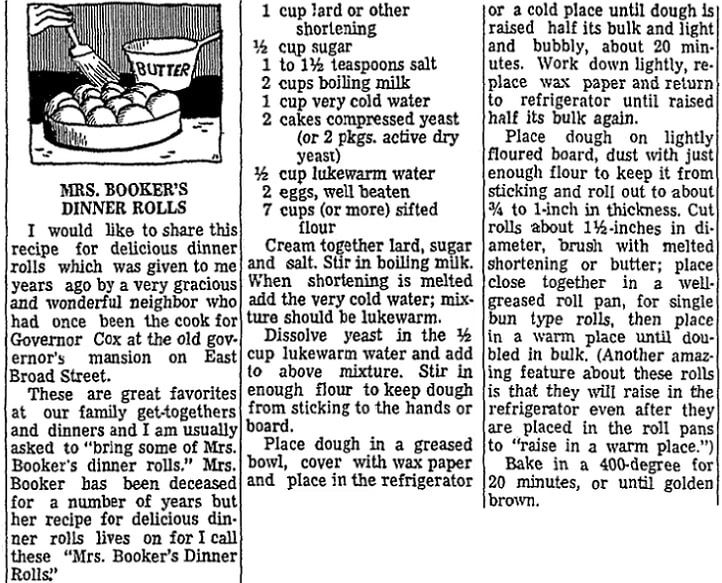 Vegetables
What vegetables grace your holiday table? I usually make a Brussel Sprout dish that features bacon and blue cheese, and the old favorite: Green Bean Casserole.
If you're ready for something new, try Broccoli Casserole. If you aren't a broccoli fan, this 1981 recipe for Elsie Kratzer's Broccoli Casserole can also be made with asparagus.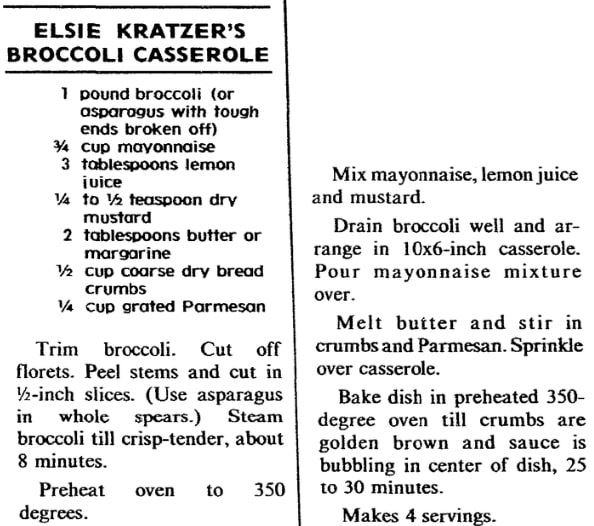 This Los Angeles Times food column, reprinted in the Huntsville Times, features a Creamed Corn recipe from Southern California's Gulliver's Restaurant which is a good example of how, sometimes, vegetables aren't the healthiest of dishes.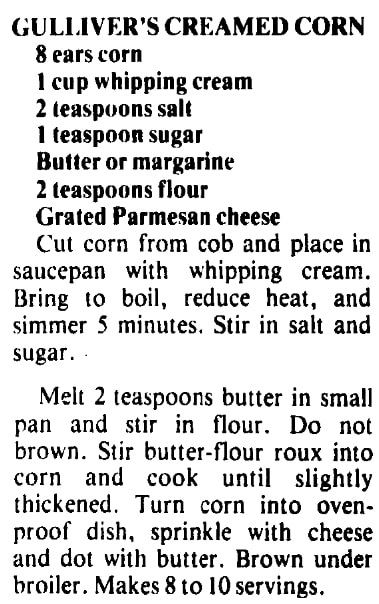 Stuffing
Whether your family calls it stuffing or dressing, they both use similar ingredients. If you want cornbread to be the basis of your stuffing/dressing you might be interested in this Mushroom Cornbread Stuffing (Dressing) from 2018.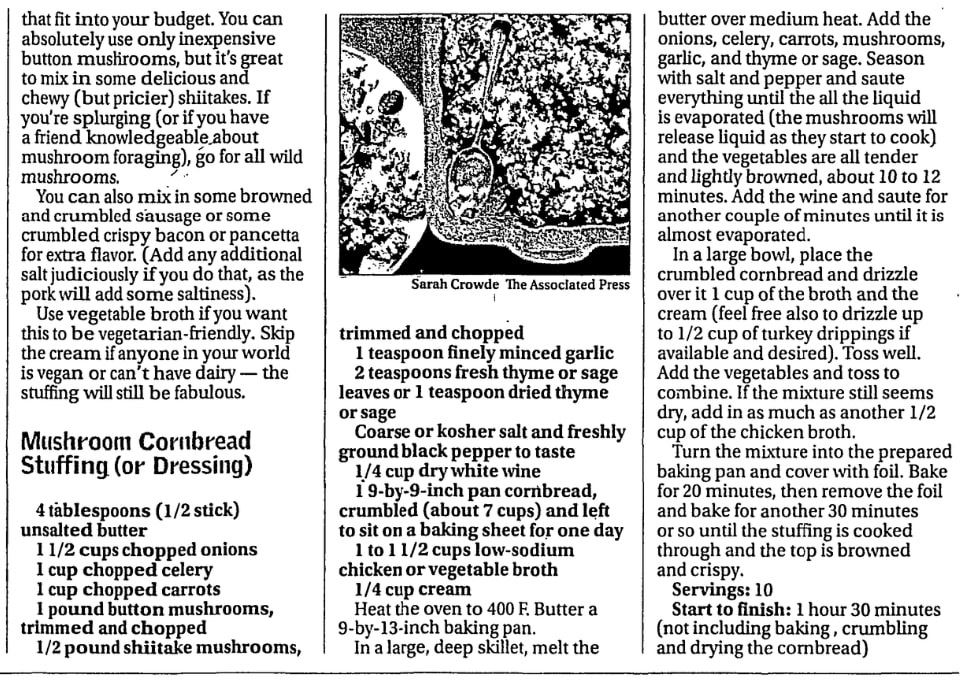 It's That Time Again
What are you serving this Thanksgiving? Are you trying a new recipe? I'd love to hear about what you're cooking in the comments below.
Happy Thanksgiving!
Related Articles: