Introduction: In this article – to honor Dorcas Reilly, the inventor of Green Bean Casserole who died last week – Gena Philibert-Ortega writes about this popular dish and shares some recipes. Gena is a genealogist and author of the book "From the Family Kitchen."
Last week, on 15 October 2018, the inventor of the Green Bean Casserole, Dorcas Reilly, passed away at age 92. Originally called "Green Bean Bake," this familiar recipe – invented in 1955 at Campbell's Soup Company's test kitchen – offered everything the 1950s housewife could want: few ingredients, short prep time (5-10 minutes), and a finished dish that made green beans appealing to both adults and children.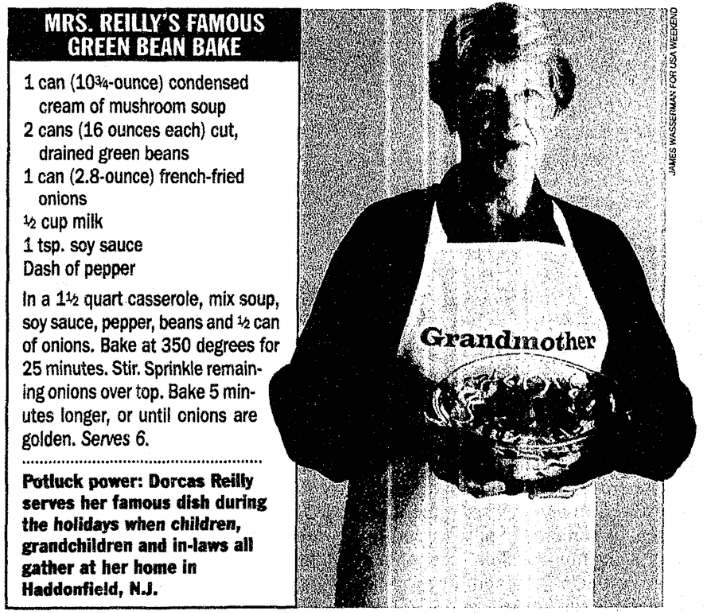 A memorial to Dorcas Reilly on the Campbell Soup Company website states:
"As one of the first full-time members of Campbell's Home Economics department, Dorcas created 'the mother of all comfort foods' by simply combining two things most Americans had on hand in 1955: green beans and Campbell's Cream of Mushroom Soup."*
Dorcas Reilly worked for Campbell's which, like many companies, employed home economists to work on creating new recipes using their products. Reilly, when interviewed about the recipe in the 1990s and later, didn't remember the exact circumstances around the invention of the legendary green bean dish – but in the newspaper article below, she remembered it was a group effort:
"I knew green beans were popular and went very well with mushroom soup. We added soy sauce and a dash of pepper and french fried onions, which gave a nice flavor."
She went on to say:
"It's an economical dish, and green beans are universally popular, even with kids. Numerous people have told me that it's the only way their children will eat green beans. It's a nice dish for a covered dish supper. You know most people will enjoy it."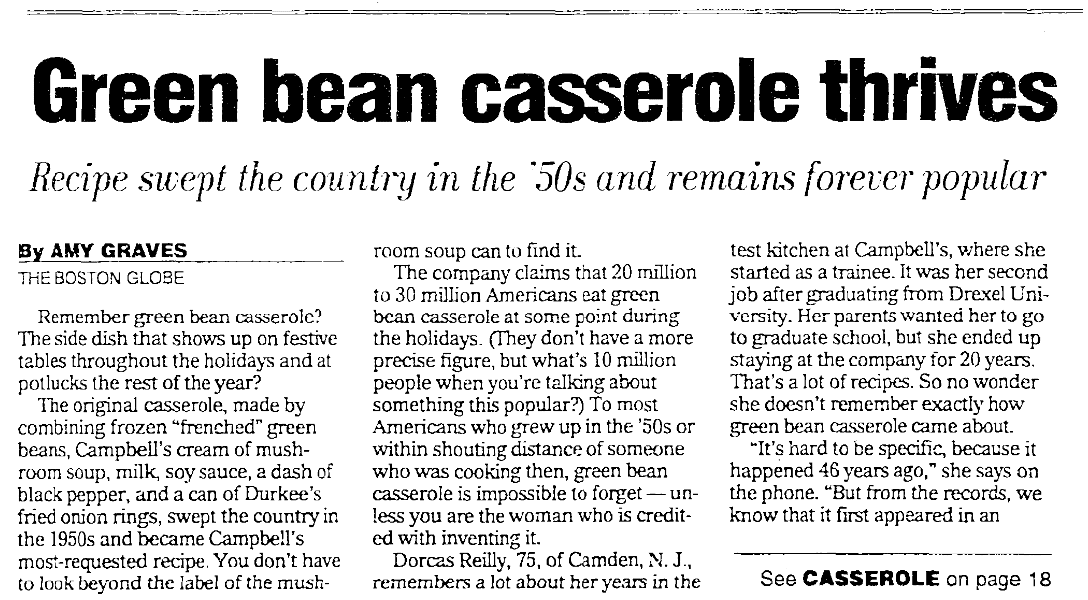 Decades Old and Still Popular
This 1996 newspaper interview with Reilly states that the most popular soup-based recipe is "the Green Bean Bake, with an estimated 20 million cooked, served and eaten during the year-end holiday season…" The original recipe accompanies the interview. Notice that the original recipe calls for an ingredient missing from today's less-sodium recipe versions: soy sauce. Other measures have been employed by home cooks to make the recipe friendlier to those who are watching their sodium intake, including using fresh green beans and low-sodium cream of mushroom soup. You may be tempted to take a cooking shortcut and try a microwave version of the recipe, but Reilly believed that it was not as tasty as the original because microwaves can't crisp the final layer of onions.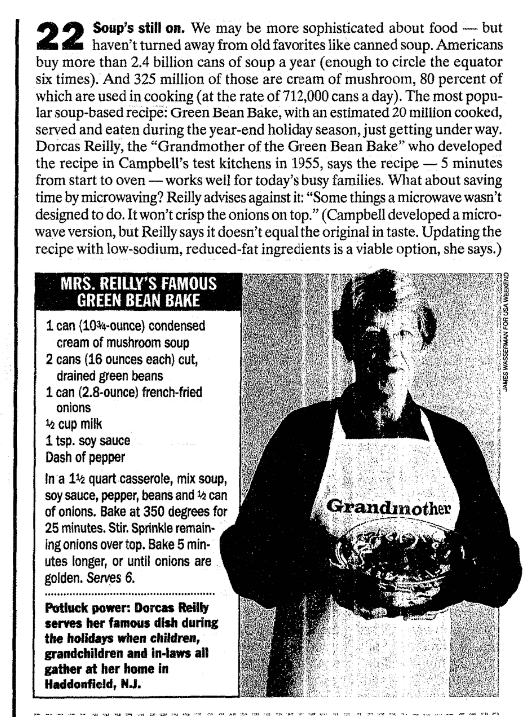 It's no surprise that eventually a classic recipe would evolve to include various interpretations. Obviously, there are slight changes to the original recipe that most are familiar with such as using frozen vs. fresh or canned green beans, but searching for the keywords "Green Bean Bake" in GenealogyBank's Historical Newspaper Archives since 1950 results in all kinds of recipes, ranging from small changes, such as substituting one type of canned creamed soup for another (cheddar cheese soup instead of cream of mushroom) and adding ingredients like meat or rice.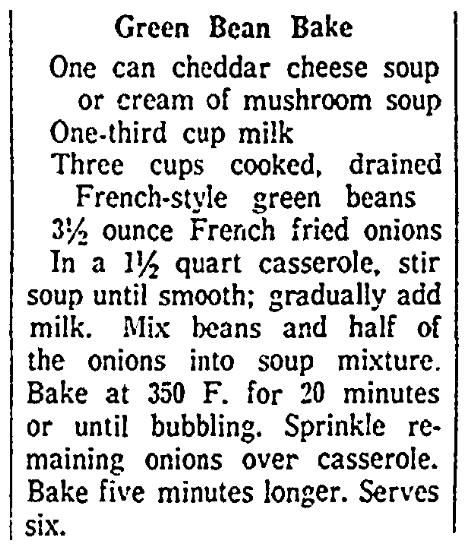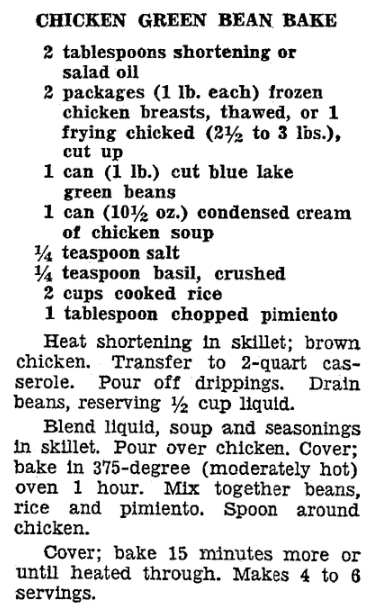 50th Anniversary
In 2005 Green Bean Casserole enjoyed a 50th anniversary, and 13 years later it proves to be as popular as ever. Newspaper articles at the time celebrated the recipe's silver anniversary by reporting that Campbell's estimated "that it sells $20 million worth of cream of mushroom soup each year just to people following Reilly's recipe, or version of it."

Your Thanksgiving Table
The original recipe card Dorcas Reilly used to record Green Bean Bake was donated in 2002 to the National Inventors Hall of Fame. While Dorcas helped create hundreds of other recipes for Campbell's, that single casserole dish is part of her legacy. The simplicity of the recipe makes it a popular choice with just about everyone. I do realize that some people don't care for Green Bean Casserole, but at my house I always have to triple the recipe in order to have enough for post-Thanksgiving leftovers.
How about your family? Are you big fans of Green Bean Casserole? How many years have you been preparing the recipe? Will it be found on your Thanksgiving table this year?
__________________
* "In Memory of the American inventor Dorcas Reilly," Campbell Soup Company (https://www.campbellsoupcompany.com/newsroom/news/2018/10/19/memory-american-inventor-dorcas-reilly/ : accessed 24 October 2018).