Introduction: Gena Philibert-Ortega is a genealogist and author of the book "From the Family Kitchen." In this blog article, Gena searches old newspapers to learn about how our ancestors cleaned their homes.
How did your great-grandmother know how to cook dinner, clean her house, or launder the family clothes? You may instantly reply that she learned from her mother. While that might be partially true, over time the technology of housework and what tools where available changed. Doing things the way your mother or grandmother did didn't always work.
So aside from learning from family or perhaps while working as a domestic, women took to cookbooks and the newspaper to learn how best to clean, launder, cook, and tend to their families. Newspapers weren't just the recorder of the day's news—they were also the compiler of information that women used on a day-to-day basis.
[search_box]
Polishing the Stove and Getting Rid of Bugs
Old newspapers provide a great look at what our female ancestors had to think about and what might be expected of them in their household chores. For example, in this 1905 Household Affairs column, one of the tips has to do with cleaning in tight corners using a paint brush. It goes on to point out that the paint brush can also be used to polish the ornamental work on a stove.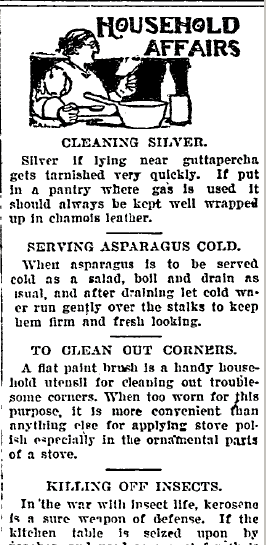 This housekeeping column also addresses what to do with bugs and their eggs. The tip recommends soaking your furniture in kerosene which would eliminate the pests. Obviously, in some cases, these household tips could be dangerous to put into practice. While kerosene or gasoline would rid your home of unwanted pests they could also kill the human inhabitants, as documented in this 1885 incident in Buffalo, New York, that killed a man and injured his wife when gasoline was spread throughout the home to kill moths.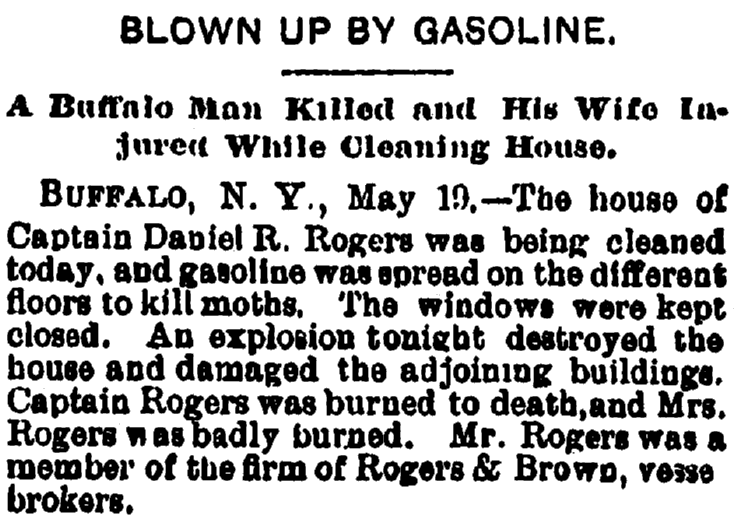 Ammonia and Stale Bread
One interesting aspect of reading household cleaning tips from vintage newspapers is the type of cleaning products they recommend. In this column, Household Talks, a mixture of ammonia and water is mentioned as a cleaning agent—but more interestingly, the advice for cleaning wall paper is to take "stale German Rye bread" and rub it in downward strokes along the wall paper. It is further advised to change or turn the bread often. According to the column, this stale bread is also used by artists to clean charcoal drawings.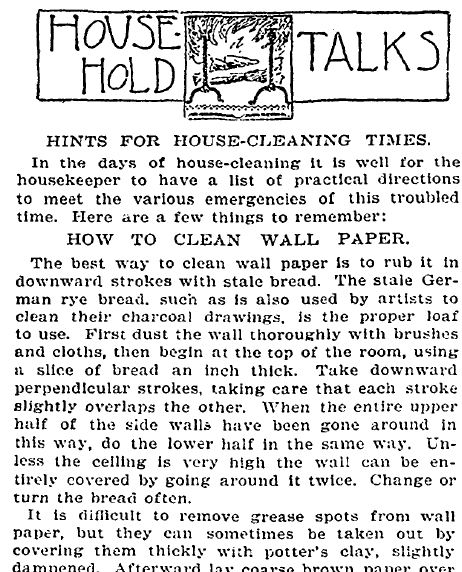 Most modern people think of bread crumbs when thinking of what to do with stale bread. Who knew it was good for cleaning your house?
[search_box]
Use the Power of the Rain and the Sun
Today, we have the convenience of washing machines to clean linens, sheets, bedspreads, rugs, and pillows. But what did your ancestress do to freshen up beds stuffed with feathers? Well, according to Mrs. S. O. Johnson, one answer would be to let the rain clean the pillows and mattress. She writes in 1869:
…old feather beds and pillows are greatly improved by putting them on a clean grass plat during a heavy shower; let the beds become thoroughly wetted, turning them on both sides. Let them lie out till thoroughly dry, then beat them with rods; this will lighten up the feathers and make them much more healthful to sleep upon. It removes dust and rejuvenates the feathers.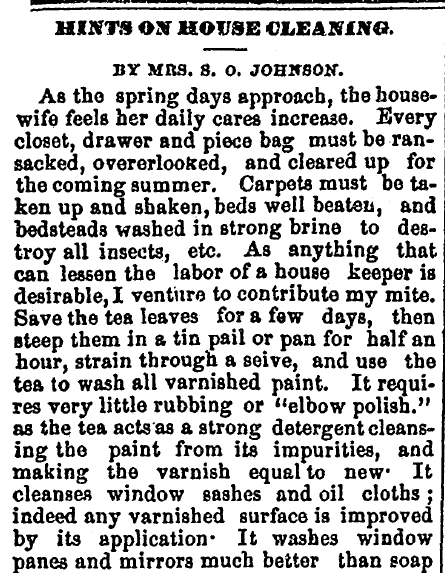 It makes sense that our ancestors were accustomed to hanging clothes out to dry at a time before the advent of gas or electric dryers. But aside from the drying effect that hanging clothes and bedding would have, it was believed that the sunshine had some sort of "chemical effect." Shirley Dare writes in 1893 that:
…the direct rays of the sun have a strong chemical effect on the particles of decaying matter. Its powerful chemical action is seen in bleaching stains from linen in a few hours which sharp acids would fail to remove. It is a similar potency which as we say, 'sweetens' clothes and bedding hung out in the sun.
She recommends that twice yearly all clothing, bedding and carpets should be placed out in the sun.
Just Skip the Housework
While not all household tips found in old newspapers are applicable today, this one found in a 1915 Texas newspaper is advice that is important for all modern families to remember. The aptly titled "Don't Worry over Household Duties" suggests having other activities to do aside from household chores, and proclaims:
…don't allow yourself to become nervous and upset over your household affairs. Nothing disastrous will occur even if you don't get all the work finished that you expected to do.
This advice is one of the best household tips I've ever heard!
What old fashioned cleaning methods did your ancestors pass down in your family? Share your household tips with us in the comments.
Related Articles:
[bottom_post_ad]