Joseph Atwood Ordway (1852-1904) is a descendant of Mayflower passenger Thomas Rogers—and he thought so much of that genealogical fact, it was included in his obituary.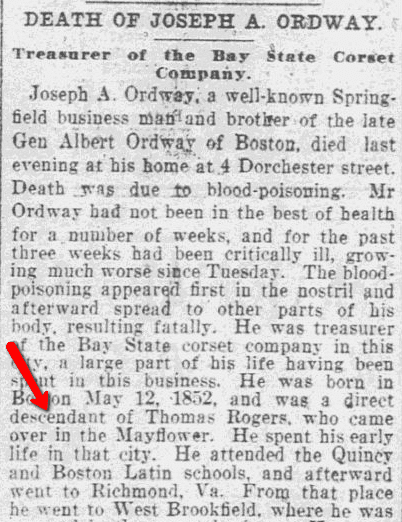 This is a detailed obituary that gives us a lot of family history information about Joseph:
His date and place of birth: 12 May 1852 in Boston, Suffolk, Massachusetts, United States
His date and place of death: 5 May 1904 in Springfield, Hampden, Massachusetts, United States
One of his brothers was "the late" General Albert Ordway (1843-1897) who served in the Civil War.
He was survived by his wife: Carrie L. Ordway
He had two sisters: Mary Emma Ordway (1849- ) and Annie Freeman Ordway (1857- ) who became Mrs. Charles E. Folsom (Charles Edward Folsom, Jr., 1855-1926)
He had one surviving brother: Frank Foster Ordway (1862- )
Obituaries give good core research information for genealogists.
I particularly like that Joseph's obituary mentioned he was a Mayflower descendant. I am also a descendant of the Pilgrim Thomas Rogers.
Knowing that enables me to start with Joseph Atwood Ordway and trace his lineage back to his Mayflower ancestor.
This is a quick way to speed up your genealogy research and ensure that all of your cousins are found and documented in the family history.
Related Mayflower Ancestry Articles & Resources: