Introduction: Gena Philibert-Ortega is a genealogist and author of the book "From the Family Kitchen." In this guest blog post, Gena searches old newspapers to examine food columns that may have provided the recipes our ancestors used—and shows how those food columns that featured recipe contests may contain names and addresses helpful to our family history research.
What's in your grandmother's recipe box? Chances are there are a variety of recipes that are either handwritten on index cards or clipped from newspapers and magazines. Maybe you have some of those yellowed newspaper clippings stuffed in a recipe box or pasted in a cookbook.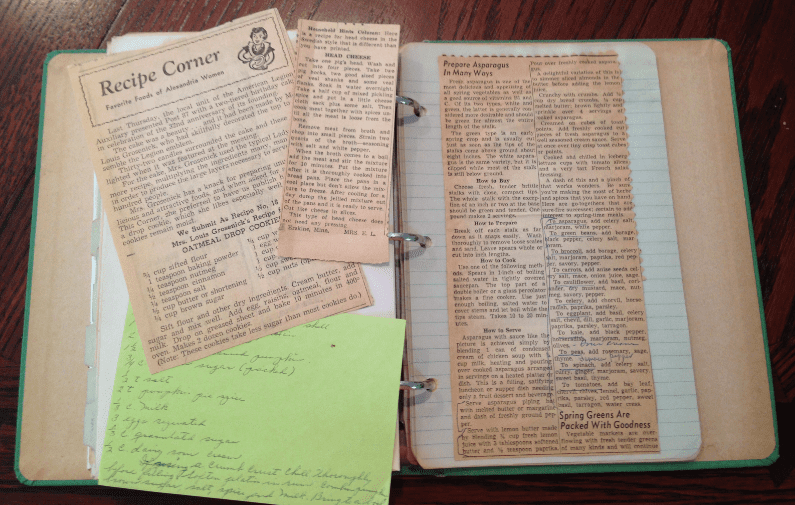 Newspaper food columns provided women with recipes by food writers, nutritionists and even neighbors. In some cases, food column contests solicited reader recipes centered on a specific theme. (For more about newspaper recipe contests see my earlier GenealogyBank Blog post, Newspaper Recipe Contests: Was Your Ancestor a Contest Winner?) Whether your ancestor actually participated in submitting a recipe or just cut out her favorites, these columns were an important way to add variety to the family's dinner table.
Tongue and Pickles
Newspaper food columns provide us a glimpse of the food our families ate throughout the decades. This 1917 column from an Arizona newspaper is a compilation of money-saving recipes that were awarded prizes by the newspaper. Recipe columns published in the newspapers during war time would concentrate on saving money and, in the case of World War I and II, how to make do with limited quantities due to food rationing. In the paragraph introducing the recipes, the writer suggests that readers clip these columns and add them to cookbooks, or paste an envelope into a cookbook and then place clippings inside the envelope. In this article, notice that women's names and addresses are included with their submissions—a potentially helpful clue for your family history research. The first recipe, provided by Miss Chloe Ray for Braised Tongue, even includes a suggestion for where to buy the tongue.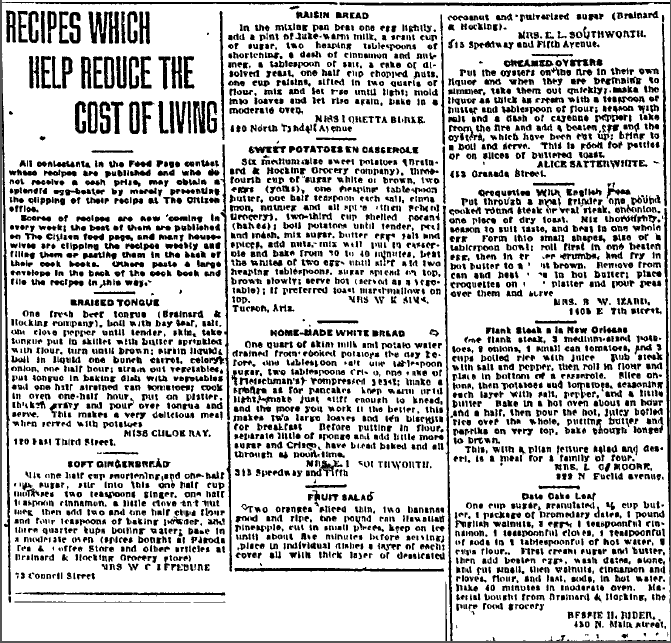 In some cases newspaper columnists wrote articles with everything from recipes to food advice. "Jane Eddington," the pen name for Caroline S. Maddocks, was a syndicated columnist with the Chicago Tribune. The Tribune started its food column in 1910 and Eddington penned her articles until her retirement in 1930. She was then succeeded by women who penned the food column under the moniker "Mary Meade" until 1974.*
In Eddington's column for 5 September 1913, she discusses pickles and provides some recipes. Making pickles wasn't a small job; these recipes call for over 100 cucumbers!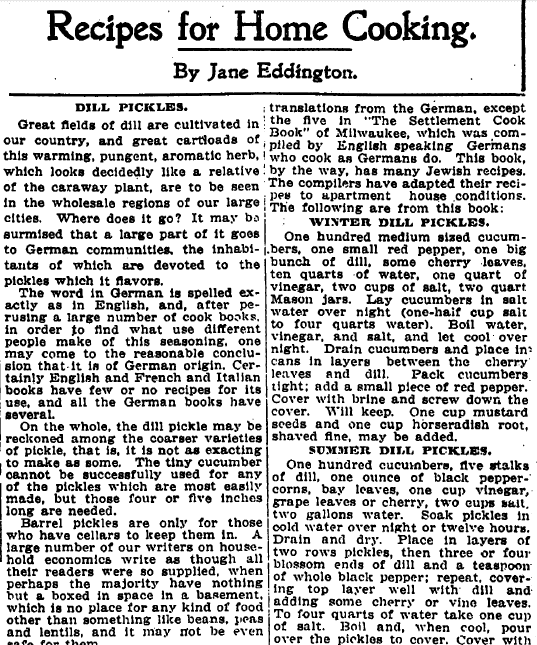 Food and "Womanly" Advice
Some recipe columns were about much more than sharing recipes and meal ideas. In some cases they were advice columns. The Chicago Tribune said the purpose of its column was to "preach daily that cooking is a noble as well as an ancient duty."**
In the following column from a 1909 Pennsylvania newspaper, "Womanly Answers to Womanly Questions," recipes are but one form of advice given. Other advice has to do with other "womanly" issues like quilt cleaning. Lunch meal planning suggestions in this particular column include "sardines cut up with ham and pickles make a good filling for sandwiches" and desserts such as vinegar pie and fried apple turnovers.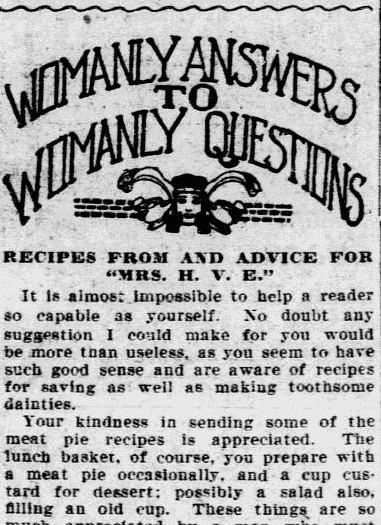 Another recipe/advice column, written by Miss Lilian Tingle and entitled "Answers to Correspondence," provides recipe help to readers. In this column from a 1917 Oregon newspaper, she provides everything from recipes for mushroom catsup to potato doughnuts to corned beef. Like the previous example, although recipes seem to be the main focus there is a homemaking question in between the recipes for how to care for houseplants. This column is a good example of how food preferences over time change, so that what was popular to eat at one time may not be to most people's liking today.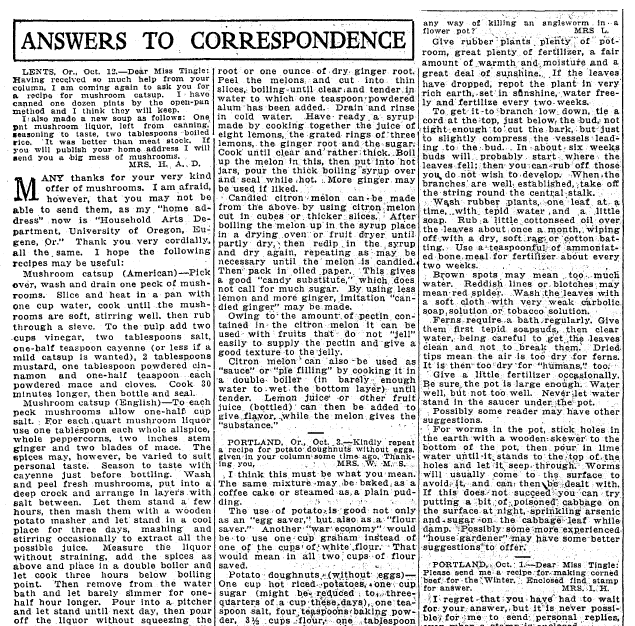 Do you have a favorite food column in your local newspaper? Do you have clippings from your grandmother's favorite column? Maybe your family still eats a family favorite clipped from an old newspaper. Recipe newspaper columns are just one place where we can find the names of the women in our families and better understand what they had for dinner.
Share your favorite food column with us in the comments section. Better yet, if you have newspaper clippings or recipe cards with family recipes, take a picture of them and post them to our public Old Fashioned Family Recipes board on Pinterest. Get an invite to participate by following the board. We look forward to trying your favorite family recipes!
______________
* Serving Food News for 150 Years by Kristin Eddy. July 16, 1997. Chicago Tribune.
** Ibid.