When Margaret Hollman (1896-1957) died, she was lauded in her obituary for her skills and accomplishments as a homemaker and Mom.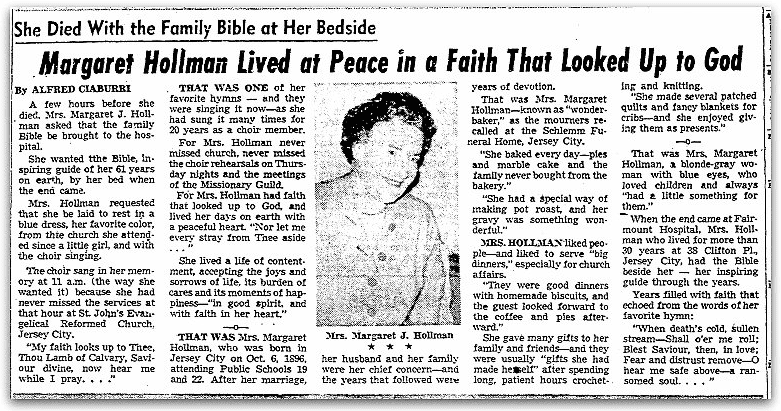 Perhaps today we'd call her "old school."
According to her obituary, she:
"…never missed church, never missed the choir rehearsals on Thursday nights and the meetings of the Missionary Guild.
"…known as 'wonder-baker'… She baked every day – pies and marble cake and the family never bought from the bakery. She had a special way of making pot roast, and her gravy was something wonderful.
"…liked to serve 'big dinners'… they were good dinners with homemade biscuits, and the guest looked forward to the coffee and pies afterward."
Her long obituary went on to say that she spent:
"…long, patient hours crocheting and knitting. She made several patched quilts and fancy blankets for cribs – and she enjoyed giving them as presents.
"A few hours before she died, Mrs. Margaret J. Hollman asked that the family Bible be brought to the hospital. She wanted the Bible, inspiring guide of her 61 years on earth, by her bed when the end came."
Her obituary also contained this passage:
"She lived a life of contentment, accepting the joys and sorrows of life, its burden of cares and its moments of happiness – 'in good spirit, and with faith in her heart.'"
Find your ancestors' stories in GenealogyBank's online Historical Newspaper Archives – record those stories and pass them down in the family.
Related Articles:
(Visited 204 times, 1 visits today)