Introduction: In this article, part of our Women's History Month celebration, Gena Philibert-Ortega shows how old newspapers can help you learn about your female ancestor's college years. Gena is a genealogist and author of the book "From the Family Kitchen."
Do you have a female ancestor who went to college? You may instantly respond in the negative – but it's important to remember that women prior to the late 20th century did go to college, and probably more often than you think.
Various schools for women existed in the early decades of the 19th century in America, such as female seminaries and Normal schools (school that taught teachers). Oberlin College was a coeducational institution that graduated the first woman with a BA in 1841. Oberlin College also graduated the first African American woman, Lucy Ann Stanton, in 1850. Vassar Female College opened in 1865 and counted 300 women as students in that first year. Other women's colleges would soon follow suit, including Smith and Wellesley which both opened in 1875.*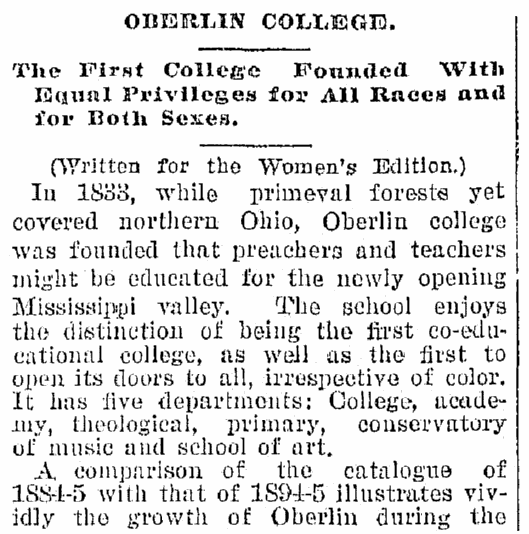 Aside from records or histories that may exist in the school library or archive, search for information about your female ancestor's collegiate life in old newspapers, such as GenealogyBank's online Historical Newspaper Archives.
Genealogy Tip: Academic libraries are increasingly adding digital collections to their websites. Check the library website for possible digital collections having to do with the students of the school.
Scholastics
Announcements about all kinds of scholastic achievements can be found in newspaper articles. Whether it's for good grades, or an award for an essay or project, your female collegiate ancestor may be mentioned in the school's newspaper or the local paper for that town or city.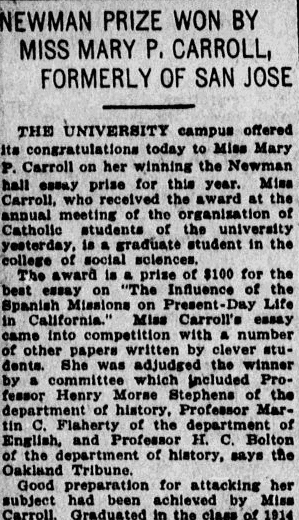 One thing to also keep in mind: don't forget to not only search the newspaper from the town/city where the college was, but also the town/city where your female ancestor went to high school. As I read various newspaper articles when researching this blog article, I came across some that referred to the college that a high school senior planned to attend, or the scholarship they received, and information about their future plans.
Genealogy Tip: Remember that in order to research a female ancestor's entire life you must conduct searches using both her birth name and her married name (don't forget to search on the husband's name – for example, Mrs. John Smith). Also, many of the newspaper articles I found referred to a woman's college in their engagement announcements.
Sorority Life
Did your female ancestor pledge to a sorority? A Wikipedia article states that the first sorority was the Adelphean Society (later known as Alpha Delta Pi) at Wesleyan Female College in 1851. However, it was Gamma Phi Beta in 1882 that was officially called a sorority.**
Old newspaper articles about sororities cover everything from scholarship opportunities to meetings and events, and often mention members' names.
American Association of University Women
Your female ancestor's college years may have continued to be an important part of her life after graduation through continued membership in groups she joined in college, or even membership in an organization like the American Association of University Women (AAUW). The AAUW was founded in 1881. According to its website:
Throughout our history, AAUW members have examined and taken positions on the fundamental issues of the day – educational, social, economic, and political.***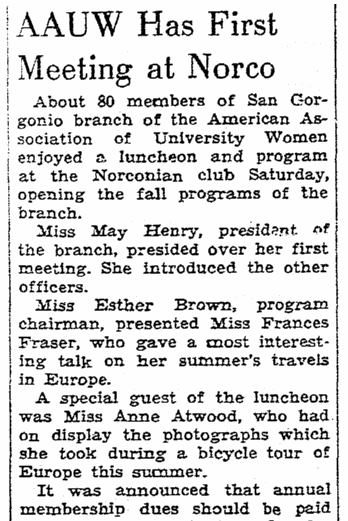 Newspaper articles about the AAUW include mentions of meetings and events, as well as reports of benevolent works.
What Will You Find?
Once again, remember as you research your female ancestor's collegiate life: don't forget to check out the archives at the school where she attended. The archives there often have different types of manuscript collections and books that provide information about specific class years or students. Increasingly, colleges and universities are adding digital collections to their library websites that can also include images of directories, theses and dissertations, and school newspapers.
If the institution no longer exists, look for a local museum, archive or historical society. For additional archival materials search the online archive catalog, ArchiveGrid.
Related Articles:
————————-
* Peril, Lynn. College Girls. Bluestockings, Sex Kittens, and Coeds, Then and Now. New York: W.W. Norton, 2006.
** "History of North American fraternities and sororities," Wikipedia (https://en.wikipedia.org/wiki/History_of_North_American_fraternities_and_sororities : accessed 7 March 2017).
*** "Our History," AAUW (http://history.aauw.org/ : accessed 7 March 2017).