Introduction: In this blog article, Gena Philibert-Ortega answers some of the frequently-asked questions about how to use obituaries in genealogy research. Gena is a genealogist and author of the book "From the Family Kitchen."

An obituary search is a genealogist's go-to tactic for finding family history information, and most likely one of the first things you learned about in regards to newspaper research – but how much do you really know about obituaries? This article answers some frequently asked questions about this important family history source.
What is an obituary?
There are many different types of articles in the newspaper that report a person's death. An obituary is defined by Merriam–Webster as an article in a newspaper about the life of someone who has died recently.* According to the book Obituaries in American Culture by Janice Hume, obituaries have been around for over 200 years.
In the case of someone who is a celebrity or famous, newspaper obituaries are written by newspaper staff and may be compiled years before the celebrity's actual death, updated at the last minute. For everyday people, an obituary may be written/edited by newspaper staff or by a family member or friend. Unfortunately, a genealogist is not likely to know who wrote or provided information for their ancestor's obituary.
Obituaries differ in length and may range from one sentence to several paragraphs in length. Information may include standard birth, marriage, and death dates and places, and may also include education, occupation, affiliations, and the names of family members. A photo or short poem may also accompany an obituary.
A similar newspaper article you might encounter is a death notice which is usually a paid advertisement that provides information about the death and the funeral. (Please note that some newspapers use "death notice" and "obituary" interchangeably.) Every newspaper has different policies about obituaries and death notices including length, what information can be included, and cost; to better understand this make sure to research your ancestor's hometown newspaper.
You may also find a funeral notice in the newspaper, provided by the funeral home, with the name of the person and date of the funeral.
Does an obituary provide all I need to know about my ancestor's death?
The problem with an obituary is that you do not know who wrote it. The author and informant for obituaries are never sourced. Information may have been provided by just about anyone in the family and then edited by the newspaper for space. If the obituary was written by a family member, the newspaper may have compiled the facts it was provided.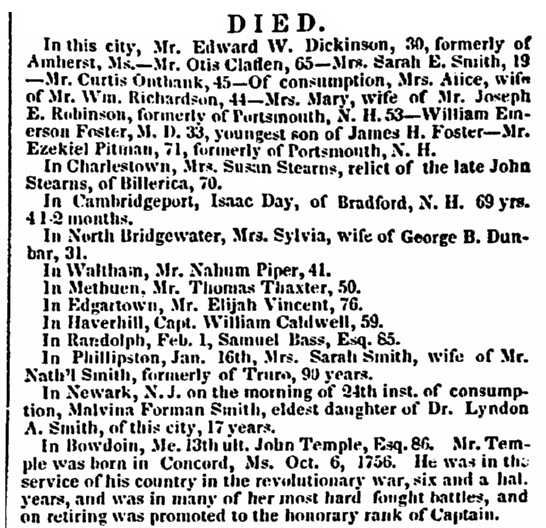 Obituaries are written at a difficult time. The family is grieved and they may realize that they don't know all the facts that they should about their loved one. Memory is tricky and of course, typically the deceased's obituary often sounds more like a tribute to a saint than the deeds of a sinner.
Obituaries are an important resource for your family history – but use that obituary as a clue to dig deeper into the information it provides. Double check and verify what it has to tell you. While you can't evaluate the evidence an obituary provides by knowing who wrote it, you can verify the information it provides by seeking out other sources including death certificates, cemetery records, and probate records.
Did my ancestor's family have to pay for an obituary?
Any associated cost with an obituary may have influenced whether the family of your ancestor had one published. The general answer to whether they had to pay for an obituary's inclusion is: maybe. Every newspaper had their own policies about obituaries and death notices. Once again, you need to learn more about the newspaper and its policies. Many times you can find this in the newspaper itself.
Take for instance this article about obituaries found in an 1885 issue of the Northern Christian Advocate. That newspaper's rules for obituaries include that it "will not publish obituaries received later than three months after the death announced" and that poetry is not to be included. The article points out that even though some people may think that money will influence the newspaper to waive its rules, "…the Northern refuses pay for anything which does not appear as an advertisement." Further requests from the newspaper include that the information be brief and that it is "seldom in good taste to mention the funeral services."
Where can I find my ancestor's obituary?
Your ancestor's hometown newspaper may seem like the obvious answer to that question.  But that might not be the correct answer. Family members in other cities, where the deceased never lived, may have published the obituary in their local paper. A smaller city newspaper may have been chosen over a larger regional newspaper because of cost. If the person was elderly and living with or visiting family, an obituary may have been placed in the family's local newspaper and not in the deceased's hometown newspaper.
In order to increase your chances of finding an ancestor's obituary, make sure not to narrow your search too much, thus missing your ancestor's obituary in a place least expected. To get more ideas about where to search for an obituary, read my article 3 Places to Find Your Ancestor's Obituary.
One last tip on the subject of where to find your ancestor's obituary. It might seem like a good idea to conduct your search with the name of your ancestor and the word "obituary" or "obituaries." A negative result using this search does not mean an obituary doesn't exist.  Remember that your ancestor's name may be listed or (mis)spelled differently than what you are searching for and that some newspapers may use the term "death notice" to list obituary-like notices.
Did everyone have an obituary?
No, and there can be all sorts of reasons for this. Small families may have found it unnecessary, while those who were never married, outlived their spouse, or had no children may not have had someone to place the obituary in the newspaper. In many cases, but not all, small children may not have an obituary.
The challenge with looking for obituaries is that there's no telling if an obituary or death notice was ever published – but it's still important to look.
Why can't I (still) not find that obituary?
There are many reasons why you can't find your ancestor's obituary. If you feel like you've conducted an exhaustive search, take a minute to develop a strategy. Some questions to ask yourself as you search include:
Have I tried different versions of my ancestor's name? For example, have you tried initials, nicknames, and misspellings? For a married woman have you tried her husband's name rather than her given first name? (For example, "Mrs. George Smith" rather than "Mrs. Mary Smith"). If she was married multiple times, consider trying all her different married surnames.
Have you tried searching without narrowing by place?
Have you tried searching on people who may be mentioned in the obituary, like a spouse, children, or siblings?
If your ancestor lived in a large city, have you tried papers in nearby cities?
If you have the death certificate, have you tried searching using the name of the funeral home in the newspaper?
Have you tried to search for legal notices or other related articles?
It's rare to get an explanation about why a newspaper article is printed in a certain way. I really love this explanation about the death notice for Mrs. Lonergan-Leahy. The newspaper article explains that because of two marriages (one ending in widowhood) and strain in familial relations, Mrs. Lonergan-Leahy had two death notices using both husband's surnames.  This 1897 explanation is a good reminder to genealogists to not make assumptions as you research. Remember to search broadly and creatively.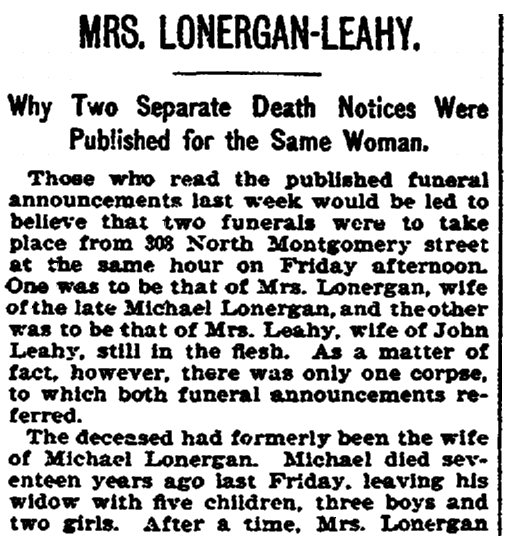 What other newspaper articles should I be looking for?
Death can result in all kinds of newspaper articles that report on an illness or accident prior to the death, the death itself, and activities associated with death like the funeral, family visiting from out of town, coroner's inquests, arrests and trials having to do with accidents or murder, etc. The end of someone's life can also lead to probate and guardianship notices in the legal section of the newspaper. So it's always a good idea to look for articles up to and beyond the date of death.
Start searching for obituaries today!
What questions do you have about obituaries? Obituaries are an important resource for the family historian. They provide important clues that lead to additional resources for your family history. Let us know your questions in the comments below.
For a limited time, new members can join GenealogyBank and save up to 25% – but you must join before Friday June 24th. Get Savings Now
—————————–
* Obituary. Merriam-Webster. http://www.merriam-webster.com/dictionary/obituary
Related Obituaries Articles: